Don't miss the latest stories
Share this
Edible Tape Invented By Engineering Students Neatly Wraps Burritos & Seals Food
By Mikelle Leow, 17 May 2022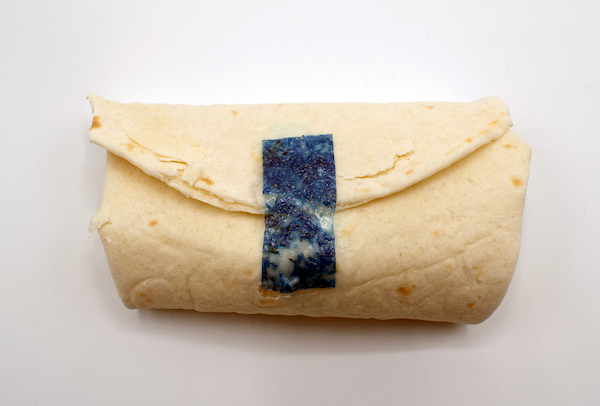 Image via Johns Hopkins University
Decades of experience won't fully train you to keep your taco and burrito fillings within their casings. Those beans and rice grains have a mind of their own, and when they decide to free-fall, not even your evolved opposable thumbs can stop them.

With that being said, humans are still the more evolved race, and thanks to a team of engineering seniors at Johns Hopkins University, there's finally a solution to have your wrap and eat it mess-free too. They've invented 'Tastee Tape', an edible adhesive tape that tightly secures foodstuffs through cooking and consumption.

The tape is peeled and applied similar to regular tape, in that you remove the strip from a waxed sheet and paste it on a surface.
The adhesive part is activated with water, and you'll be able to bundle or seal your meals after wetting the tape.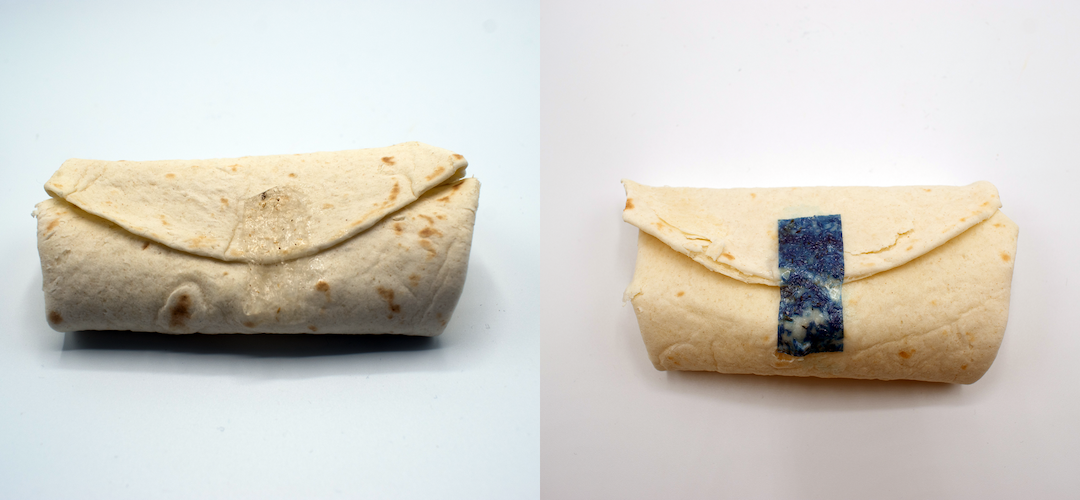 On the left: 'Tastee Tape' in its original, clear form. Right: The edible tape after being dyed. Image via Johns Hopkins University

The edible adhesive, which took months to perfect, gets its structural integrity from a food-grade fibrous scaffolding of organic, safe, and edible ingredients and "common food and dietary additives." That's all the students—comprising Tyler Guarino, Marie Eric, Rachel Nie, and Erin Walsh—are willing to share, as they plan to patent the delicious design.

The invention was created as part of the Whiting School of Engineering's Design Day, where students showed off innovations inspired by things they learned in school.

"Tastee Tape allows you to put full faith in your tortilla, and enjoy your meal, mess-free," shares Guarino.
Tortilla: taped
Burrito fillings: secured

Let's taco'bout Tastee Tape, an edible adhesive created by biomolecular and chemical engineering students which allows for a mess-free meal for wraps, gyros, and more. (2/6) pic.twitter.com/HB1o6VBHVB

— Johns Hopkins University (@JohnsHopkins) May 10, 2022
[via Boing Boing and WKRC, images via Johns Hopkins University]
Receive interesting stories like this one in your inbox
Also check out these recent news