Don't miss the latest stories
Share this
New-To-Science 'Expanding Hole' Illusion Feels Like You're Falling Into A Ditch
By Mikelle Leow, 01 Jun 2022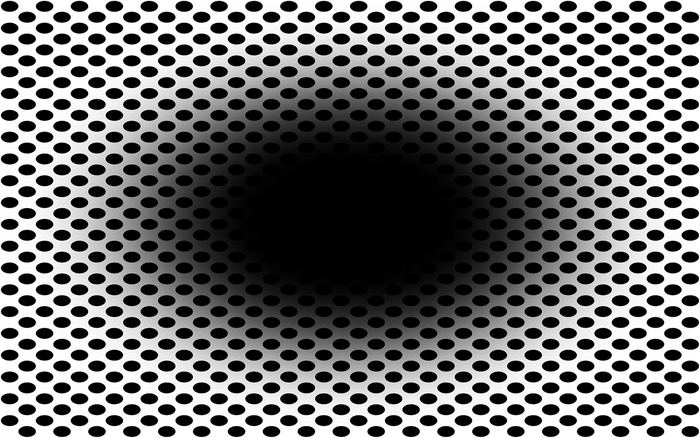 Image via Laeng, Nabil, and Kitaoka / Frontiers in Human Neuroscience (CC BY)
From illusions of tiny people in one face to black dots that vanish before your eyes, you've likely seen them all. Here's one optical illusion that scientists haven't, and its effects are astonishing them.
The Expanding Hole graphic shows a black gradient circle in the middle of a pattern of black polka dots. It's static, but most observers will feel pulled into the core. It's as though they're walking into a dark room and falling into a bottomless pit.
The optical illusion is so convincing that it causes people's pupils to dilate, as a team of psychologists has detailed in a paper published in the Frontiers in Human Neuroscience journal.
Our pupils get larger when we're surrounded by darkness and contract when we're exposed to light. Startlingly, this virtual black hole behaves like a space of physical darkness.

"The 'expanding hole' is a highly dynamic illusion: The circular smear or shadow gradient of the central black hole evokes a marked impression of optic flow, as if the observer were heading forward into a hole or tunnel," describes Dr Bruno Laeng, a professor at the Department of Psychology of the University of Oslo.

The scientists applied this visual stimulus to other colors—including blue, cyan, green, magenta, red, yellow, and white—and showed the varied illusions to 50 volunteers. Interestingly, the black-hole illusion was the most effective of them all.

When tracking the eye movements of the participants, the psychologists noticed that the pupil sizes of 86% of the people reacted in reflex to the "expanding" illusion of the black smear to allow more light.

They have a theory as to why people are physiologically responding to the static image. It's possible that our brains are being alerted of potential dangers from a change of scenery involving a shift from brightness to darkness.

More research has to be done to determine why the illusion isn't effective on 14% of the participants, whose pupils did not dilate.
All told, please keep this mind-tripping phenomenon out of the sights of metaverse architects. They already have enough ideas.
[via ScienceAlert and Frontiers Science News, cover image via Laeng, Nabil, and Kitaoka / Frontiers in Human Neuroscience (CC BY)]
Receive interesting stories like this one in your inbox
Also check out these recent news