Don't miss the latest stories
Share this
Partially-Paralyzed Man Uses Robotic Arms To Feed Himself Cake After 30 Years
By Mikelle Leow, 29 Jun 2022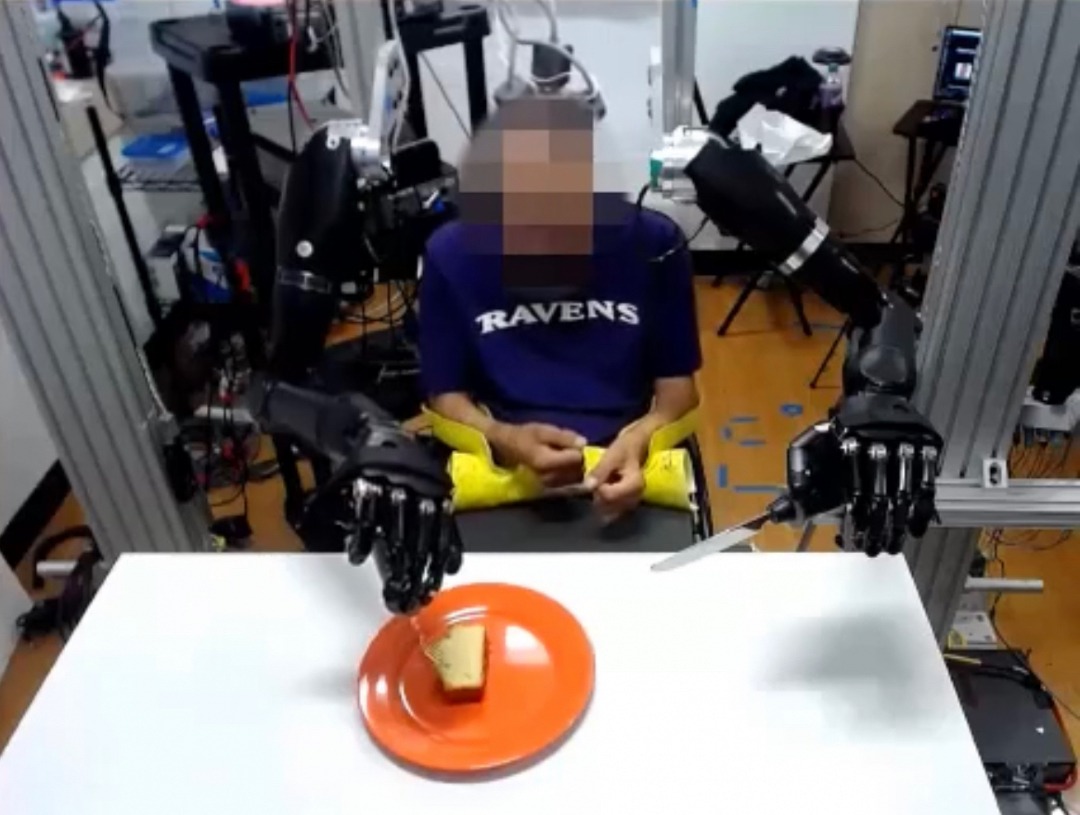 Video screenshot via Johns Hopkins Applied Physics Laboratory / Frontiers in Neurorobotics
A partially paralyzed man tucks into his dessert with a knife and fork, which pierces into a piece of cake and transports it into his mouth.

Ah, sweet success—and all this is made possible thanks to a pair of robotic arms maneuvered by the man's brain signals. The technology, which engages a brain-machine interface (BMI), is outlined in a new paper published in the Frontiers in Neurorobotics journal by researchers at the Johns Hopkins Applied Physics Laboratory (APL), in Laurel, Maryland; and the Department of Physical Medicine and Rehabilitation (PMR) in the Johns Hopkins School of Medicine.

This is the first time in about 30 years that the man has been able to feed himself—and easily, at that. This is the point of the prosthetics: to make basic functions as, well, easy as cake for people with disabilities.

For that to happen, the team acknowledged that the technology would require minimal human effort, with most of the legwork done by the machine. After all, abled persons feed themselves without much consideration, but this remains a hurdle for anyone who has lost the ability to do so.

"In order for robots to perform human-like tasks for people with reduced functionality, they will require human-like dexterity. Human-like dexterity requires complex control of a complex robot skeleton," explains Dr David Handelman, the study's first author and a senior roboticist in the Intelligent Systems Branch of the Research and Exploratory Development Department at APL.

"Our goal is to make it easy for the user to control the few things that matter most for specific tasks," Dr Handelman adds.

All these thoughts have amounted to a machine for the man—who has limited upper-body mobility and can't use his fingers—to enjoy the simple pleasures of eating a slice of cake.

In a video, he is seen moving his left and right fists in response to voice prompts to "cut food," "select food location," "move knife," and so on. It's kind of like hitting the arrow keys on your keyboard to move around during a video game.
Video via Johns Hopkins Applied Physics Laboratory / Frontiers in Neurorobotics
His brain signals are translated by electrodes implanted in his brain to move the arms.
The man eventually moves the cake into his mouth, to the applause of observers.

While the technology requires much tinkering before it can be used with other patients, Dr Pablo Celnik, project principal investigator in the department of PMR, shares that it "denotes the potential capabilities that can be developed to help people with disabilities."

Moving forward, the scientists may even follow up on previous research documenting that amputees have been able to control a prosthetic using a "phantom limb." The ultimate goal, of course, is to move "even beyond basic activities of daily living," says Dr Celnik.
[via IFLScience and Frontiers Science Communications, video and cover image via Johns Hopkins Applied Physics Laboratory / Frontiers in Neurorobotics]
Receive interesting stories like this one in your inbox
Also check out these recent news