Don't miss the latest stories
Share this
The Body Shop Retires From 'Anti-Aging' To Celebrate Beauty In All Stages
By Mikelle Leow, 08 Sep 2022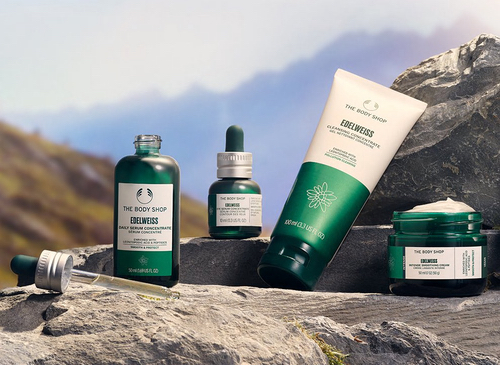 The Body Shop's Drops of Youth range is one of its best-selling skincare selections, with its serum being its hottest item across the board (it's said a bottle is sold every 23 seconds). While those are marks of a good product, the name is telling of the way beauty is being perceived by consumers, and the industry's role in propagating such ideals.

As such, the British beauty brand is reversing the harsh effects of its message about aging and rebranding Drops of Youth to Edelweiss. Changes are being made beyond skin-deep as the range will get a new formulation too, along with more products to the line to serve a greater depth of skin concerns.

The Body Shop was moved to rethink its most-loved products following a Global Self Love Index it commissioned in 2021, as part of a self-love campaign. That concluded with the dire, overwhelming response by people around the world who believed the beauty industry largely influenced poor self-esteem with its unrealistic claims and imagery. The majority seemed to have this perception, The Drum reports.
The pessimistic results forced The Body Shop to look into how it might have also been responsible for pushing some of those unachievable expectations onto customers, be it through its language or products. As a company rooted in activism, it recalibrated to see how it could empower shoppers instead.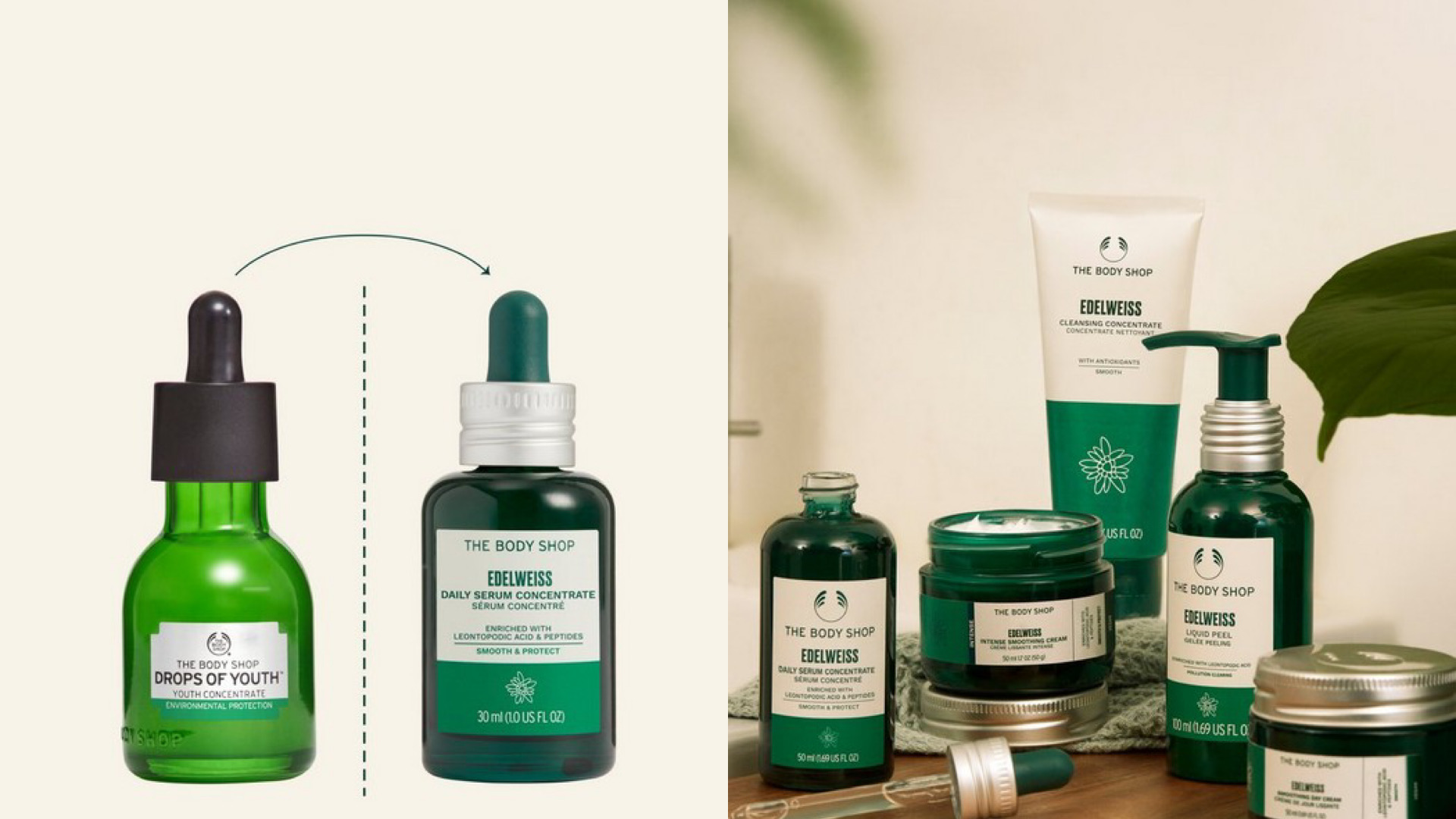 Image via The Body Shop

The new and improved Edelweiss range has double the Edelweiss extract of the original. This natural component is said to have 43% more antioxidant qualities than Retinol, making the collection especially effective at strengthening the skin's barrier while boosting the ability to heal itself. The flower, after all, has been able to withstand severe winds, snow, and rain in the Alpines.

The Edelweiss flower has been used in folk medicine throughout the years. In today's metropolises, it holds out against harsh blue light and pollution.
Instead of prolonging youth, the range's true strength, evidenced by its marketing too, is resilience—both inward and outward.

Expanding from the original lineup of the Concentrate, Liquid Peel, Serum Concentrate Sheet Mask, and Eye Serum Concentrate, there are also two new products—Edelweiss Cleansing Concentrate and Edelweiss Intense Smoothing Cream—to meet various skincare needs.

The Body Shop is also doubling down on its B-corp certification and love of nature by reformulating the range such that it comes from 90% natural origins and is vegan-certified.
View this post on Instagram
[via The Drum and SHEmazing!, images via The Body Shop]
Receive interesting stories like this one in your inbox
Also check out these recent news