Don't miss the latest stories
Share this
Nebraska Man Gets Sweet Success By Making Longest Trip Via Pumpkin Boat
By Mikelle Leow, 13 Sep 2022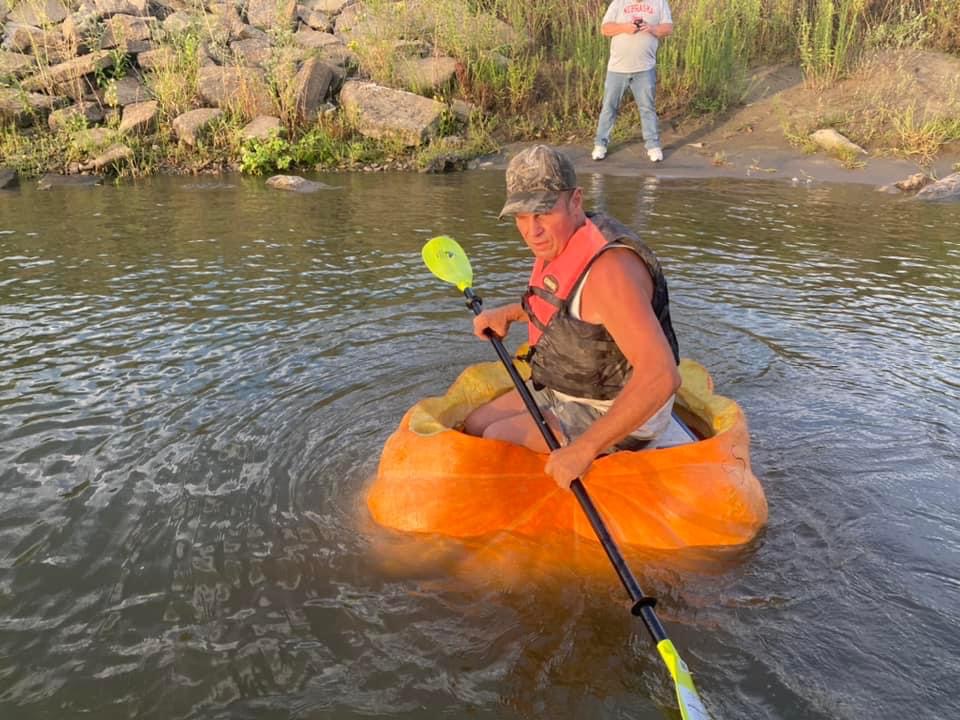 Instead of baking a giant pie out of his prize pumpkin, a Nebraska resident rowed the 846-pound beauty as a boat gently down the stream at Missouri River.

Duane Hansen was determined to make the Guinness World Record for longest journey by pumpkin boat through paddling, currently held by Rick Swenson, who floated 25.5 miles down the Red River between Minnesota and North Dakota via vegetable vessel in 2016.

The Nebraska man knew that, in order to claim the title of pumpkin king (sorry, Jack Skellington), he'd have to grow the gourd himself. Luckily, he had the competitive advantage of being a farmer with a decade's experience of harvesting 200–400-pound pumpkins.

Helping him reach his sweet dreams was his prize pumpkin, which he'd name Berta. She was a grower, adding 15 pounds every day until nearly weighing 850 pounds and showing at a stunning circumference of roughly 146 inches. Hansen had an idea of the life Berta was carved out for, so he renamed her S.S. Berta.
A dose of "common sense" was what Hansen credited for helping him prepare for Berta's path as a water melon. The farmer didn't go to college, "but… I understand physics," he told ABC News.

Hansen built a cement hot tub to refine the gourd's buoyancy. Once he figured out that sweet spot, he cut out the top and leveled it out, and removed the vegetable's flesh.

Years in the making, S.S. Berta was now ready for her maiden voyage.

To mark his 60th birthday, the man finally set out to Bellevue Marina on August 27, his pumpkin propped onto a trailer. S.S. Berta began her journey at about 7:30am.

Hansen and S.S. Berta encountered many obstacles along the way, having had to tackle unpredictable tides, rocks, and sand bars.

But as the gourd gods would have it, Hansen paddled through and reached Nebraska City 12 hours later. He previously estimated that the trip would take 10 hours tops, but it turned out to be more grueling than expected.

It all paid off as Hansen surpassed the existing world record by traveling 38 miles across the river.
In keeping in line with guidelines by the Guinness World Records, the farmer invited non-family members to be a part of the milestone. They included officials of the City of Bellevue's mayor's office, who documented the event as evidence.

Hansen's achievement is currently being reviewed by the Guinness World Records, which will award him with the prestigious title of longest journey by pumpkin boat if all goes well.

It goes to show that to accomplish your dreams—vegetable-themed or otherwise—you first have to plant that seed.
[via Smithsonian Magazine and ABC News, images via City of Bellevue, Nebraska]
Receive interesting stories like this one in your inbox
Also check out these recent news