Don't miss the latest stories
Share this
Man Receives Death Threats After Publishing Children's Book Created By AI
By Mikelle Leow, 15 Dec 2022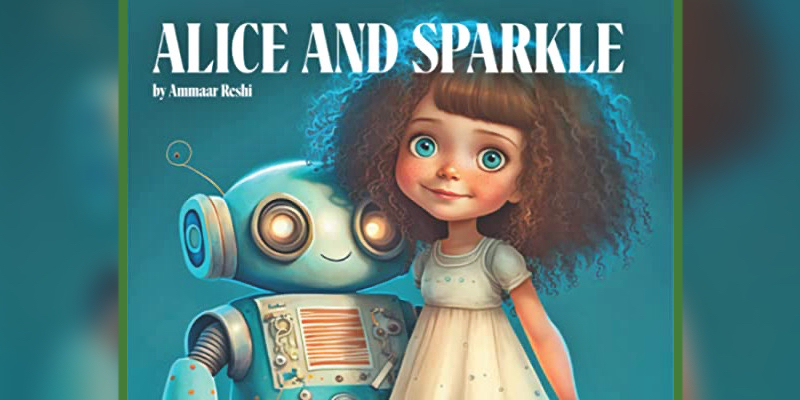 Alice and Sparkle is a story about a tech-curious little girl who builds her own artificial intelligence to go on adventures with. The plot twist arrives not from its pages but from its source: The book was both written and illustrated by AI.

Design manager Ammaar Reshi initially set out on this project to gift a book to his best friends' kid, who was just born this year. The process only took a weekend, though it was by no means effortless.
I spent the weekend playing with ChatGPT, MidJourney, and other AI tools… and by combining all of them, published a children's book co-written and illustrated by AI!

Here's how! 🧵 pic.twitter.com/0UjG2dxH7Q

— Ammaar Reshi (@ammaar) December 9, 2022

Reshi used OpenAI's chatbot ChatGPT to conjure up a tale about Alice, a girl so fascinated by technology, she created her own adorable robot sidekick named Sparkle. And while the book ends on a positive note, the same can't be said for Reshi's publishing experience.

The first iterations of the story read as, well, robotic. Reshi then guided the language-learning model to make Alice more animated and Sparkle more self-aware.

To "illustrate" the book, he tasked the text-to-image generator Midjourney to dream up the characters. Likewise, the earlier outcomes—based on descriptors like "young girl," "blue eyes," "curious," and "simple dress"—were "absolutely wack" and the stuff of horror books, Reshi tells BuzzFeed News.

Although Reshi only needed 13 illustrations to fill in the pages, there were "hundreds" of AI sketches that didn't make the cut. "I almost gave up," he recalls.
There were also some hilarious results 😂 what's going on with those eyes and hands?! pic.twitter.com/N5kzUrDIsZ

— Ammaar Reshi (@ammaar) December 9, 2022
I combined all of those and put them together in a book format and signed up to Amazon Kindle Publishing! Filled out the book details, created a little cover, even had ChatGPT help me with the description. pic.twitter.com/9Hobi8sFwt

— Ammaar Reshi (@ammaar) December 9, 2022
Friends convinced Reshi to upload the book on the Kindle Direct Publishing platform, which made Alice and Sparkle available on Amazon in limited copies.
Like Alice, a young Reshi—who grew up in Pakistan before moving with his family to the UK—looked at technology with wonderment. After completing his studies in computer science in London, he made the move across the pond to Palo Alto, California, to further his career.

At friends' behest, he shared the news of the publication on Twitter. This was when things took a turn—Reshi was inundated with criticism about the way the book was created. Since AI is trained on the work of humans, Alice and Sparkle was potentially automated from a blend of original work from millions of authors and artists.

Reshi says he has even received death threats and comments encouraging self-harm. They've got him thinking about setting things right and finding ways to support artists, though he notes that humanity can't make progress if conflict is handled so destructively.

The backlash sums up the ethical concerns plaguing AI art generation. In recent weeks, bot-created selfies and artworks mimicking the styles of human creators have popped up all around the internet. The proof is truly in the pudding, as some of these images even retain semblances of signatures and watermarks.

In Alice and Sparkle, the eponymous characters "go on adventures and use their combined knowledge to make the world a better place."

"The story explores the incredible abilities of AI and the importance of using them for good. It is a tale of friendship and exploration, filled with magic and wonder," reads the book's description.

In the real world, detractors are worried about the opposite effect—that unmoderated AI can do more harm than good. To critics, the book lacks a human touch, and it shows. One reviewer comments that the story is "completely soulless," while others have called out its absence of artistic integrity.

Children's author Josie Dom says she has read sample pages of the book on Amazon and, thus far, the text comes across as "formulaic," she tells BuzzFeed News. All readers, most notably kids, "deserve rich, imaginative stories," she remarks. AI hasn't achieved this expectation yet.

Dom reiterates the origin of artificial "creativity": "[Artists'] work is being stolen, basically."

"Artists are often underpaid, and this won't help them," says Dom.

Another children's book author, Anupa Roper, says she felt her stomach sink when she read Reshi's announcement tweet. It felt strange to her that creators' "heart and soul" could be replicated so easily and instantly.

Reshi admits he didn't see the discourse coming, and he's especially stricken by the fact that the discomfort is entirely valid. He sees how the technology, as it is now, can be an "existential threat to [one's] livelihood."

One way of addressing this, in his view, is for AI platforms to be transparent about the content their models are fed, and for them to work with creators whose lives will be affected by the technology.

Although he's hurt by the abuse, Reshi sees this chapter as a learning experience.

For now, he doesn't believe he will publish a part two to Alice and Sparkle, at least until he understands the algorithm better and is convinced that there's a solution that benefits real creators.
[via BuzzFeed News and IGN, images via various sources]
Receive interesting stories like this one in your inbox
Also check out these recent news