Don't miss the latest stories
Share this
Take A Bite Out Of This 3D-Printed Cheesecake That Reveals All Ingredients
By Alexa Heah, 22 Mar 2023
Which ingredients make up the most popular desserts? Chances are, most people aren't aware of what goes into their favorite foods, especially ones bought from the store on a whim. But what if we could 3D-print delicacies while knowing exactly what goes into each bite?

That could be where the future of food is headed, according to the minds at the Creative Machines Lab at Columbia University. The team has come up with a kitchen appliance that could make all else obsolete—a 3D printer that can customize and materialize any dish from scratch.

According to an article published by npj Science of Food, lead author Jonathan Blutinger explained that "precision printing"—a method of creating multi-layered food items from a 3D printer—could inspire greater creativity and nutritional education in the kitchen.

Previously, most attempts at 3D-printing food have resulted in unappetizing, uncooked ingredients. Now, together with roboticist Hod Lipson, Blutinger and the team have come up with a device that successfully printed a seven-ingredient cheesecake just using lasers.

The delectable cheesecake, which looks just like one you'd find in a shop, utilized edible food inks, such as peanut, Nutella, and strawberry jam, which were added to a mixture of graham crackers, banana puree, cherry drizzle, and frosting to create the final dish.
During the process, the team noted that the multi-tiered design was similar to that of architectural buildings, as the graham cracker, peanut butter, and Nutella proved to be sturdy "supporting layers" that helped to hold the softer ingredients so the entire cake could be formed.

The authors posit this technology could open the door to more customizable dishes, improve food safety, and even enable people to better control the nutrients they consume during each meal—allowing them better control and a personalized selection of which ingredients to eat.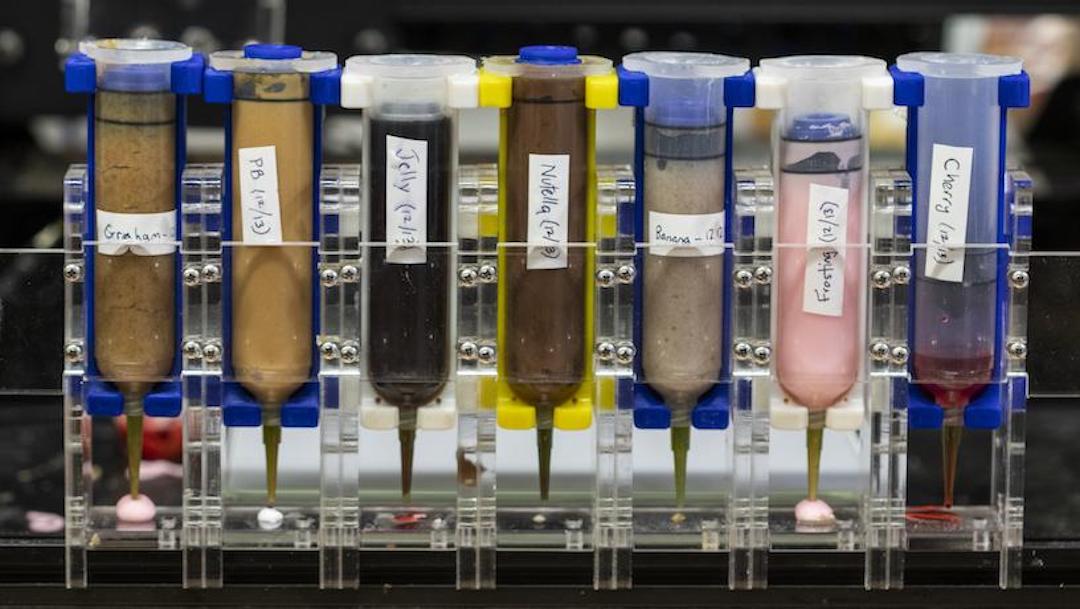 "We have an enormous problem with the low-nutrient value of processed foods. 3D food printing will still turn out processed foods, but perhaps the silver lining will be, for some people, better control and tailoring of nutrition—personalized nutrition," explained Professor Christen Cooper.

Furthermore, those with dietary restrictions could find the ability to personalize their meals a useful tool. For example, chefs could create pureed texture foods for those with swallowing disorders to make mealtime more appealing.

"And, with more emphasis on food safety following the COVID-19 pandemic, food prepared with less human handling could lower the risk of foodborne illness and disease transmission. This seems like a win-win concept for all of us," concluded Blutinger.
[via Interesting Engineering and Columbia University, images via Jonathan Blutinger/Columbia Engineering]
Receive interesting stories like this one in your inbox
Also check out these recent news