Don't miss the latest stories
Share this
World's Lightest Paint Takes Inspiration From Beautiful Butterflies
By Mikelle Leow, 15 May 2023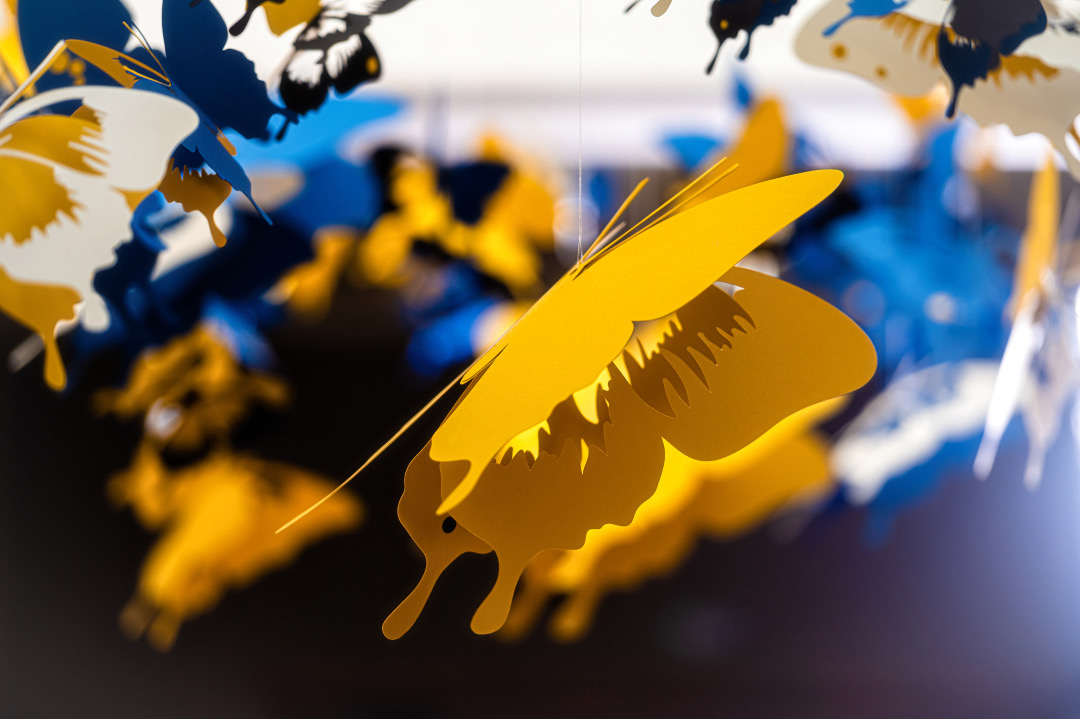 Nature has once again lent its vibrant teachings to power our world. Researchers at the University of Central Florida (UCF) have invented what they deem to be the first energy-saving paint, a colorful solution to minimize global warming. Their inspiration? Butterflies and their wings.

"The range of colors and hues in the natural world [is] astonishing—from colorful flowers, birds and butterflies to underwater creatures like fish and cephalopods," details Debashis Chanda, the paint's lead innovator and a professor in UCF's NanoScience Technology Center.

The new large-scale color product has no pigments, which are ordinarily responsible for the hues in paint. This is for good reason, as pigments are made up of minerals, chemicals, or metals that aren't great for the environment. They're also hefty, being mixed with liquids such as oil, and trap heat when they absorb and reflect certain light wavelengths to project what is seen by the eyes as color.

Instead, the scientists are relying on structural color, "the primary color-generating mechanism in several extremely vivid species," Chanda explains.
The resulting paint, called plasmonic paint, comprises a nanoscale structural arrangement of colorless materials—aluminum and aluminum oxide—which steers how light is reflected, scattered, or absorbed based on their geometrical structure alone. Pigment colorants, in contrast, "control light absorption based on the electronic property of the pigment material and hence every color needs a new molecule," explains UCF.
It's the lightest paint in the world, and it can save energy. #NSFfunded scientists @UCF drew inspiration from butterflies to create the first environmentally friendly, large-scale multicolor alternative to pigment colorants. https://t.co/4GruQlXBkU

📸Debashis Chanda/UCF pic.twitter.com/WKoiWkbPD1

— National Science Foundation (@NSF) April 26, 2023
To create the paint, the researchers mixed structural color flakes into a commercial binder to develop a reliable and full spectrum of shades. The team published their findings on the nature-friendly options in Science Advances back in March. Recently, the project was picked up again by the World Economic Forum.

Plasmonic paint is remarkably long-lasting. As Chanda notes, "Normal color fades because pigment loses its ability to absorb photons. Here, we're not limited by that phenomenon."

"Once we paint something with structural color, it should stay for centuries."
Video via World Economic Forum

As mentioned before, this paint has earned its wings as the lightest in the world. That's thanks to its generous area-to-thickness ratio, "with full coloration achieved at a paint thickness of only 150 nanometers," the university outlines.

To illustrate its weightlessness, UCF reveals that one would only need about three pounds of the special paint to coat a Boeing 747, as opposed to the over 1,000 pounds of traditional paint usually required to do the job.

There could also come a time when people paint their houses with plasmonic paint, and it's not just because the scientists have created all kinds of colors from this innovative material. They explain that since this version reflects the full infrared spectrum, it absorbs less heat, therefore keeping surfaces 25–30°F cooler than with the usual paint. There would be less need for air conditioning with this alternative.

Until then, the researchers have a few kinks to work out, such as finding a way to make plasmonic paint affordable for commercialization. The eco-friendly substitute might be extremely light in weight, but it is not light on the wallet.

"The conventional pigment paint is made in big facilities where they can make hundreds of gallons of paint," Chanda elaborates. "At this moment, unless we go through the scale-up process, it is still expensive to produce at an academic lab."

[via World Economic Forum, Tech Explorist, HowStuffWorks, University of Central Florida, images via various sources]
Receive interesting stories like this one in your inbox
Also check out these recent news