Don't miss the latest stories
Share this
'Saved Memories' Taps On AI To Reimagine Trans People's Childhood Images
By Alexa Heah, 26 May 2023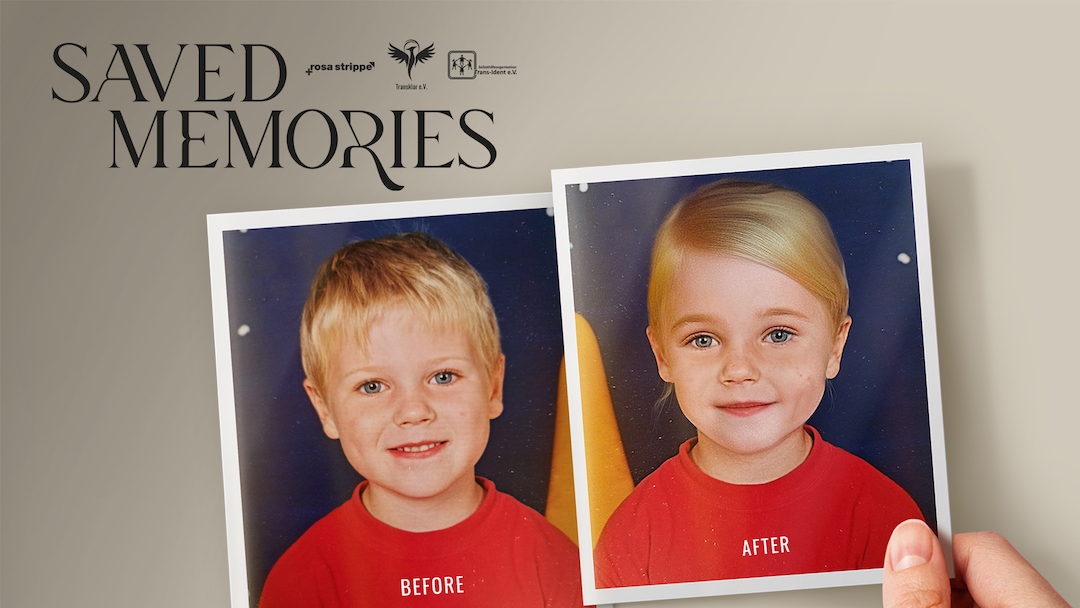 Over half a million residents in Germany are transgender or do not identify with the gender they were assigned at birth. As such, according to the German Society for Transidentity and Intersexuality eV (dgti), many find it difficult to look at themselves in childhood images.

This could be due to the fact that these photographs from the past contradict the gender identity they've transitioned into or may remind them of the challenges they faced pre-transition. Knowing this, a new project has emerged to help transform those memories into ones that elicit joy.

Dubbed Saved Memories, the idea was created by creative agency Serviceplan Berlin in collaboration with nonprofits Transklar eV, Trans-Ident eV, and Rosa Strippe eV to turn once-painful moments into true reflections of an individual's true identity.

The film, which was released on May 17, the International Day Against Homophobia, Biphobia, Intersex Discrimination, and Transphobia, shows how artificial intelligence was used to alter images of the first participants, including influencer Duke Duong and TV star Lucy Hellenbrecht.

A website has been set up for users to access online tutorials and links to tools on how to transform their own childhood images. Myles Lord, Creative Managing Partner at Serviceplan Berlin, described it as giving these individuals "a part of their lives that was always missing."

As Patricia Schüttler of Trans-Ident eV put it, the idea of Saved Memories isn't to fix past mistakes, but to "align these images with the person's true identity—so that the outside reflects what is felt inside."

"Not everyone has the opportunity to express their own identity as a child. By bringing gender characteristics closer to the felt reality, viewers can block out painful details and focus on the beautiful memories they had almost forgotten," added Marlon Stiller of Transklar eV.
[via LBB Online and Ads of the World, cover image via Serviceplan Berlin]
Receive interesting stories like this one in your inbox
Also check out these recent news