Don't miss the latest stories
Share this
Tesla Cybertruck Seen Bizarrely Disguised As Its Rivals Out In The Wild
By Mikelle Leow, 28 Aug 2023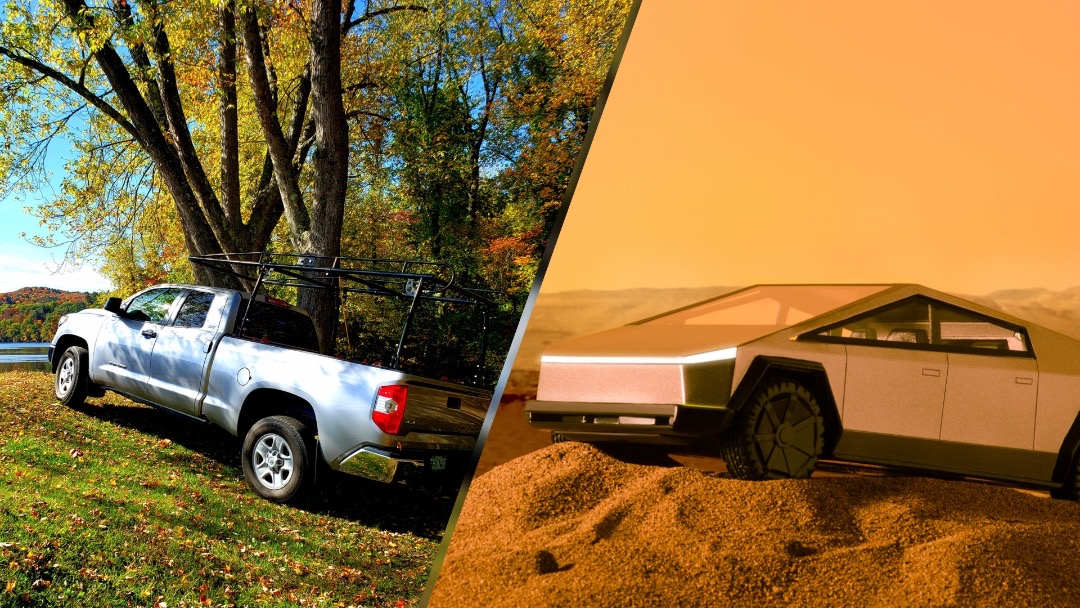 Images 161188772 © Cassandra Yerry and 216861443 © Casfotoarda | Dreamstime.com

After two years of simply describing the futuristic Cybertruck and leaving very few breadcrumbs of the stainless-steel monster, Tesla has finally produced its first road-ready unit, with an actual launch scheduled for the end of September.

Ahead of its debut, though, the sci-fi-esque vehicle has already been spotted in the flesh a handful of times, including while dressed in camouflage. A recent sighting of the truck has left fans thoroughly amused; first shared by Cybertruck Owners Club, it sees the yet-to-be-released Tesla model on the road, wrapped in imagery to make it appear like a Toyota Tundra.
Trolling level up: Tesla has now wrapped a Cybertruck as a Toyota Tundra 😂 @elonmusk

📸: @CybertruckOC pic.twitter.com/xdClJQcNY5

— Drive Tesla 🇨🇦 (@DriveTeslaca) August 26, 2023
Cybertruck in a Tundra wrap 🤣@ChaseHeibel pic.twitter.com/V5jgxxJGsr

August 27, 2023
It's not the first time the Cybertruck has mimicked the appearance of a rivaling truck in public. Last month, the vehicle was also seen in the wild disguised as a Ford F-150, Electrek reports.
Broke down and needed a tow. They put a F-150 wrap on it to disguise it. But we see you broke Cybertruck. pic.twitter.com/3uJ4rEiSBM

— altNOAA (@altNOAA) August 20, 2023
The choice of skins is interesting, seeing as how CEO Elon Musk was purportedly bored of existing designs of pickup trucks, which sparked an interest to build the Cybertruck. Were these attempts to troll the competition? Did Halloween arrive early this year? Who knows?

There's also a possibility that the company will offer themed wraps for the Cybertruck. All will be made clear when the model officially takes to the roads.
We've seen the $TSLA #Cybertruck 150 now meet the #Cybertruck Tundra

Who drove it better ?

Video credit - @CybertruckOC pic.twitter.com/d8f1xKdqDS

— The EV Guy (@The_EVGuy) August 27, 2023

[via Electrek and Cybertruck Owners Club, images via various sources]
Receive interesting stories like this one in your inbox
Also check out these recent news