Don't miss the latest stories
Share this
Rugby World Cup Stadium Overflows With Oil In Anti-Pollution Campaign
By Mikelle Leow, 30 Aug 2023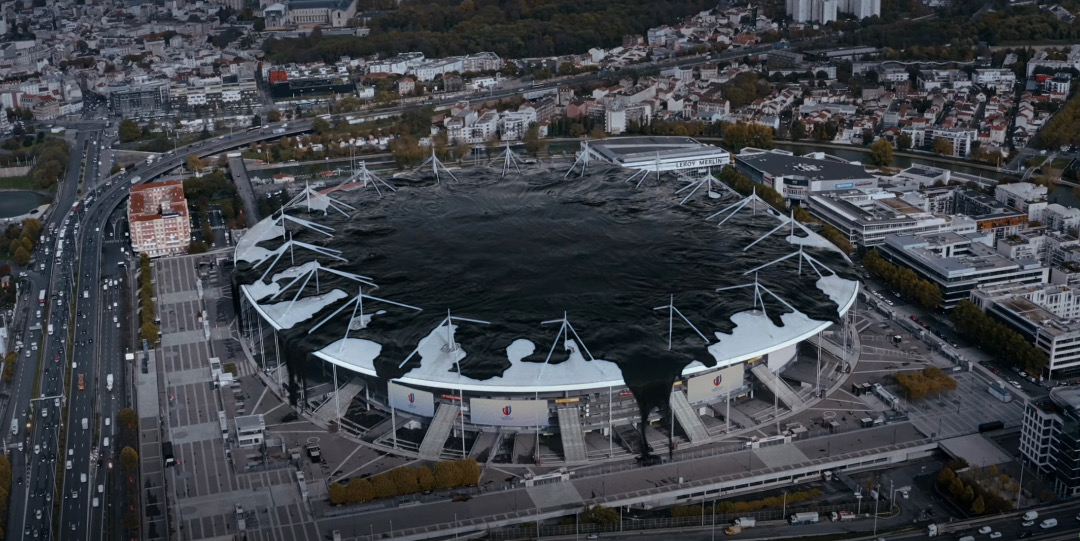 Video screenshot via Greenpeace
Greenpeace France is reminding sporting fans of the grimy effects of crude oil with a compelling video chastising fossil fuel sponsorship of major sporting events, like the upcoming Rugby World Cup 2023.

The impactful film, created in collaboration with Studio Birthplace and represented by Park Village in the UK, vividly illustrates the alarming scale of the global fossil fuel industry's impact by imaginatively filling the Stade De France—the venue for the France VS New Zealand All Blacks match—with black oil. It takes just three hours and 37 minutes to fill a stadium with the material, per Greenpeace statistics.

"That's more than six-and-a-half stadiums worth of oil every 24 hours," says Greenpeace.

The campaign targets fossil-fuel companies like TotalEnergies, the sponsor of this year's Rugby World Cup. Aptly, the video is entitled TotalPollution.

However, initial attempts to circulate the video were reportedly clogged by the Rugby World Cup, according to the environmental aid organization.

"The Rugby World Cup has sent Greenpeace International a legal letter to try to force it not to publish our video," notes Edina Ifticene, campaigner at Greenpeace France. "But we won't be silenced."
Ifticene claims that a fuel-drenched climate has already caused disruptions to rugby events, with a typhoon rolling through Japan during the 2019 Rugby World Cup and Pacific Island rugby nations affected by rising sea levels.

"Everyone is waking up to the fact that there is no place for fossil fuels, not in rugby, or anywhere else," the activist adds. "We will not be stopped from calling out the truth and will release the video."

The minute-long film, directed by Jorik Dozy and Sil van der Woerd of creative production studio Studio Birthplace, depicts a dramatic scene in which crude oil washes over TotalEnergies' logo, Rugby players, and spectators.

"By making this film, we wanted to shine a light on the tremendous scale of global crude oil production, and expose the worrying rate at which we are continuing to fuel our climate crisis," explain the directors. "We're all in the middle of a climate emergency, so it's essential to keep telling stories about the insidiousness of fossil fuels—and how they are ruining the planet for everyone."

Greepeace France is calling for "a complete ban on fossil-fuel advertising," as well as sponsorship of sporting championships by offending companies, which "deliberately distracts everyone from the environmental destruction they cause," Ifticene reiterates.
[via The Drum and Creative Review, images via Greenpeace]
This article was crafted with assistance from an AI engine, and has been manually reviewed & edited.
Receive interesting stories like this one in your inbox
Also check out these recent news