Don't miss the latest stories
Share this
7 Invigorating Room Mockups That Weave Your Products Into 2023's Home Trends
By Mikelle Leow, 21 Sep 2023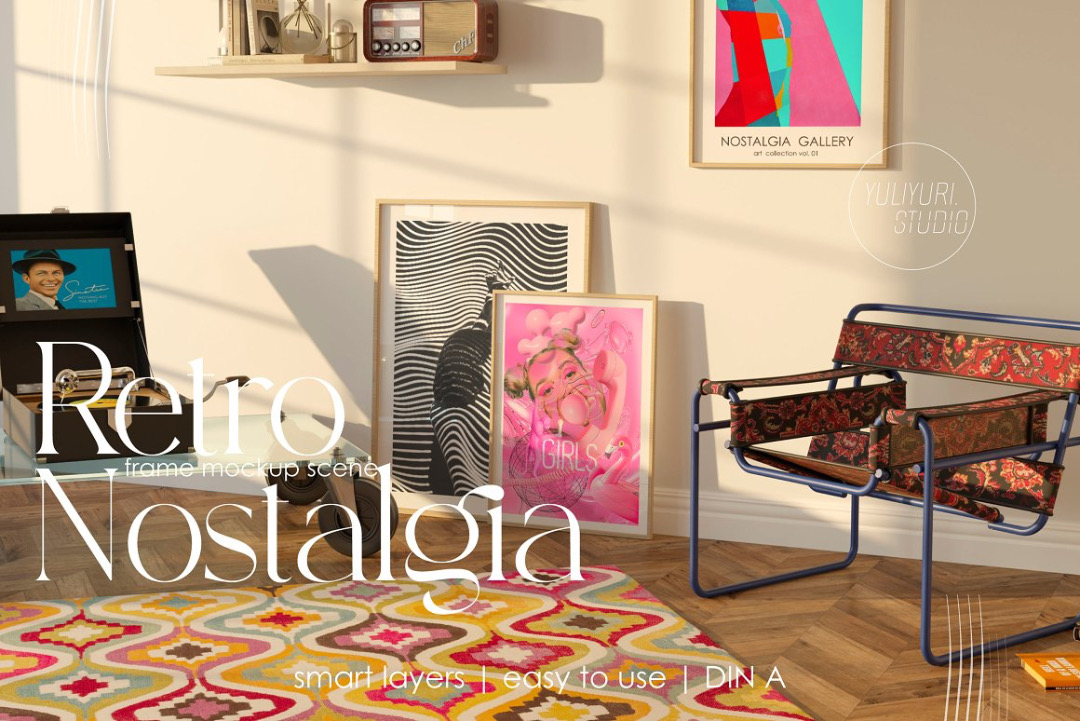 Image via Yuliyuri.studio
It's human instinct to pause when you spot something beautiful—everyone stops scrolling when they come across a photo of a thoughtfully-designed room on Instagram or Pinterest. If you'd like to provoke similar reactions with your artwork, a striking backdrop will help. Add a few time-relevant details and you'll certainly catch your audience's eye.

Here, we've gathered some stunning mockup sets from Creative Market that blend your projects with some of 2023's hottest interior design trends.

Whether you're channeling your inner Barbie with all things pink and playful or diving into the cozy embrace of dark rooms with their comforting hues, there's a mockup to help you envision it. And if you're captivated by the allure of retro charm, earthy tones, bold color splashes, or the serenity of organic curves, these mockups let you experiment without making any real changes to your living space.

Retro Chic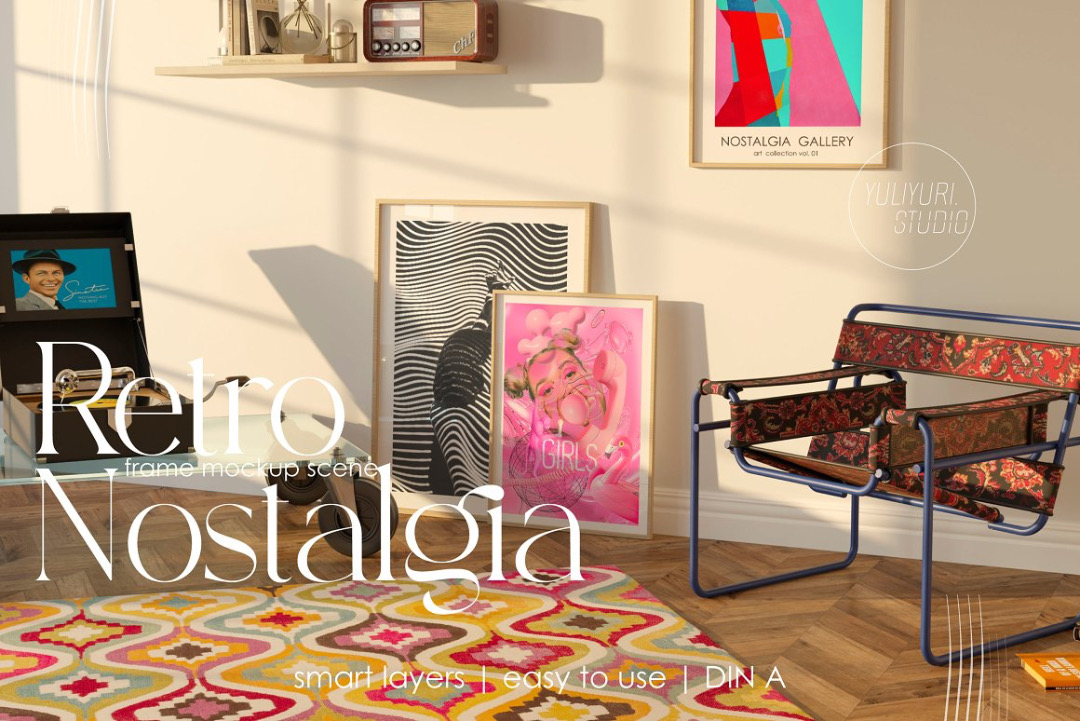 Image via Yuliyuri.studio

In a world that often feels hurried, Retro Chic invites us to slow down and relish in the charm of vintage finds. It's an ode to an unhurried life, where every piece of décor tells a story and carries a sense of nostalgia. This Retro Frame Mockup Collection is a delightful blast to the past, featuring 12 PSD files with smart objects for easy customization. Additionally, you'll receive 12 high-resolution JPG files at 3500 x 3500 pixels and 300 DPI.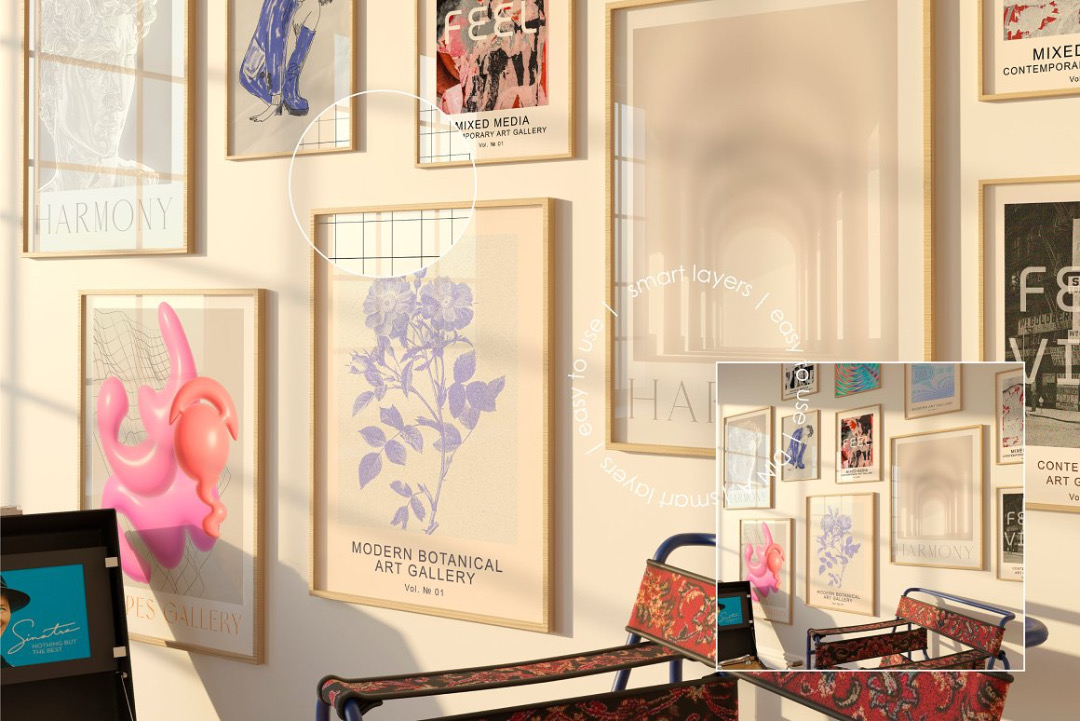 Image via Yuliyuri.studio

In recent times, Gen Z individuals have picked up the habit of thrifting and repurposing old-timey items, and blending them with modern favorites. Other names for this maximalist trend include "grannycore" and "Hipstoric," as Pinterest calls it.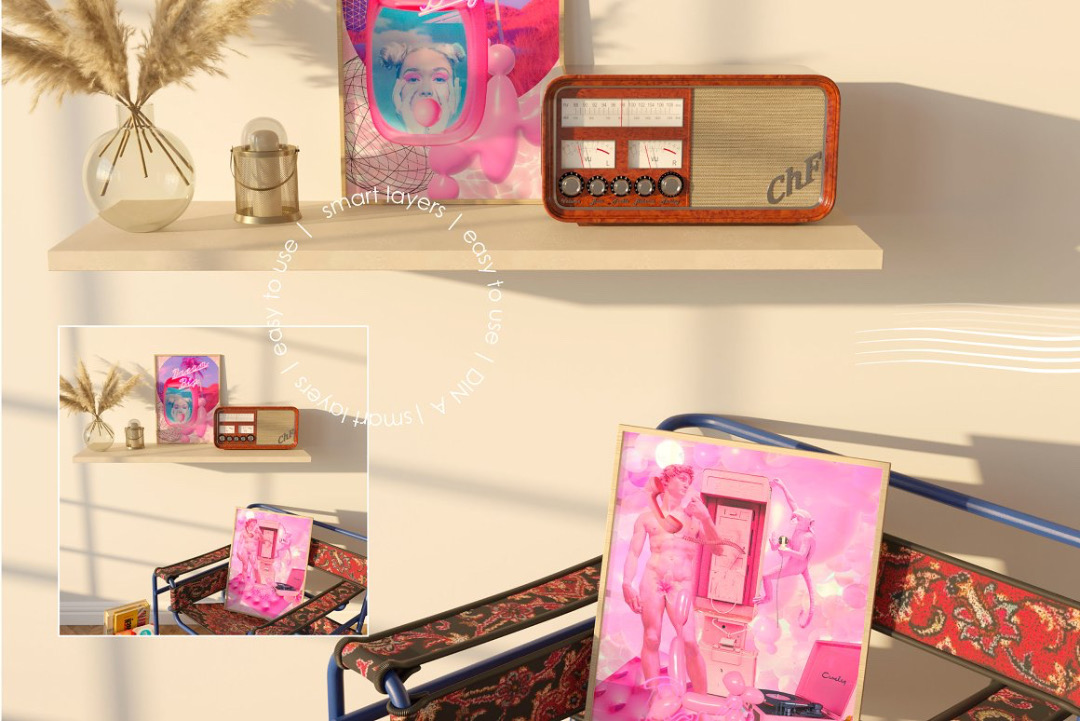 Image via Yuliyuri.studio
Image via Yuliyuri.studio

Barbiecore
Image via Muse Photo

Barbiecore, propelled into fantasies by the massive success of Greta Gerwig's Barbie film, is all about embracing the bold and vivacious world of pink—celebrating the spirit of Barbie herself. From bubblegum shades to hot pinks, Barbiecore invites you to infuse your living spaces with a sense of fun and unapologetic femininity.

Recreate your own real-life Barbie Dreamhouse with this DAYDREAM set, which blends futuristic elements with a touch of retro charm. With 15 PSD mockups and corresponding JPG previews, this set offers an ethereal fusion of styles. According to its creators, you won't need extensive Photoshop skills to use this pack—it also works seamlessly with alternative image editors like Canva and Photopea.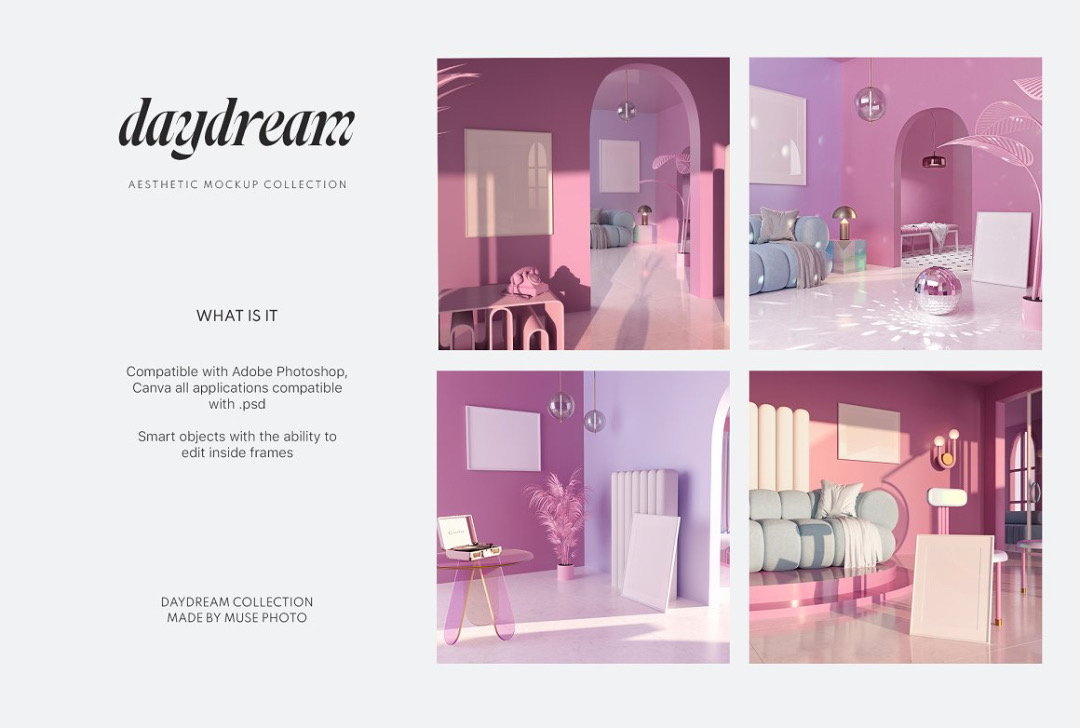 Image via Muse Photo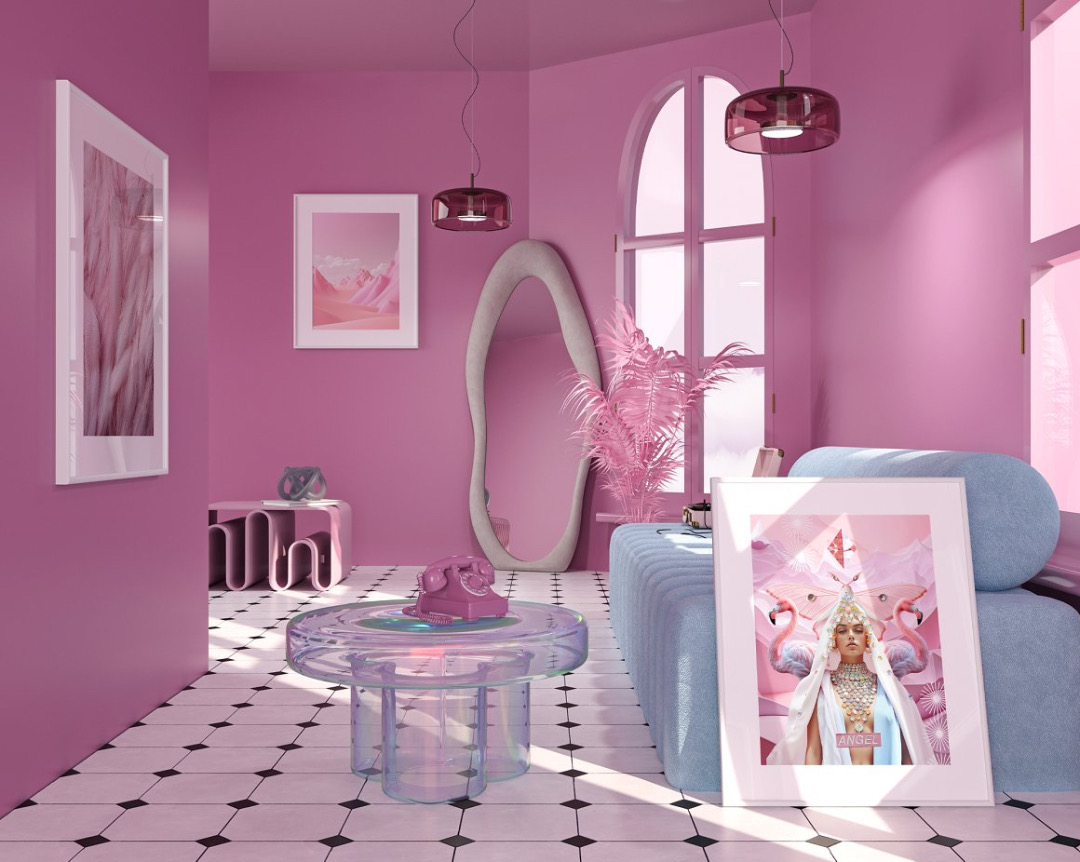 Image via Muse Photo

Hello, Darkness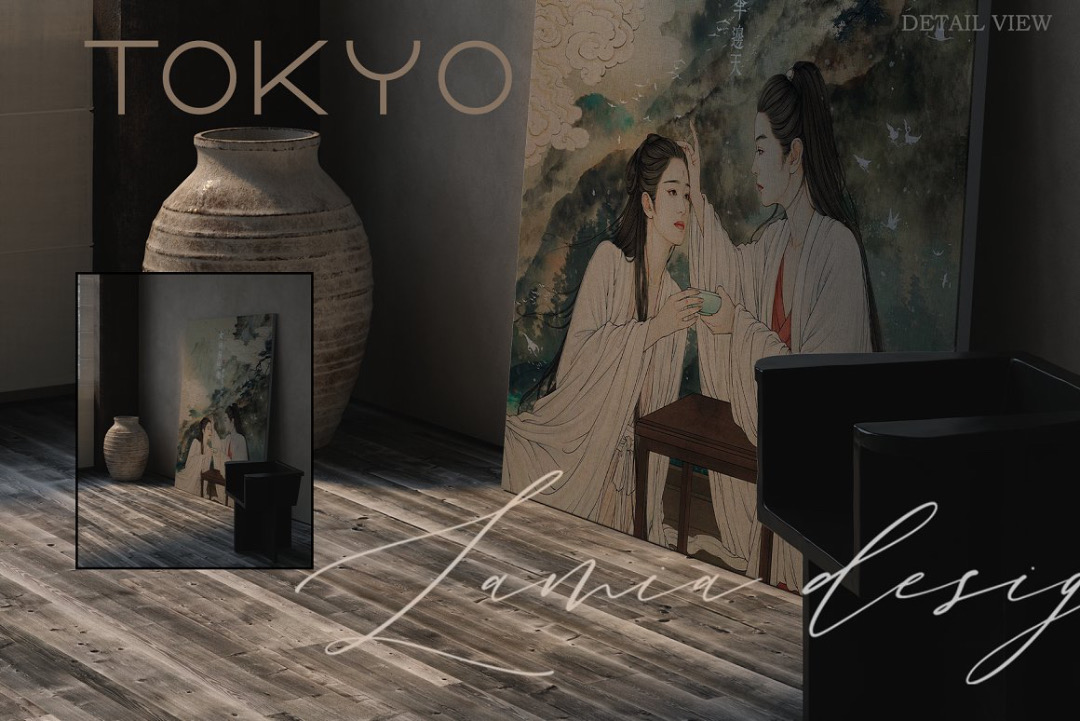 Image via LAMIA DESIGN

Dark rooms are casting a stylish shadow over homes, and it's not hard to see why. There's just something inexplicably comforting about the dark. With that, paint brands have observed a growing fascination with deeper shades. One can't help but wonder if Oppenheimer, the antithesis to the bright and vivacious Barbie movie, has only deepened the allure.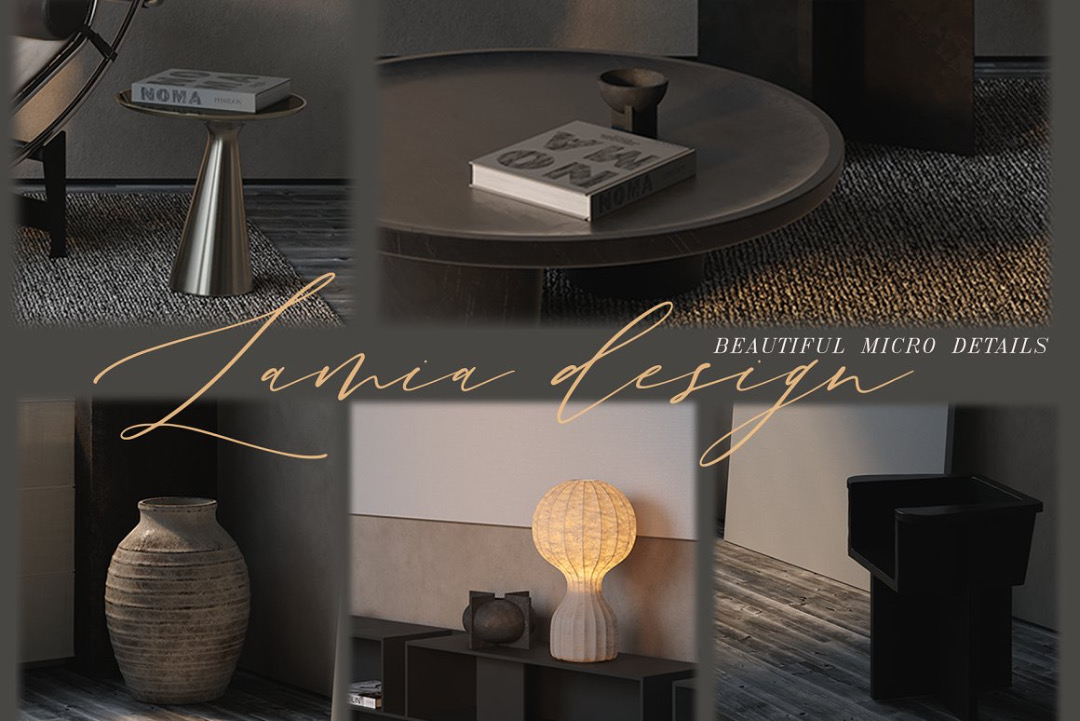 Image via LAMIA DESIGN
This versatile TOKYO Interior & Frame Mockup set brings a moody flair to your displays of art with realistic shadows and intriguing real estate against a charcoal wall. It lets you easily customize your project with 25 PSD files equipped with smart objects for quick setup, and offers eight high-quality styled scenes in both PSD and PNG formats. As a bonus, it includes an extra scene and presents three frame ratios of 1:1, 3:4, and 4:3.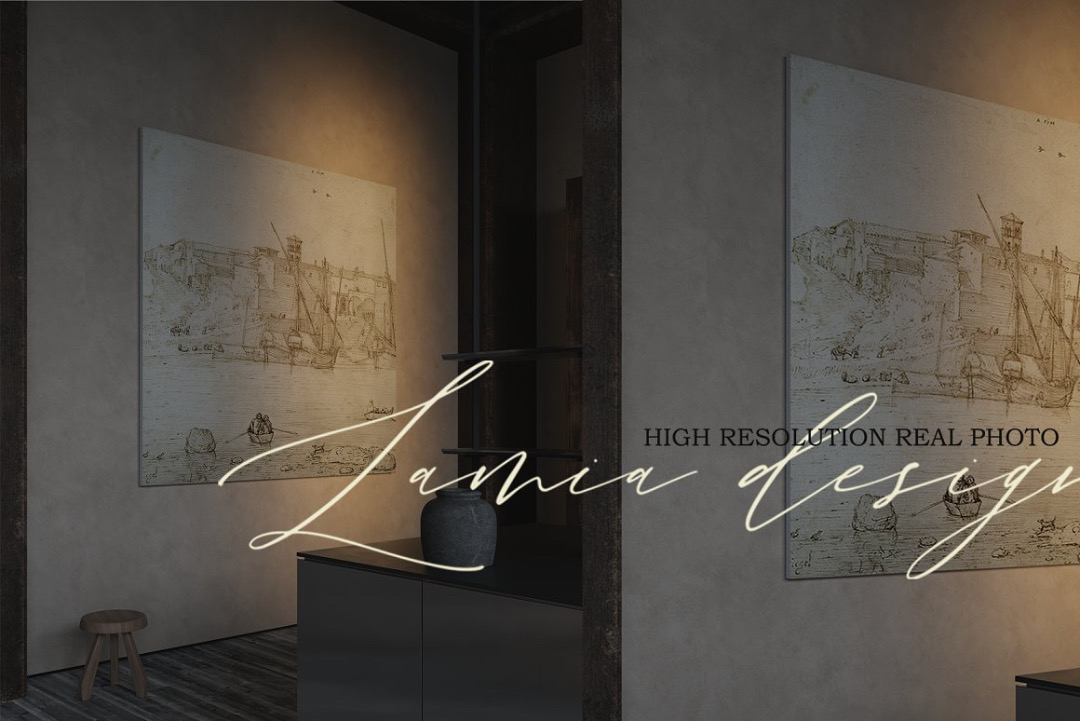 Image via LAMIA DESIGN

Earth Tones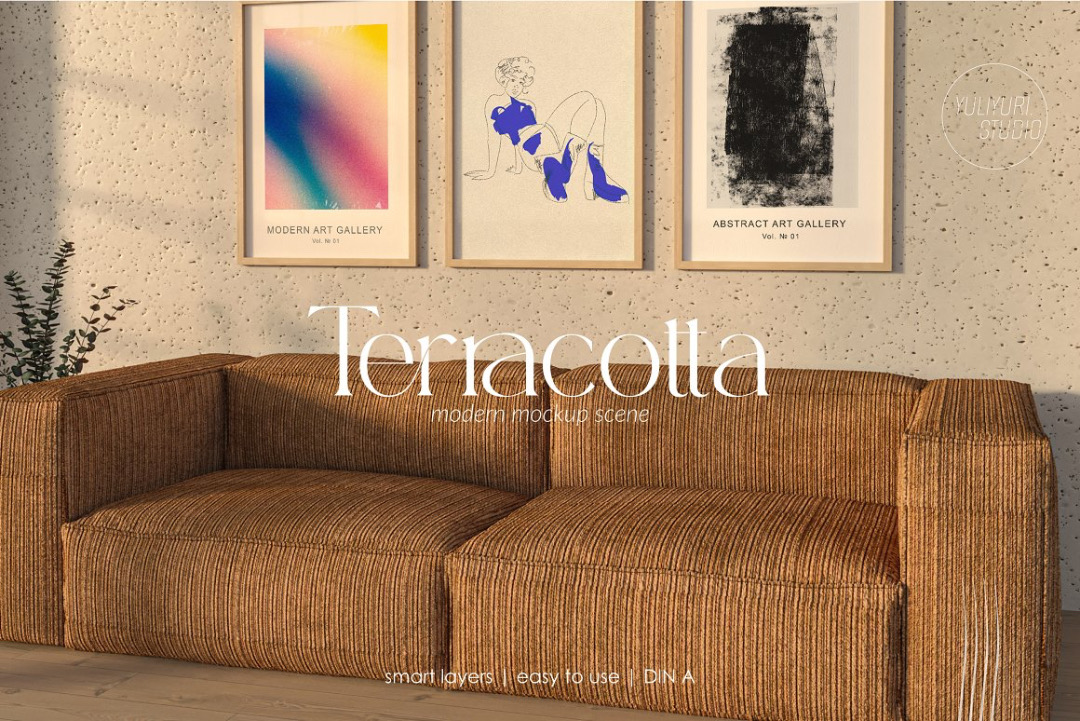 Image via Yuliyuri.studio

Hues like terracotta, burnt orange, and copper carry a smidge of the outdoors inside without getting your hands dirty. At the same time, these trending tones come in tandem with a growing fascination with the 70s. The Terracotta interior frame set immerses your art in awe-inspiring earthy and organic textures. The collection offers five PSD scene files, each equipped with a smart object for easy customization, alongside five high-resolution JPG files at 3500x3500 pixels and 300 DPI. It's your gateway to infusing your designs with the warm, natural charm of terracotta aesthetics.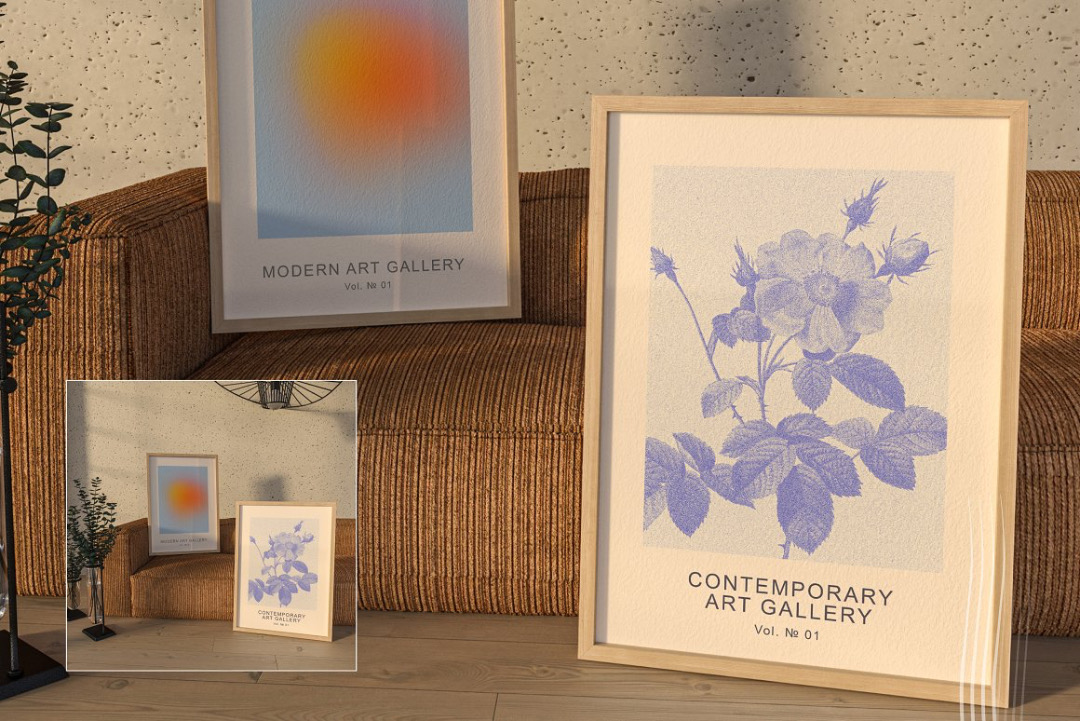 Image via Yuliyuri.studio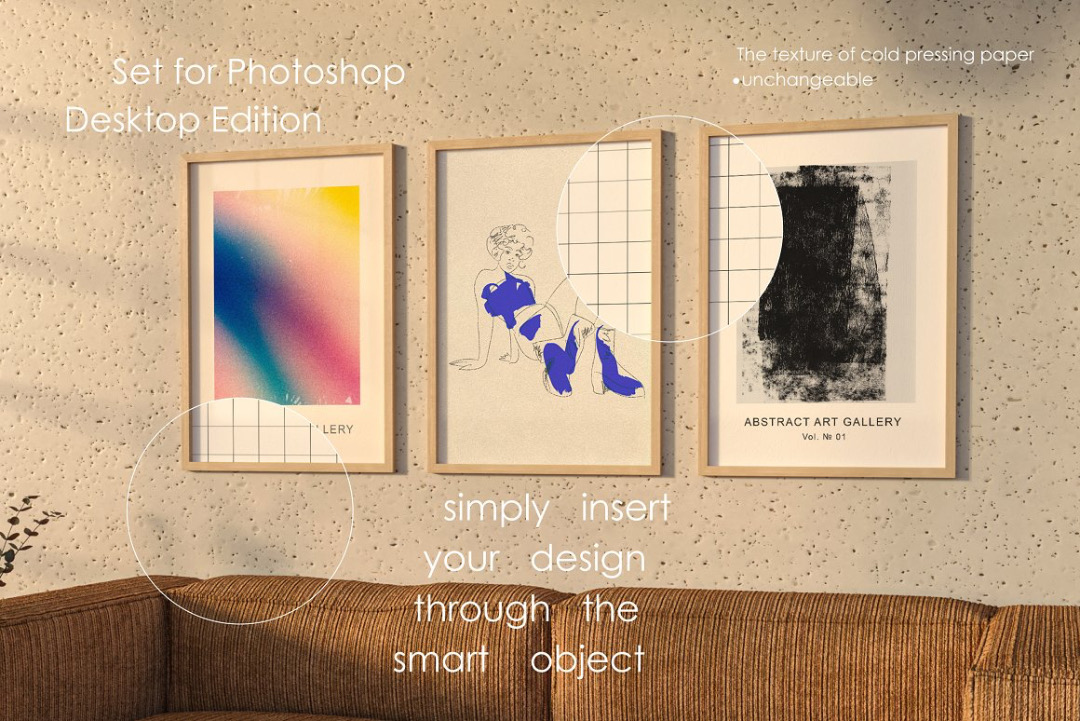 Image via Yuliyuri.studio

Bold is Gold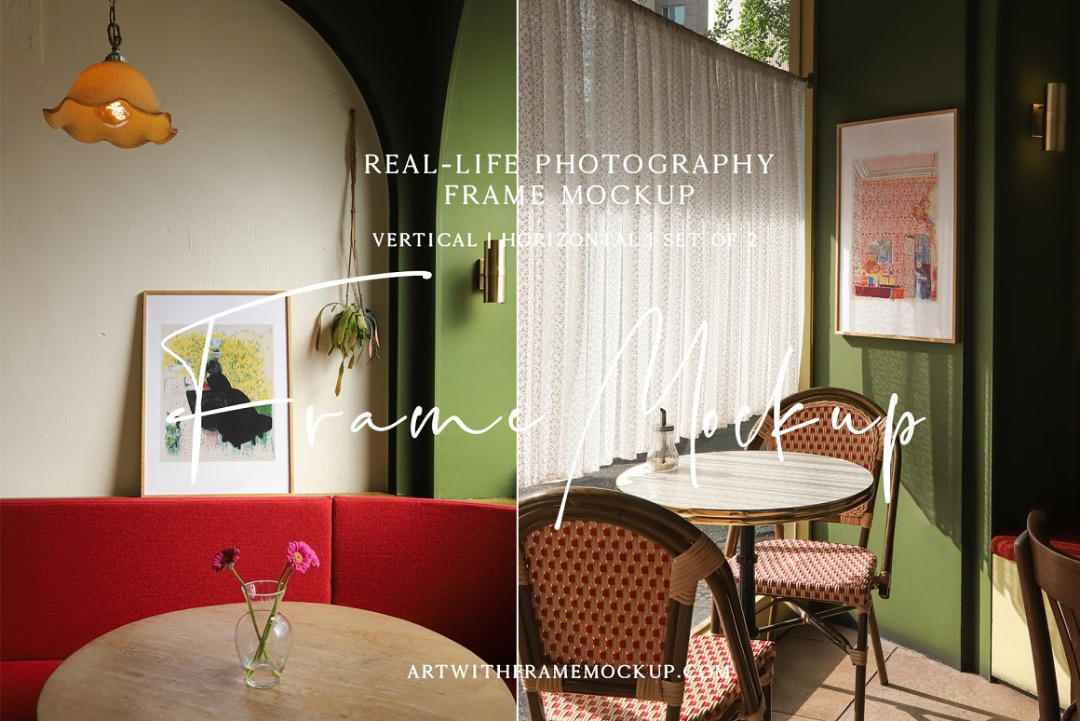 Image via ArtwithFrame

Homes are cranking up the saturation as a desire for bolder hues dominates the year, with rich colors like emerald and oxblood instantly bringing depth and coziness to any space. These take center stage in the Aesthetic Paris Cafe frame mockup bundle, which comes with 20 JPG files and 20 PSD files to inject your work with a romantic feel.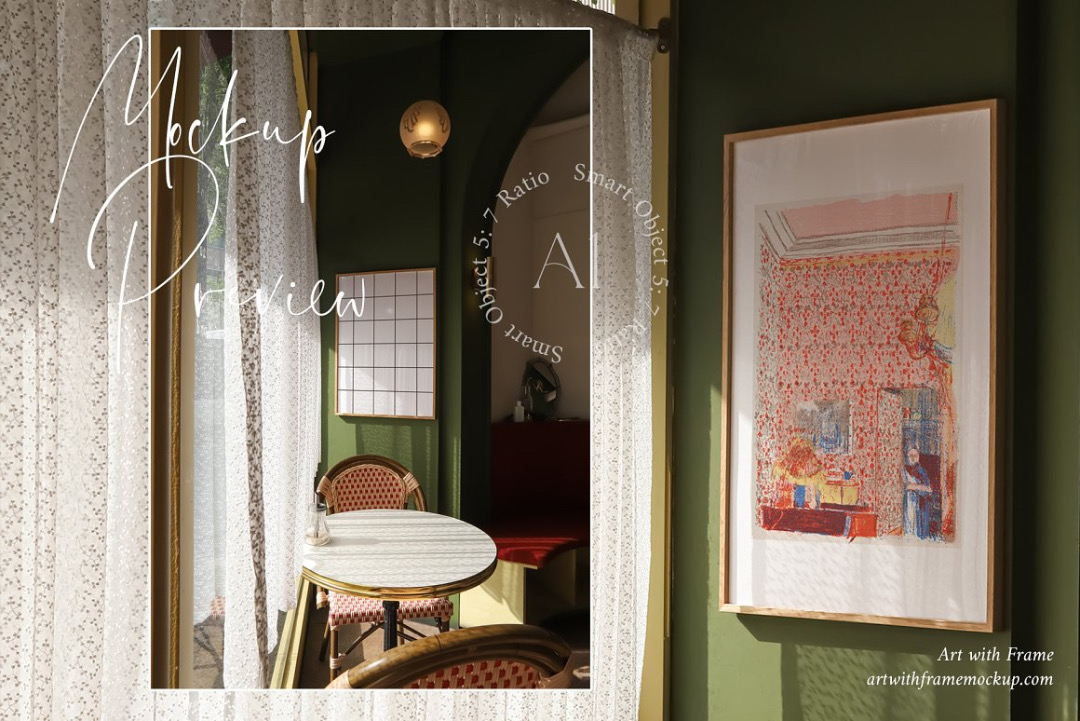 Image via ArtwithFrame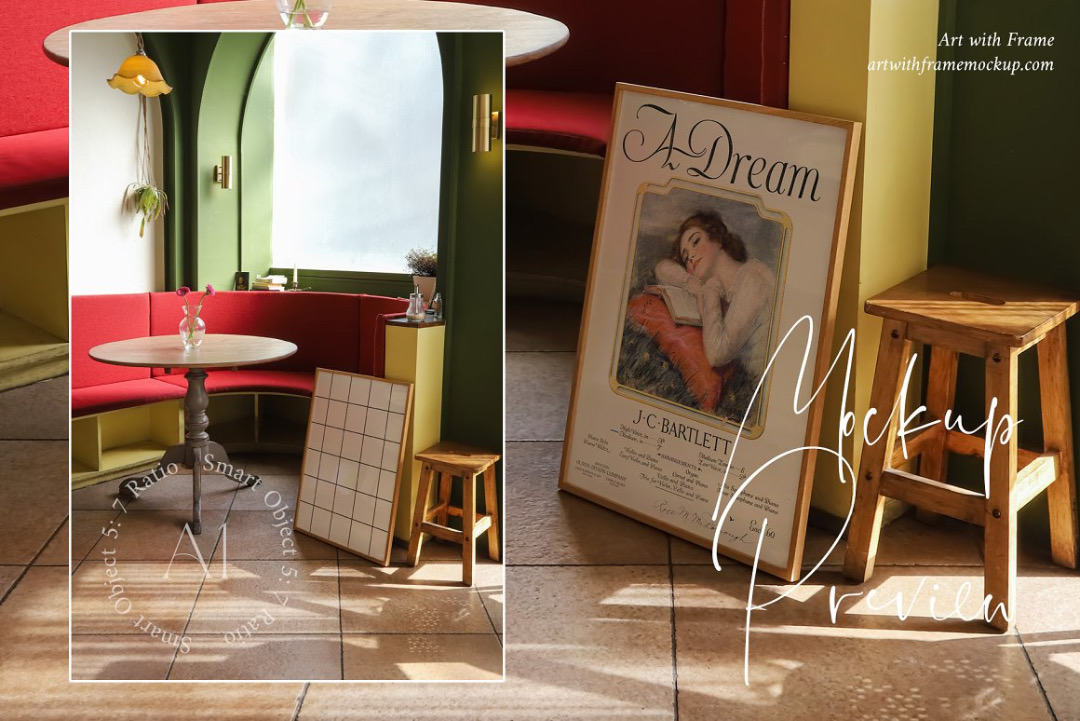 Image via ArtwithFrame

Natural Light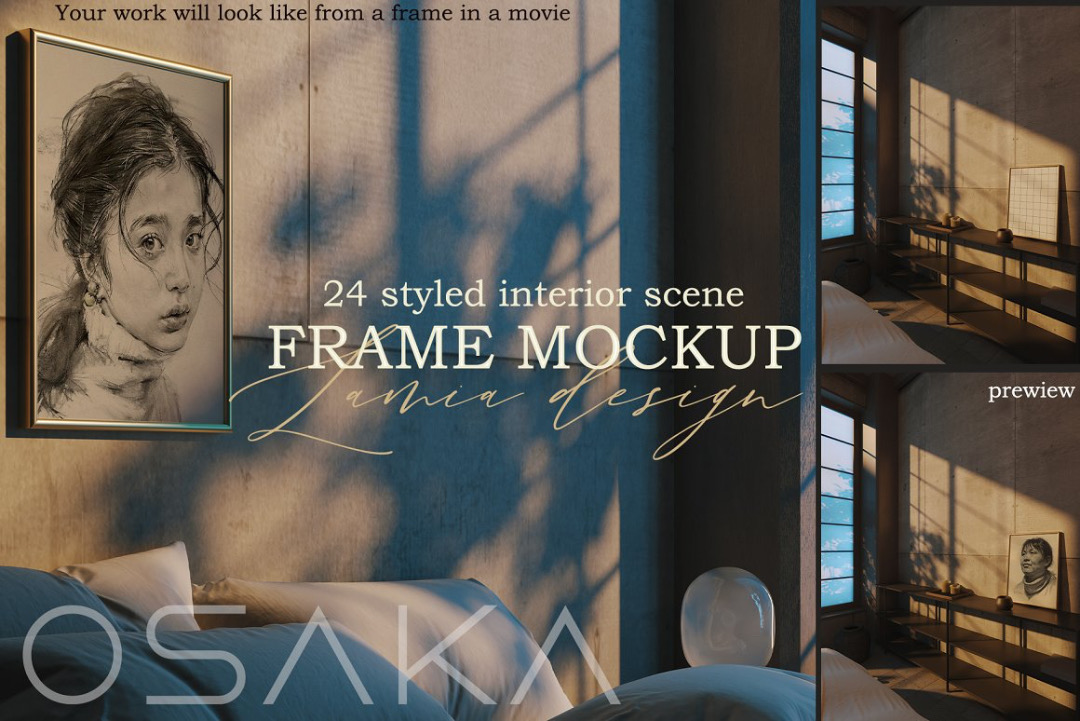 Image via LAMIA DESIGN

Large windows, well-placed mirrors, and light-colored décor create an inviting and airy atmosphere that's also energy-efficient, while establishing a stronger connection with the outdoors. Not to mention, photos look better under natural light! This OSAKA interior and frame mockup collection offers 24 high-quality ways to simulate the casting of the evening sun's soft glow over your art. The frames come in various ratios, including A4, A3, 420x420 mm, and 594 x 594 mm.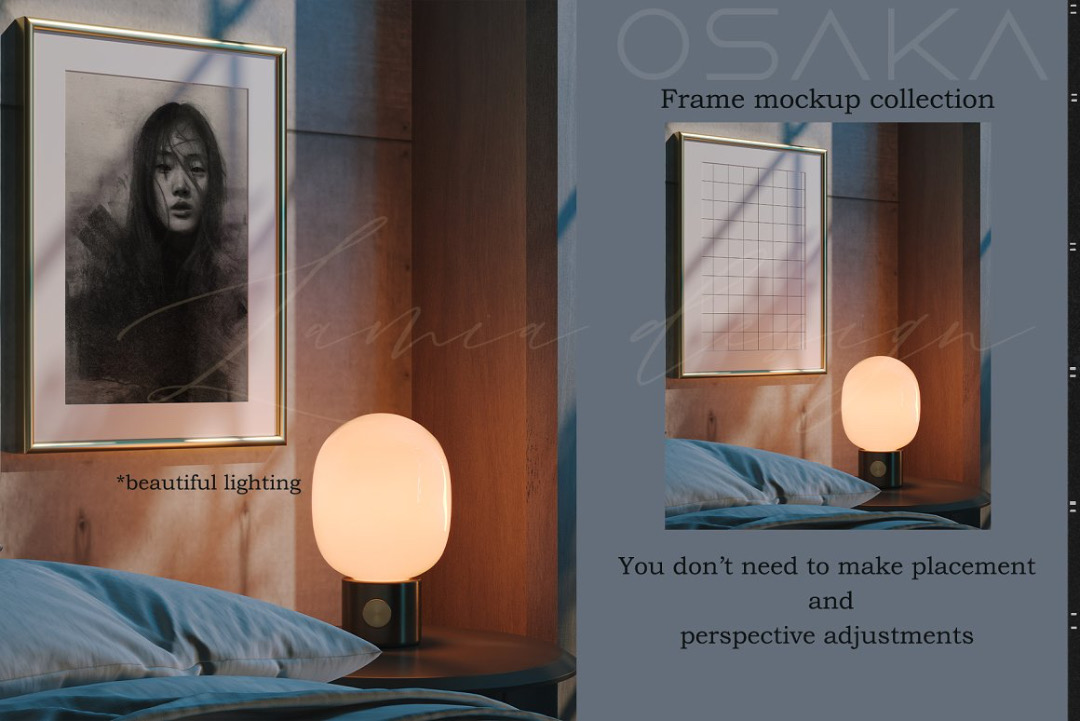 Image via LAMIA DESIGN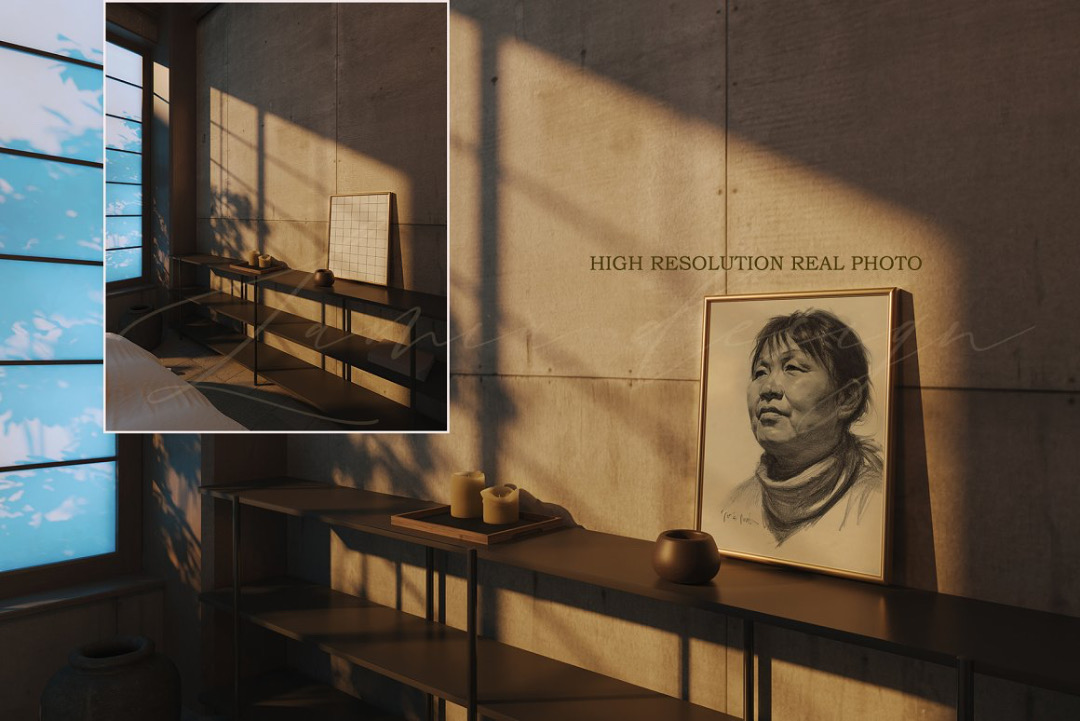 Image via LAMIA DESIGN

Image via LAMIA DESIGN
Curves in All the Right Spaces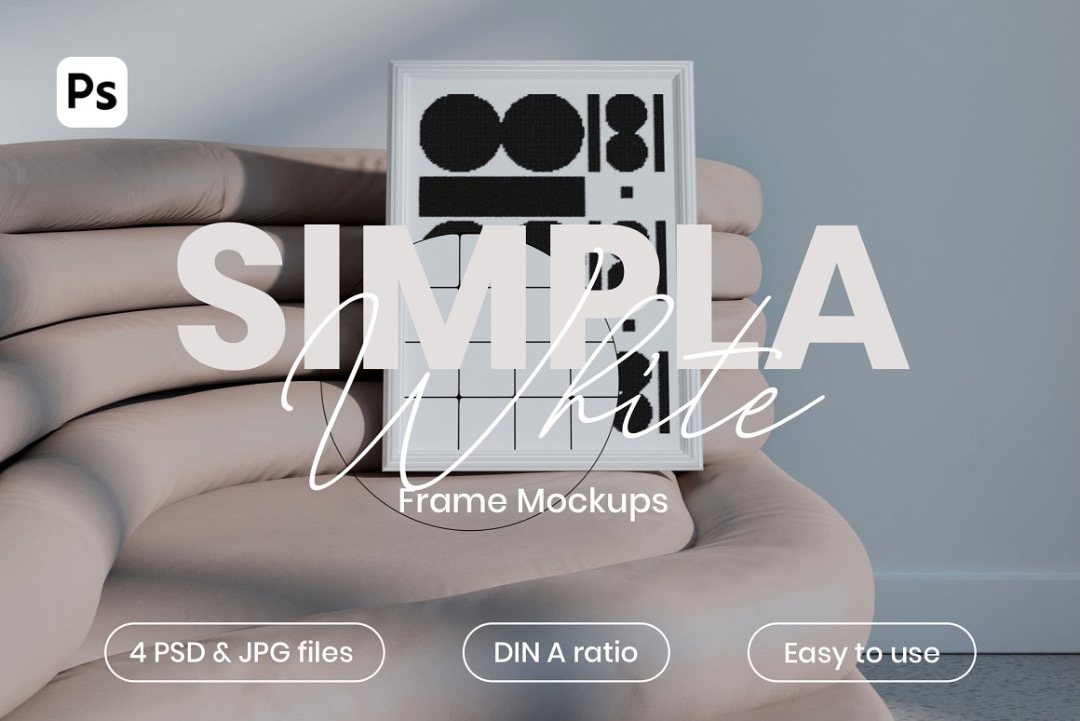 Image via Bonumo
Homebodies are favoring flowing, rounded edges and soft, gentle curves in furniture and décor. This design ethos aims to create spaces that feel inviting and harmonious, drawing inspiration from the natural world. From curved sofas and tables to sinuous light fixtures, it's a trend that brings a sense of fluidity and comfort into modern interiors. Recreate the look with these SIMPLA White Frame Mockups, which integrate your art into the organic curves of a modern off-white sofa.
Image via Bonumo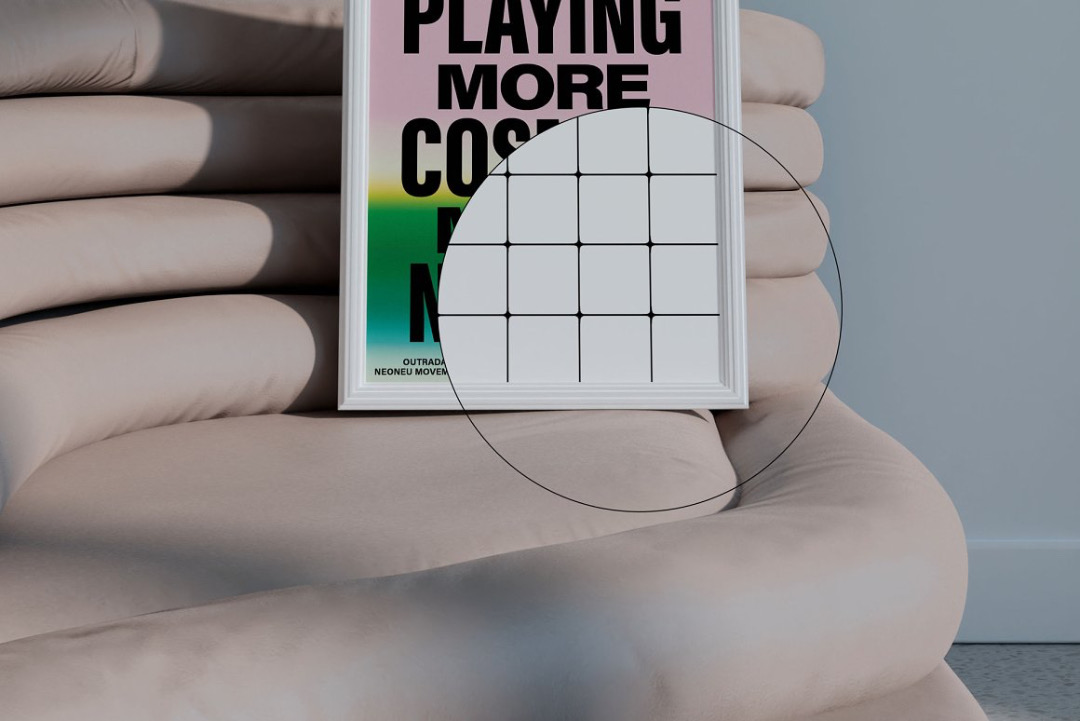 Image via Bonumo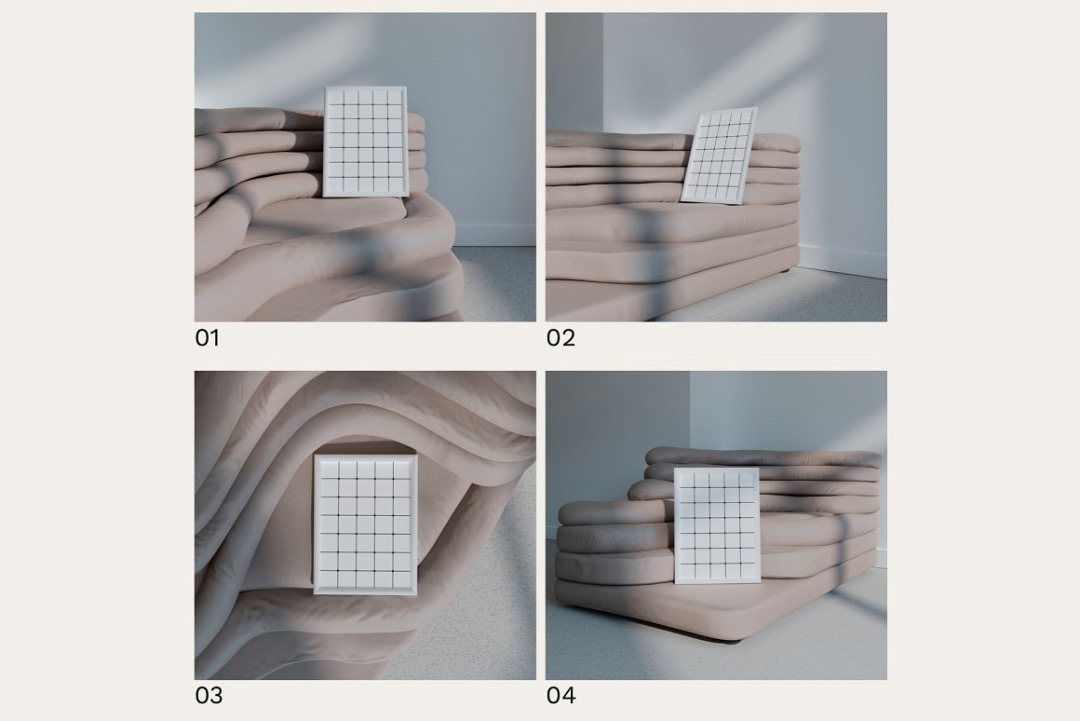 Image via Bonumo
[via Creative Market]
This article was crafted with assistance from an AI engine, and has been manually reviewed & edited.
Receive interesting stories like this one in your inbox
Also check out these recent news