Don't miss the latest stories
Share this
PETA Uses CGI Animals To Safely Convey 'Too Graphic' Realities Of Lab Testing
By Mikelle Leow, 21 Nov 2023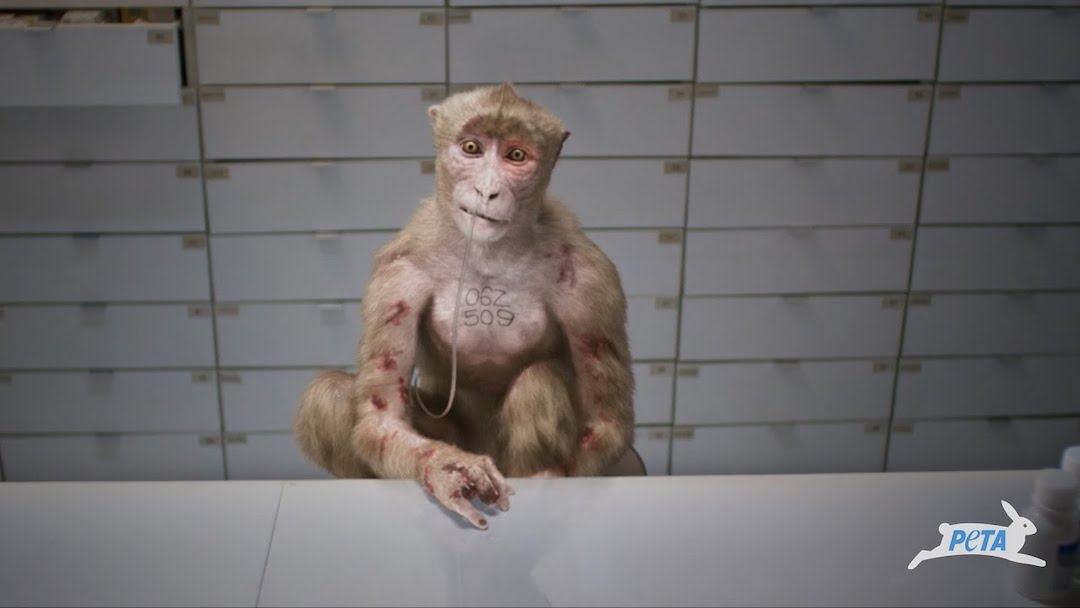 Video screenshot via PETA
PETA is hoping to put an end to the monkey business that's taking place in pharmaceutical industries by exposing the dark reality of animal testing to the public's eye. To do so, it knows it can't show real footage of cruel practices on television, so the animal rights group has turned to computer-generated graphics for a more sterilized—albeit still gripping—portrayal.

Even with the digital depictions, PETA says that several broadcasters have declined to air its campaign, labeling it as "too graphic" and potentially "triggering" for viewers.

The 15-second clip, which features a computer-generated monkey marked with an identification number, aims to convey the hidden costs of drug testing on animals.
When a curious "customer" inquires about the price of a prescription, the animated monkey, struggling to breathe through a tube, responds with a somber message: "Too much."
This commercial is part of a broader PETA campaign that also targets the dairy and cashmere industries, illustrating the high costs animals pay for these products. Accompanying spots depict a calf and a goat, representing the gruesome reality behind cheese and cashmere production. The videos are set to be broadcast widely on television and movie screens during the holiday season, challenging viewers to consider the ethical implications of their consumer choices.
Numerous stations have refused to bring the monkey into the spotlight, says PETA. However, a few networks in San Diego, Madison, Wisconsin, San Antonio, and the Hartford, Connecticut area have agreed to run the spot. Some of those locations are near animal research facilities.
Kathy Guillermo, senior vice president of PETA, emphasizes the disturbing contrast between the mild nature of the CGI ad and the harsh reality of actual animal testing in laboratories. The staggering statistics that 110 million animals are killed annually in US laboratories further underlines the need for change. Per the organization, it's estimated that the National Institutes of Health spends nearly half of its annual budget, around US$20 billion, on animal experiments.

"If a computer-generated monkey is 'too much' for TV, imagine how consumers would react to seeing real footage from inside laboratories, where monkeys are caged, pumped full of chemicals, infected with diseases, and killed for pointless experiments that don't benefit human health," Guillermo proclaims.
"PETA is rallying viewers to stand against real-life horrors for animals by calling on US laboratories to pivot to sophisticated, human-relevant research methods."
The initiative's other two commercials weren't met with the same resistance. Depicting a computer-generated calf in a cheese production facility and a goat suffering in the cashmere industry, they received slightly more favorable responses from several television stations, who have agreed to air them.
While PETA's hard-to-watch campaign focuses on animal testing for pharmaceuticals, it's part of a larger conversation about the treatment of animals in various industries. The organization contends that despite the grim realities of animal experimentation, most of which doesn't lead to advancements in human health, millions of animals continue to be used in laboratory experiments each year.
[via PETA]
This article was crafted with assistance from an AI engine, and has been manually reviewed & edited.
Receive interesting stories like this one in your inbox
Also check out these recent news