Don't miss the latest stories
Share this
Try To Stop Staring At This Mesmerizing, Twirling Desk Toy That Defies Gravity
By Mikelle Leow, 21 Nov 2023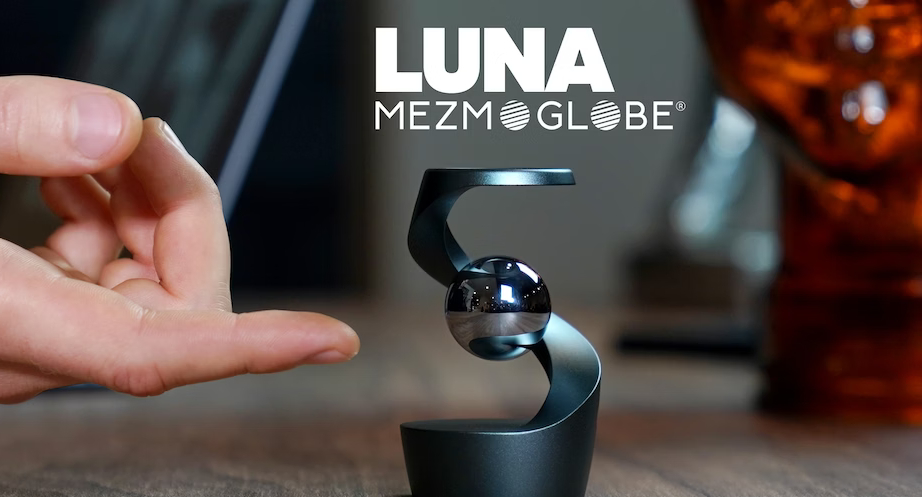 Image via Mezmoglobe

Can't stop gazing at optical illusions? Let Luna, the latest creation from desk toy maker Mezmoglobe, be your new distraction that's secretly a focus tool.
This well-engineered kinetic desk toy with a gravity-defying mechanism features a sphere that seemingly levitates inside a flowing helix.

Luna's creators share that the invention frequently raises the question, "How?!". While some speculate about invisible strings, magnets, or even electronic wizardry, the designers can only admit that no magnetic or electric elements are involved. "A good magician never reveals his secrets," they tease.
Image via Mezmoglobe

Described as Mezmoglobe's most complex toy yet, Luna is completely mechanical, and presents a multi-shaped object that—combined with kinetic motion—creates varying optical effects depending on the viewing angle, distance, and speed of rotation. Achieving such a distinctive visual experience required extensive prototyping, precise engineering, and experimentation with numerous shapes and materials, say its makers.
Image via Mezmoglobe
Constructed from quality metals, Luna's body is CNC machined from aerospace-grade aluminum, then anodized for beautiful coloring and enhanced scratch resistance. The spheres, made from stainless steel, are mirror-polished and PVD-coated for a striking finish.

More than just a toy, it's designed to increase focus and add an artistic touch to any space.
"Ever felt tired from the digital gadgets and overwhelmed by screens at your workspace? Take a break and let your mind fly into another dimension," prompts Mezmoglobe.

The kinetic design piece doubles as a stunning sculpture when idle on a desk or shelf. With a simple twist, it springs to life, changing patterns with the rotation's direction and speed, helping to maintain focus, relieve stress, or provide a playful distraction.

The toy's allure has resonated with many, as evidenced by its ongoing Kickstarter campaign. Initially set to raise about US$7,500, the project has astonishingly garnered close to half a million dollars, underlining a fascination with dynamic, mind-bending creations such as this one.
[via Mezmoglobe]
This article was crafted with assistance from an AI engine, and has been manually reviewed & edited.
Receive interesting stories like this one in your inbox
Also check out these recent news