Don't miss the latest stories
Share this
Aaron Carter Gets Derided For Stealing Artwork, Responds To Artist With Insult
By Izza Sofia, 05 Feb 2020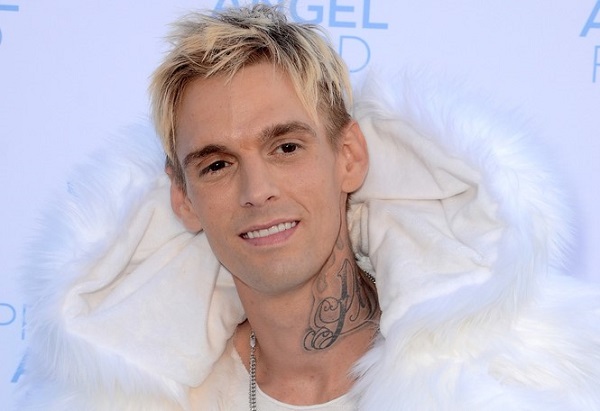 Image via Kathy Hutchins / Shutterstock.com
Aaron Carter
launched a tirade after an artist accused him of ripping off an artwork for Carter's clothing line.
Berlin-based artist
Jonas Jödicke
called out Carter for using his graphic featuring two lions with their heads against each other to advertise Carter's merchandise.
Carter first announced
on Twitter that his merchandise was up for grabs on aaroncarter.com. Upon seeing the tweet, Jödicke replied that the star had used his art titled
Brotherhood
without permission, declaring that the work was not part of a collaboration with Carter. The artist said his image wasn't even credited, but was used merely for profit.
Jödicke told Forbes
that he learnt about Carter's infringement through a follower on Twitter, who alerted him via direct message. Jödicke said his response was meant to tell Carter in a polite way that he wasn't okay with his art being used "in that way."
Instead of apologizing,
Carter's reply "got the whole tweetstorm going," Jödicke said. Carter insulted Jödicke in his tweet, stating that the artist "should be glad" that Carter was using his illustration to promote the singer's merchandise.
"You should've taken it
as a compliment, d**k, a fan of mine sent this to me," Carter said. "Guess I'll see you in small claims court."
Jödicke then followed up
with a tweet expressing how much he had grown as an artist, and wanted to raise awareness that stealing a creator's work was unacceptable. To which, Carter hit back in a
now-deleted tweet
, "Here's [to] clout chases—I was speaking about my family and a fan sent me the work. You're absolutely immature, and I create my own artwork."
Jödicke told his
followers that he would update them about the issue should anything else arise, and thanked them for their immense support.
if anyone is wondering how @aaroncarter is doing these days he used someone else's artwork to promote his clothing line *without permission* then had the fucking nerve to call the artist a dick when called out on it

so like..not well.. pic.twitter.com/5Zatdm170o

— joshua (@cuddlesandcoke) January 18, 2020
Hey @aaroncarter .. You are using my artwork to promote your merchandise. I have not given you permission to do so. My art is being commercially exploited by people on a daily basis. We artists have rights, too!

Iˋd really appreciate if you could retweet this so he'll see it. https://t.co/ktusJEo3dz

— Jonas Jödicke (@JoJoesArt) January 18, 2020
Celebs like @aaroncarter should set an example, especially since he's also from a creative background and knows copyright laws. If they can take art and do whatever with it, anyone can and will do it. If they're not held responsible, people won't stop treating artists like crap.

— Jonas Jödicke (@JoJoesArt) January 18, 2020
This is his reply. I am lost for words. pic.twitter.com/qVcphYttdf

— Jonas Jödicke (@JoJoesArt) January 18, 2020
And to make this clear: I would have been happy to handle this issue differently, had he reached out privately after my tweet. But the way he responded is making a mockery of the artist community and I can't sit with that. I've had enough of people treating artists that way.

— Jonas Jödicke (@JoJoesArt) January 18, 2020
Here's to all the artists working their butts of everyday to improve and make their dreams become reality. @aaroncarter and others may think we shake these off our sleeves in no time, but noone gets to see the tears and sweat we put into our passion. #ArtTheftIsAbuse pic.twitter.com/FlUY54d3TK

— Jonas Jödicke (@JoJoesArt) January 18, 2020
The forbes article is out everyone! Let's share the heck out of it 💪🏻

Berlin Artist Jonas Jödicke Speaks Up About Aaron Carter Art Fiasco via @forbes https://t.co/j8ah5fxb7Y

— Jonas Jödicke (@JoJoesArt) January 18, 2020
[via
Bored Panda
, opening image via
Kathy Hutchins / Shutterstock.com
]
Receive interesting stories like this one in your inbox
Also check out these recent news