Don't miss the latest stories
Share this
Anish Kapoor To Debut New Series Of World's 'Blackest' Sculptures
By Mikelle Leow, 12 Mar 2020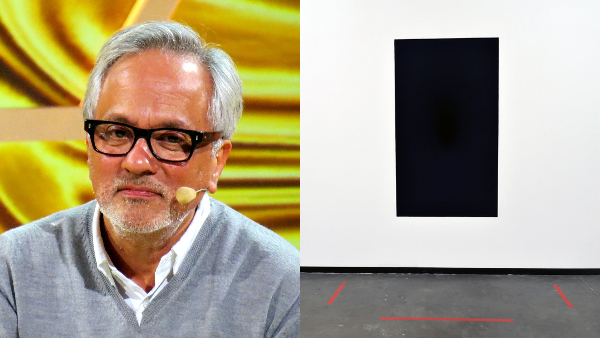 Images via Ekaterina Bykova / Shutterstock.com and Vogler / Wikimedia Commons (CC BY-SA 4.0)
Anish Kapoor,
artist and exclusive owner of the apparent "
blackest material in the universe
," is poised to unveil a new series of artworks created using Vantablack S-VIS at the Galléria dell'Academia during Venice Biennale in 2021.
The creations are
all covered in a "nano-material" that traps 99.96% light, making them appear completely void of dimension. Kapoor's version of Vantablack comes in sprayable form.
Moving the nearly
pitch-black sculptures will be a challenge, as they cannot be touched by human hands. To protect them, they are presently being kept in transparent plastic boxes, per
The Art Newspaper
.
Kapoor famously
faced controversy for obtaining exclusive rights to the pigment. Outraged, British artist Stuart Semple
invented
the "most pigmented, flattest, mattest black acrylic paint in the world" to make a suitable shade available to the masses. Its visual effect is close to Vantablack's, and absorbs between 98-percent and 99-percent of visible light. In addition, while Kapoor's pigment has to be handled with assistance in a lab, Semple's "open-source" variation works just like ordinary acrylic paint.
Addressing creators' disdain,
Kapoor explained that the pigment "does not come out of a tube," and requires a complex process to be applied in art.
"The particles stand up
like velvet when they are put to a reactor," Kapoor said in his London studio on Wednesday. "To give you a sense of scale if the particle were one meter-wide (3.3-feet-wide) it would be 300 meters-tall (984 feet-tall). When the particles stand up next to each other, light gets trapped in between each particle," he furthered.
Kapoor personally doesn't
fully understand how the pigment works with the reactor, as its functionality has been kept a secret for military and defense purposes.
Greg Hilty,
curatorial director of Kapoor's representative Lisson Gallery, said the showcase will also feature the renowned "void" artworks washed in blue and red.
[via
The Art Newspaper
, images via various sources]
Receive interesting stories like this one in your inbox
Also check out these recent news