Don't miss the latest stories
Share this
Foul-Mouthed Grandma Wins Internet By Calling Out Panic Buyers In Glorious Rant
By Izza Sofia, 23 Mar 2020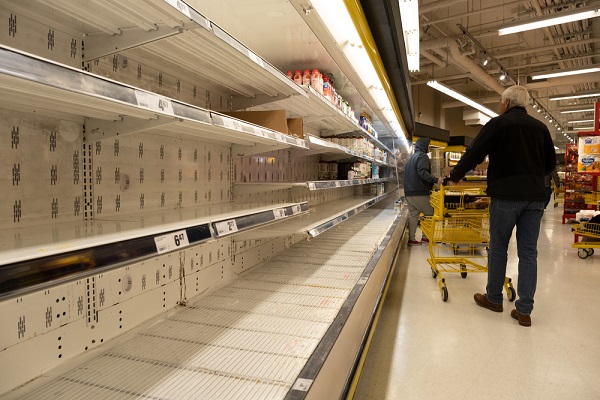 Image via Steeve Raye / Shutterstock.com
A British grandmother
has won the internet after a video of her calling out supermarket hoarders surfaced online.
The lady was
branded a "national hero" after the clip showed her blasting panic buyers in a foul-mouthed rant gone viral. The unnamed woman, who reportedly lived through the days of war rationing, declared she "[couldn't] believe what [was] f**king happening," as "greedy" people hoarded as much as they could due to the coronavirus crisis.
"Anyone going out
now can't get a mask, of course you can't because all you greedy f**kers doubled up on them. So, if I go out, which I won't, I've got to go out like that," she said angrily as she waved her scarf over her face.
She further highlighted
that people should spare a thought for the elderly, especially when a recent photo of an old woman facing an empty shelf made its rounds on social media recently.
"I come from
a war and don't remember anything like this. Stuff was rationed but we all got our share," she added. "Now, everybody's going mad, buying all the f**king toilet rolls up. Why? Don't you normally buy them? The stores should only be letting people have one per customer. No, but the stores are greedy b**tards and they're not," she reacted furiously.
The video went
viral on Twitter, and many applauded her for her honesty. "Love this gal. Let's make her famous. The embodiment of the attitude we need," one Twitter user said in agreement.
"Never heard anyone
use that word so effectively. Sparing but adding perfect weight to what she had to say. Beautiful English," another said.
An elderly Londoner lady, speaks out about corona:
Warning: Her lingua franca is arguably, a tad exotic. pic.twitter.com/HdDQgVPqPX

— Dr James Kent (@DrJamesKent3) March 16, 2020
I grew up the 1950's. I remember ration books even though I wasn't born during war time & it went on for several years; I also remember "toilet paper" was newspaper cut into squares & hung in the bathroom by a piece of string. What I don't recall at all is selfish behaviour.

— Suse Eridge (@EridgeSuse) March 17, 2020
No idea who this lady is but BRAVO missus.

— Anne Reynolds (@CandaerReynolds) March 17, 2020
Never heard anyone use that word so effectively. Sparing but adding perfect weight to what she had to say. Beautiful English.

— bobbles (@Worstedjumper) March 17, 2020
Love this gal. Let's make her famous. The embodiment of the attitude we need.

— Burnsy (@BurnsyBurns5) March 17, 2020
Sis knows what's up 🙌🏾🙌🏾🙌🏾 couldn't agree more

— Christine Banjoko (@chreenbanjoko) March 17, 2020
[via
B&T
, opening image via
Steeve Raye / Shutterstock.com
]
Receive interesting stories like this one in your inbox
Also check out these recent news