Don't miss the latest stories
Share this
KFC Brutally Roasts Fans Who Try To Replicate Its Fried Chicken At Home
By Mikelle Leow, 14 Apr 2020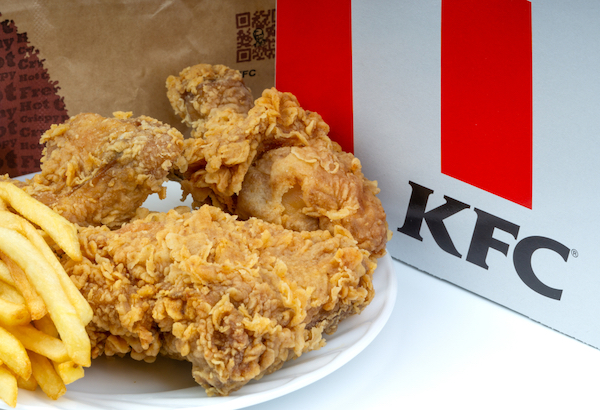 Image via Silver Wings SS / Shutterstock.com
While fast food giants
McDonald's
and
Burger King
have given their recipes away to encourage people to recreate their meals, KFC is humorously battering its customers who attempt to replicate its secret fried chicken recipe of 11 herbs and spices at home.
The official
Twitter account for KFC UK & Ireland has begun rating and roasting fans' homemade KFC meals put together to stay busy and satiated during the COVID-19 lockdown, and it appears that all that time spent indoors has made the company lose its cool too.
In one tweet,
the chain poked fun at a user's fried chicken, which appeared to be sprinkled with flaky salt. "I think you have dandruff," KFC wrote. "Chicken is good but no need for the 12th ingredient."
In another,
KFC replied, "Carole cluckin' Baskin wouldn't even feed this to her tigers. 4/10."
Geez, who put
Gordon Ramsay in charge of this account?
Have a laugh
at some comebacks by the fried chicken restaurant. And if you'd like to recreate the Colonel's secret recipe at home, don't let these mean comments stop you from fulfilling your clucking dreams; some people were actually commended for their impressive attempts.
I think you have dandruff.

Chicken is good but no need for the 12th ingredient. 7/10 #RateMyKFC

— KFC UK & Ireland (@KFC_UKI) April 8, 2020
A wet blue Rizla is a stronger skin than this. Need to up your egg wash pal. 5/10. #RateMyKFC

— KFC UK & Ireland (@KFC_UKI) April 7, 2020
This is #RateMyKFC, not #RateMySFC or whatever you call those buckets in the freezer aisle. Good portion, thou. 2/10.

— KFC UK & Ireland (@KFC_UKI) April 6, 2020
Carole cluckin' Baskin wouldn't even feed this to her tigers. 4/10. #RateMyKFC

— KFC UK & Ireland (@KFC_UKI) April 7, 2020
1658/10

— KFC UK & Ireland (@KFC_UKI) April 6, 2020
Now the chicken here looks solid, good work. However, the buns look dryer than a popcorns fart. 7/10 #RateMyKFC

— KFC UK & Ireland (@KFC_UKI) April 6, 2020
Tarantino doesn't man this account put that away. #RateMyKFC

— KFC UK & Ireland (@KFC_UKI) April 7, 2020
If KFC stood for Kind Fuzzy Cuties, this would be a 10.

Alas, it doesn't.

— KFC UK & Ireland (@KFC_UKI) April 6, 2020
We're Kentucky FRIED Chicken, not Kentucky cook it in a lukewarm bath for 9 minutes Chicken. Mash looks nice though.

You also forgot the hashtag which loses a point. 2/10#RateMyKFC

— KFC UK & Ireland (@KFC_UKI) April 6, 2020
You know what they say about people with big hands?

Alright looking chicken burgers. 7/10. #RateMyKFC

— KFC UK & Ireland (@KFC_UKI) April 7, 2020
I wore my new Dr Martens for the first time today to pop to the shop. That was less painful than looking at this. BBQ sauce touching the mash?!

Gravy needs a few thousand extra granules, too.

Chicken looks decent though. 4/10. #RateMyKFC

— KFC UK & Ireland (@KFC_UKI) April 6, 2020
Exquisite. 9/10. #RateMyKFC

— KFC UK & Ireland (@KFC_UKI) April 7, 2020
Cor we have a contender alright. The font of the letters is nearly bang on, the chips look great and the chicken very passible. 8.5/10. #RateMyKFC

— KFC UK & Ireland (@KFC_UKI) April 7, 2020
[via
Metro.co.uk
, cover image via
Silver Wings SS / Shutterstock.com
]
Receive interesting stories like this one in your inbox
Also check out these recent news