Don't miss the latest stories
Share this
Museums Go Head-To-Head To Find The Creepiest Objects You Won't Be Able To Unsee
By Thanussha Priyah, 22 Apr 2020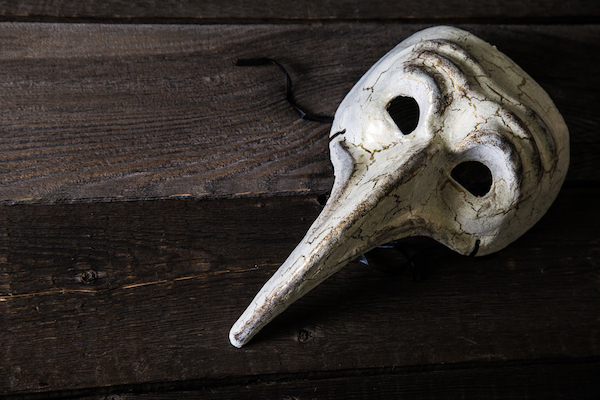 Image via Shutterstock
As museums remain
shut until the
coronavirus
pandemic bridges over, England's
Yorkshire Museum
has launched an internet battle between museums to show off their creepiest objects. Be warned, you can't unsee any of it.
Using the hashtag
"
#CuratorBattle
", Yorkshire museum kicked off the showdown by sharing a photo of a bundle of human hair with jet pins, which once belonged to a Roman woman in the third or fourth century.
Berlin's Deutsches Historisches Museum
stepped up the ante with a timely photo of a plague mask, while England's
Egham Museum
threw in a photo of a broken doll's head from the 1920s.
Canada's PEI museum
came in strong with "cursed children's toys" from a 155-year-old mansion, and even introduced its one-eyed "Wheelie" to the Twitter thread.
Natural Science NMS'
revealed its Fiji mermaid, a taxidermy fad for binding together a monkey and fish monstrosity.
The Yorkshire Museum
will be running this
battle
weekly, with the next tournament set for this Friday, per
CNN
. Though you can't visit museums at the moment, you can still venture into the bizarre by following the "#CuratorBattle" hashtag.
Take a look
at some of the most terrifying contenders below.
MUSEUMS ASSEMBLE! It's time for #CURATORBATTLE! 💥

Today's theme, chosen by you, is #CreepiestObject!

We're kicking things off with this 3rd/4th century hair bun from the burial of a #Roman lady, still with the jet pins in place...

CAN YOU BEAT IT? 💥 pic.twitter.com/ntPiXDuM6v

— Yorkshire Museum (@YorkshireMuseum) April 17, 2020
Our #CreepiestObject has to be this 'mermaid'... 😱💀🧜‍♀️ #CURATORBATTLE #TroublingTaxidermy pic.twitter.com/GMSosyuqIX

— Natural Sciences NMS (@NatSciNMS) April 17, 2020
Thanks for thinking of us @HottyCouture and wow, will we be having nightmares tonight with all these #CreepiestObject|s ! Here is the one we just can't hide from you, one of our many creepy gems – our Plague Mask (1650/1750)! #curatorbattle pic.twitter.com/JrMjqAJSIM

— Deutsches Historisches Museum (@DHMBerlin) April 17, 2020
Imagine rummaging through an archive and unwrapping this 👇

MC 490A: Broken Dolls head in many parts with fair hair c.1920

Found on the grounds of @StJudesHead. Let's hope they treat the pupils better 😂#CuratorBattle #CreepiestObject pic.twitter.com/J5aVRNuSo6

— Egham Museum (@EghamMuseum) April 17, 2020
Bringin' our A-game for this #CURATORBATTLE! What is it? Just a CURSED CHILDREN'S TOY that we found inside the walls of a 155-year-old mansion. We call it "Wheelie" - and it MOVES ON ITS OWN: Staff put it in one place and find it in another spot later on…. #Creepiestobject pic.twitter.com/FQzMzacr8a

— PEI Museum (@PEIMuseum) April 17, 2020
Just when you thought it couldn't get any worse, we present ....

MC 294

No need to thank us, it was honestly our pleasure #CURATORBATTLE #CreepiestObject pic.twitter.com/kgAA2ePMIr

— Egham Museum (@EghamMuseum) April 17, 2020
GUYS we know we have already won. This severed lower leg by Kerry Jameson has sprouted its own legs and a rather beastly head. @COCAYork #RethinkCeramics pic.twitter.com/Ip84aNacUX

— York Art Gallery (@YorkArtGallery) April 17, 2020
Live from the Toy Museum of Penshurst Place, we present the Drinking Bear. Feed it a 2 pence piece and it'll pretend to drink from its cup as it stares into your soul. #CuratorBattle #CreepiestObject pic.twitter.com/ohNl2974UJ

— Penshurst Place (@PenshurstPlace) April 17, 2020
[via
CNN
, cover image via
Shutterstock
]
Receive interesting stories like this one in your inbox
Also check out these recent news