Don't miss the latest stories
Share this
PlayStation 5's Unexpected Design Roasted, Forces Comparisons To Tower Of Sauron
By Izza Sofia, 12 Jun 2020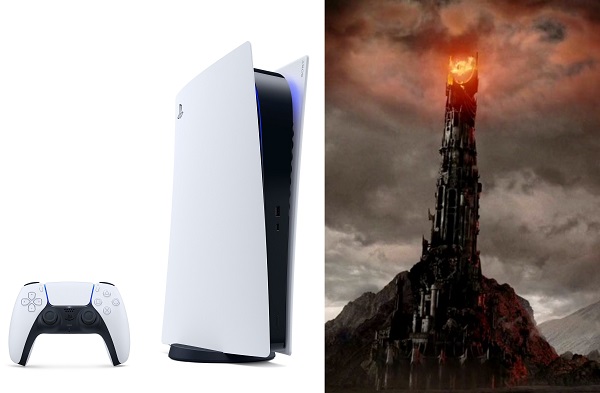 Left image via PlayStation, right image via IMDb
Sony has unveiled
its latest edition of PlayStation, creating a buzz online.
The tech giant
shared images of the futuristic-looking gaming console on Twitter. "Harness the power of a custom CPU, GPU and SSD with Integrated I/O that rewrite the rules of what a PlayStation console can so," Sony wrote on its
website
.
According to the
company's hardware unveiling video, the PS5 gameplay experience will be the same. "While there are some slight differences in the look of each model, for the overall design, we wanted to deliver a console that's bold, stunning, and unlike any previous generation of PlayStation," the video states.
Stark differences
in the design elements include sleeker silhouettes and the ability to stand the consoles up vertically. The radical look has taken gamers by surprise, and plenty of memes have been born.
"The PS5 looks
like a new campus performing arts center that replaced three academic art departments and cost US$60 million dollars," one Twitter user joked. Another thought it looked like the
Lord of the Rings
tower with the Eye of Sauron.
Your first look at the #PlayStation5. pic.twitter.com/VCDfmVKCEl

— PlayStation (@PlayStation) June 11, 2020
why play station look like that

— Carson (@CallMeCarsonYT) June 12, 2020
June 11, 2020
The P in PS5 stands for Pope pic.twitter.com/4S3zJ8NRLZ

— Drago_the dragon breaker (@70_drago) June 11, 2020
You vs the guy she tells you not to worry about pic.twitter.com/MWrTOMmmSk

— 🍁 Atl Khaos 🍁 (@AtlKhaos) June 11, 2020
So are you all getting the Xbox series X or the PS5? pic.twitter.com/HZxnYTDfuM

— Lohki🍀♣️ (@iLohki) June 11, 2020
Me: I want a PS5
Mom: We have a PS5 at home.
PS5 at home:#PS5Reveal pic.twitter.com/SCkPvBL76A

— ☠✯Halb✯☠ (@henry_lancheros) June 11, 2020
Me: I want a PS5
Mom: We have a PS5 at home.
PS5 at home:#PS5Reveal pic.twitter.com/SCkPvBL76A

— ☠✯Halb✯☠ (@henry_lancheros) June 11, 2020
I Just found out that I've had the PS5 all along #PS5 #PS5Reveal pic.twitter.com/glKT0tS0rN

— Abdi🥶 (@_Shuuuush) June 11, 2020
the ps5 looks like a new expensive campus performing arts center that replaced three academic arts departments and cost $60 million dollars pic.twitter.com/mLwL921kRs

— but then a strange thing happened (@matthiasellis) June 11, 2020
[via
Collider
, opening image via
PlayStation
, right image via
IMDb
]
Receive interesting stories like this one in your inbox
Also check out these recent news