Don't miss the latest stories
Share this
Trump's Rally Tickets Sell Like Hot Cakes Due To A Grandma's TikTok Prank
By Izza Sofia, 16 Jun 2020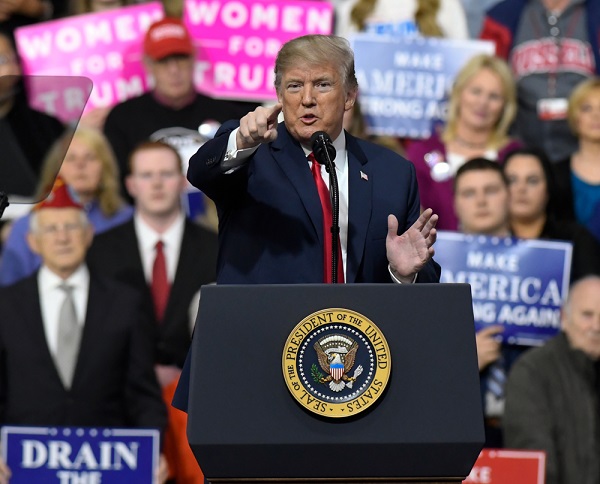 Image via Jack Fordyce / Shutterstock.com
President Donald Trump
has continued to hype up a forthcoming rally, tweeting out that almost one million people have requested tickets despite the ongoing
coronavirus
outbreak.
However, little did
he know that a great number of the people who signed up for his campaign are TikTokers who are attempting a viral challenge.
A few days back,
Mary Jo Laupp posted a TikTok video ranting about the rally's original date, Juneteenth. The upcoming rally is also set to be held in Tulsa, Oklahoma, a place known as the location for the "single worst incident of racial violence in American history."
In an act of protest,
Laupp suggested that TikTokers signed up for Trump's campaign's tickets, but not show up on the actual date itself. "I recommend all of us who want to see this 19,000 auditorium barely filled or completely empty go reserve tickets now and leave him standing there alone on the stage," she said.
Laupp told Daily Dot
that she dislikes Trump's "tone and tact," as well as the men "connected to white supremacist groups" in his cabinet. Laupp describes herself as a "moderate Libertarian with slight leaning to the left."
Her idea
was well-received by other social media users, and her video has received thousands of views. It also attracted numerous comments from people who have registered for tickets without the intention of showing up. "I accidentally got four tickets but I forgot I have to vacuum my ceiling that day," one TikTok user joked.
The Trump campaign
team, however, seemed to be unaware of the movement. "Just passed 800,000 tickets. Biggest data haul and rally signup of all time," Brad Parscale tweeted.
Twitter users
were highly amused by the stunt. "The fact that Brad Parscale is bragging about having 800,000 people registered without realizing that 99 percent of them registered for a TikTok challenge is just hilarious," one Twitter user said.
Almost One Million people request tickets for the Saturday Night Rally in Tulsa, Oklahoma!

— Donald J. Trump (@realDonaldTrump) June 15, 2020
Just passed 800,000 tickets. Biggest data haul and rally signup of all time by 10x.

Saturday is going to be amazing! https://t.co/u2tQ812odW

— Brad Parscale (@parscale) June 14, 2020
I have a whole cadre of people ordering tickets online to inflate his numbers and give him a false sense of attendance.

When no one shows, we can all have a good laugh. 😂🤣😂

I hope everyone joins in!

— Bret (@Bretman) June 15, 2020
The fact that Brad Parscale is bragging about having 800,000 people registered for the Trump rally without realizing that 99% of them registered for a TikTok challenge is just hilarious

— Santiago Mayer (@santiagomayer_) June 14, 2020
tiktok users reserving tickets to orange's rally in Oklahoma that's on Juneteenth just so the actual trump supporters won't be able to get tickets and leave the place it's been held empty... I love to see it

— yoc 🕊 BLM (@FALLINFROMEDEN) June 12, 2020
oh nooo 😔 I reserved tickets for the rally but I can't go 😟 and now trump might be standing alone on that stage 😢 https://t.co/BCvDQ3aeFd

— 𝒏𝒂𝒔𝒂⁷ BLM (@onlybcbts) June 12, 2020
[via
Daily Dot
, opening image via
Jack Fordyce / Shutterstock.com
]
Receive interesting stories like this one in your inbox
Also check out these recent news