Don't miss the latest stories
Share this
Elon Musk's SpaceX Invites The Public To Test Starlink Space Internet
By Mikelle Leow, 23 Jun 2020
Images via Lori Butcher / Shutterstock.com and Kathy Hutchins / Shutterstock.com
Not long after
SpaceX's historic launch
with NASA astronauts, its next ambitious mission appears to be on the horizon. Elon Musk's company is currently working on a
space-based internet service
called Starlink to bring internet access to everyone.
According to
Decrypt
, SpaceX recently put up an invitation to sign up for updates on the
Starlink homepage
. Beta tests for the space internet service are scheduled to be ready in summer, and everyone registering with their email address and an appropriate zip code will receive updates should trials take place in their areas.
Starlink was conceptualized
with the vision to bring internet connectivity everywhere. While many might take their screen time for granted, it is purported that about half of the world still doesn't have internet access, deal with poor connectivity, or are forced to pay extravagant prices for this privilege.
SpaceX primarily hopes
to reach out to areas with unsatisfactory connections, though Musk is also intending for Starlink to make internet services wallet-friendly in urban areas.
SpaceX's system of satellites
touts potential internet speeds of one gigabit per second at a latency of 30 milliseconds or so, ideal for fast-response video gaming. In contrast, the
average internet speed
in the US is 135 megabits per second, and the country with reportedly the fastest average speed, Singapore, boasts a speed of 202 megabits per second.
However, SpaceX has
been criticized for contaminating the night sky with its hundreds of satellites. In response, the company says it will install "sunshades" to prevent light pollution. Making good with this promise will be crucial, as Musk envisions connecting thousands of satellites in space by 2021 so internet access will be available in nearly all parts of the world.
It is believed
that Starlink will first run trials in Seattle and Germany, and an official debut in North America should happen later in the year.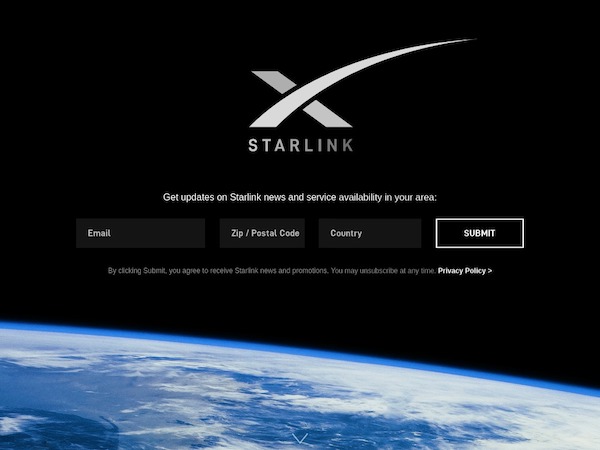 Screenshot via Starlink
[via
Decrypt
, images via various sources]
Receive interesting stories like this one in your inbox
Also check out these recent news