Don't miss the latest stories
Share this
Nissan Glows Up With 2D Logo That Beams, Its First New Brand Design In 20 Years
By Mikelle Leow, 16 Jul 2020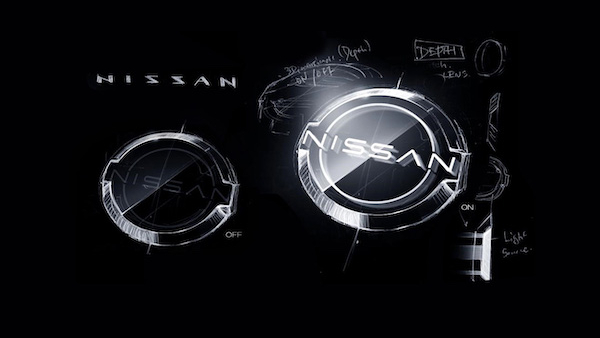 Image via Nissan
Nissan aspires
to outshine its longstanding metallic logo with a simplified version that's ready for a "digital world" without switching too many gears from its heritage.
The new logo
is the Japanese automaker's first new one in 20 years. Word of the redesign first got out when
trademark applications
for it appeared in some markets back in March.
The brand identity
overhaul was actually two years in the making. Under the direction of the company's advanced design department deputy general manager Tsutomu Matsuo and global design senior vice president Alfonso Albaisa, Nissan's designers embarked on a rebrand based on three keywords—"thin, light and flexible"—in 2017.
The acceleration toward
the electric car era some two decades later introduced a couple of new challenges: the logomark had to also stand out on electric vehicles—plus in Nissan's vision, it had to glow. Meanwhile, the logo needed to give off a "strong impression when not illuminated," whether across digital or paper formats.
Albaisa detailed
that the team drew inspiration from "breakthroughs in science, technology and connectivity—how these have brought fundamental changes to customers."
Nissan's team
explained that the design process started out with an illuminated 3D look which was later distilled to 2D using the lit-up part as an outline. This presented four variations of the new logo, two with shadows and two without.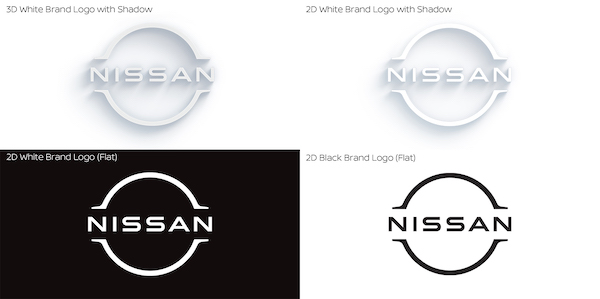 Image via Nissan
Click to view enlarged version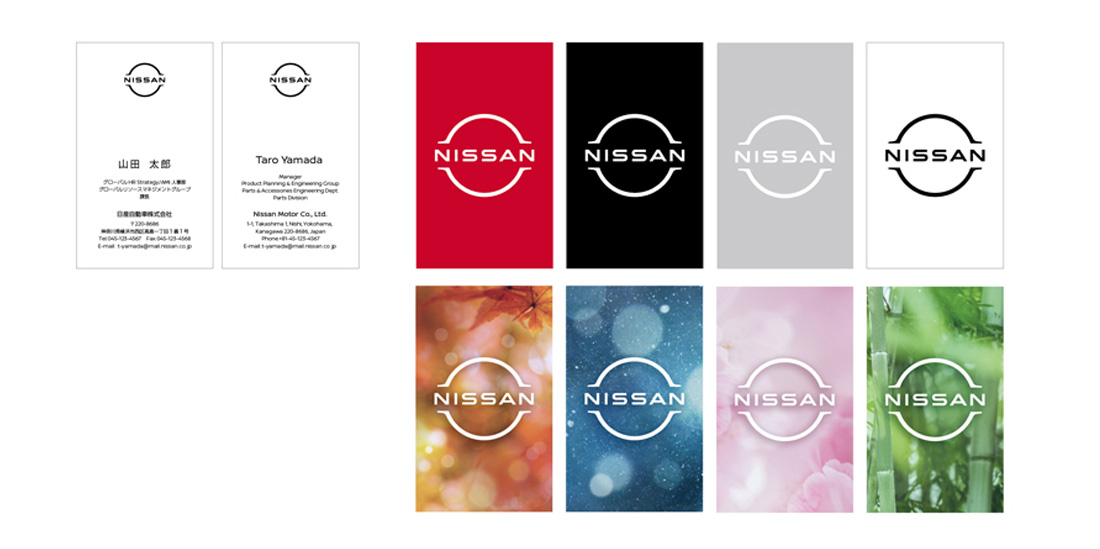 Click to view enlarged version. Image via Nissan
For a clear appearance
across electric vehicles, the designers also had to determine the right thickness to attain a "clear impression when lit" while respecting government regulations for illuminated details on cars.
Not forgetting its
heritage, the brand honored the motto Nissan founder Yoshisuke Aikawa had set for the previous logo: "If you have a strong belief, it penetrates even the sun." Nissan made this "strong belief" known by embracing its fundamental elements of a circle and a horizontal plate encasing the brand name.
The final result,
in Nissan's words, is "more designed than manufactured," with "the flexibility to live in multiple worlds." While the flat redesign doesn't deviate too far from the old appearance, Nissan believes the adjustments move the logo from possessing a "hard-edged, industrial feel to a refined, familiar and digital-friendly look."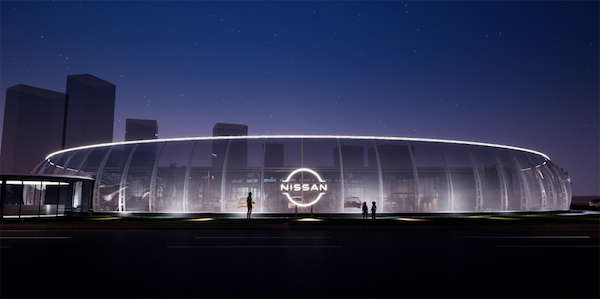 Image via Nissan
At the same time
the logo redesign was announced, Nissan unveiled the Ariya electric vehicle range—its "first all-electric crossover SUV"—and appropriately commemorated both debuts by presenting the new logomark on Ariya models and lighting it up with 20 LEDs to mark 20 years since the last design. The 2D logo will appear on future vehicles.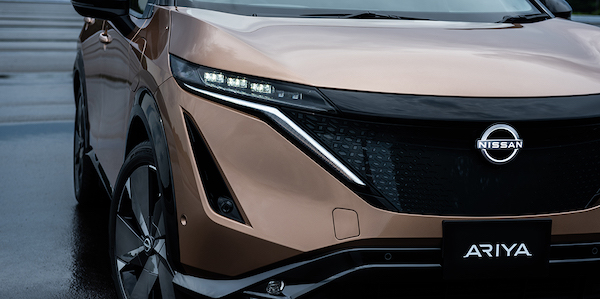 Image via Nissan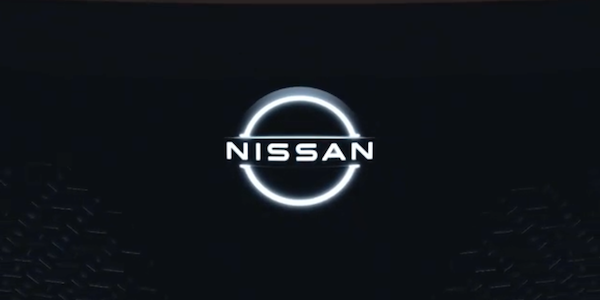 The new logo, illuminated on the Nissan Ariya EV. Video screenshot via Nissan
The rebrand
officially kicks off both digitally and offline this month. A visually intriguing video titled
A New Day for Nissan
, shown below, flaunts the new logo as objects of nature, such as cherry blossoms and greenery.
[via
Design Week
, video and images via
Nissan
]
Receive interesting stories like this one in your inbox
Also check out these recent news