Don't miss the latest stories
Share this
Apple Takes A Break From Showing Off iPhones To Fawn At An Adorable Baby
By Mikelle Leow, 29 Jul 2020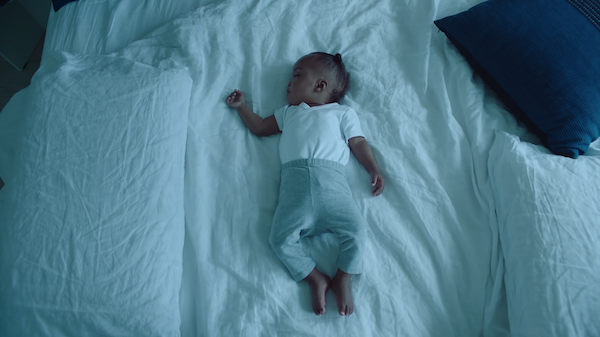 Video screenshot via Apple
Apple's latest advert
isn't to do with product design, at least in the most obvious of ways. After announcing that all of its corporate operations had gone carbon-neutral in April 2020, it now takes to a new video to reveal its vision to completely wipe out its carbon footprint by 2030, even down to the manufacturing, logistics, products and end-of-life material extraction fronts.
For anyone reading
this right now, it's welcoming news, but it's going to be especially valuable to the generations at the receiving end of this commitment. Apple's new spot acknowledges this. In an uncharacteristic move, the video doesn't feature any gadgets—but an adorable baby sleeping soundly. And to the blissfully resting infant, a voice soothingly whispers a profound promise to keep the world safe for him.
"Hello Idan,"
the narrator addresses. "What a beautiful name. It means 'magic.' You don't know us, you won't understand what we're about to say, but one day, Idan, you will."
The voiceover continues,
"Because we want to make you a promise. We want to be held to it. And every year, for years to come, we'll remain committed to it. A promise between you and us and the planet. We promise that everything we make, the way we make it and even how you use it will be carbon-neutral by your 10th birthday."
As the camera
pans over to Idan's delicate features—his gently coiled fingers, wispy eyelashes, and teeny toes—the narrator assures: "That might not sound like much to you, Idan, but believe us, it's not a promise that's easy to keep."
"But it's one
that we intend to. Promise."
Apple detailed
its
climate roadmap
for the next 10 years in a press statement. It explained, for instance, that it will continue engaging its latest recycling robot, 'Dave', to expertly disassemble old iPhones in order to recover precious materials like rare earth magnets and tungsten. It is also currently working with Carnegie Mellon University to introduce new engineering solutions for recycling electronics.
The company shared
that every iPhone, Mac, iPad, and Apple Watch released in 2019 is constructed with recycled materials. It is also the first smartphone maker to build its phones with "100-percent recycled earth materials."
Green efforts made
by Apple for design and innovation in 2019 drove down its carbon footprint "by 4.3 million metric tons," it furthered, and in the past 11 years, the company has "reduced the average energy needed for product use by 73 percent."
[via
Ad Age
, video and cover image via
Apple
]
Receive interesting stories like this one in your inbox
Also check out these recent news