Don't miss the latest stories
Share this
Virgin Galactic Unveils Cabin Interior Of Spaceship For Commercial Travel
By Izza Sofia, 29 Jul 2020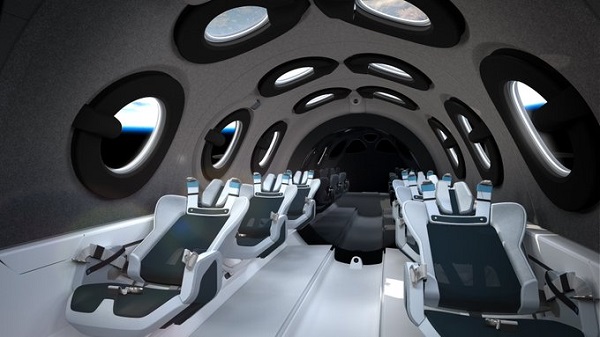 Image via Virgin Galactic
Virgin Galactic
has unveiled the interior design of its SpaceShipTwo VSS Unity, the shuttle that will take customers to the edge of space.
A live web event
showed the design of the cabin and its seats in it. Each seat in the six-person cabin has two personal windows for passengers to view the Earth below.
The company streamed
the unveiling in virtual reality on YouTube, giving viewers the opportunity to experience the cabin and "inspire future astronauts." The cabin design is minimalistic, with seats, windows and a large rear mirror that make up most of the layout.
High-definition cameras
too have been installed in the cabin, which will capture "everything from the first Instagram posts, to a beautifully edited and historically significant personal movie," per its
press release
.
Virgin Galactic
also explained that each seat will be designed specifically for each passenger, which is part of the US$250,000 ticket. The custom seats will feature woven material with hints of celestial blue that pay homage to the Earth's ocean. The seat will also feature gold accents that resemble the New Mexico desert, home of the port where passengers will gather before take-off.
600 passengers
have paid for the trip to the edge of space although the company hasn't confirmed when the first launch will be. With the ongoing
coronavirus pandemic
, the company will expect more delays in its test flights as well. Virgin Galactic has been developing the spaceship for more than 15 years now.
Providing safety without distraction, quietly absorbing periods of sensory intensity, and offering each astronaut a level of intimacy required for personal discovery and transformation. Take a look at the interior design of our spaceship cabin. https://t.co/mHy1c3JWUB pic.twitter.com/CQfDjTCZg3

— Virgin Galactic (@virgingalactic) July 28, 2020
Each individually designed seat has been engineered to match the dynamism of the flight. A pilot-controlled recline mechanism optimally positions astronauts to manage G-forces on boost and re-entry and frees up cabin space to maximize an unrestricted float zone when in zero G. pic.twitter.com/HOhW6AIvjR

— Virgin Galactic (@virgingalactic) July 28, 2020
Seatback screens provide digital flight data to connect each astronaut to the flight deck. Personal, integrated communication systems complement the screens with a direct connection for each astronaut to the two space pilots. pic.twitter.com/9RUMakWOt6

— Virgin Galactic (@virgingalactic) July 28, 2020
SpaceShipTwo Unity's cabin is sized to allow for an out-of-seat weightlessness experience for the astronauts on board. Soft cabin surfaces and elements become hand and footholds, allowing astronauts to explore the cabin. pic.twitter.com/0UQvBb5Bhm

— Virgin Galactic (@virgingalactic) July 28, 2020
Our Future Astronauts have made clear that photos and videos of their spaceflight experience are of paramount importance. 16 cameras will provide everything from the first Instagram posts to a beautifully edited and historically significant personal movie. pic.twitter.com/TU3rsvamvz

— Virgin Galactic (@virgingalactic) July 28, 2020
Twelve large windows contain "Halo" surrounds with soft extended edges, allowing astronauts to perfectly position themselves for awe-inspiring views, from the infinity of outer space to the beauty of our home planet pic.twitter.com/kdLuJXlbP5

— Virgin Galactic (@virgingalactic) July 28, 2020
Our spaceship is designed to carry astronauts but can also take payloads, or a combination of the two. This capability provides the scientific community access to high-quality microgravity, as well as to generally inaccessible regions of the upper atmosphere. pic.twitter.com/UMx6Lk0Ren

— Virgin Galactic (@virgingalactic) July 28, 2020
[via
CNN
, opening image via
Virgin Galactic
]
Receive interesting stories like this one in your inbox
Also check out these recent news