Don't miss the latest stories
Share this
Domino's Pizza Defends 'Karen' Ad Claiming 'It's A Tough Time' To Be One Of Them
By Mikelle Leow, 29 Jul 2020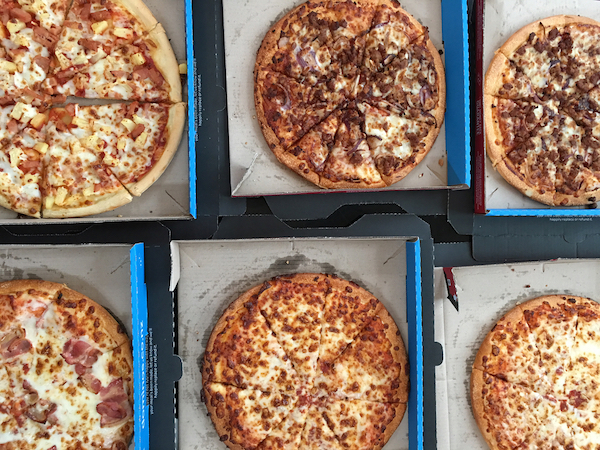 Image via ChameleonsEye / Shutterstock.com
In a surprising
turn of events,
Karens
won't be mad about Domino's Pizza's latest promo, but much of the public will.
The pizza chain's
Australian and New Zealand arms are being handed a red-hot slice of criticism after launching a campaign that sides with "good" Karens, inviting the "mask-wearing, law-abiding" lot to come forth and receive free pizza.
Domino's Pizza explained
that it started the deal because "it's a tough time to be a Karen." The term has been widely used
in memes
to signify difficult and entitled middle-aged women, often pictured as white with blonde hair.
I would like to speak to the manager of Domino's NZ for thinking that giving free pizzas to people called Karen is a good marketing idea pic.twitter.com/6RIz2zPMM1

— James Mustapic (@JamesMustapic) July 28, 2020
Customers have
railed against the chain for drawing attention to privileged women in the ill-timed move, especially when it could have used its influence to raise awareness about pressing issues like the
Black Lives Matter
movement.
In the comments section
of a now-deleted Facebook post by Domino's New Zealand, one customer wrote, "I would like to speak to your manager, please! I cannot believe the ignorance displayed in this post and the narrative you are trying to spin on this… I suggest you take this down immediately and publicly apologize."
"Are you guys
tone-deaf or just dumb? Delete this," another New Zealander replied.
An Australian customer
urged Domino's to shift its distribution of free pizzas to "genuinely marginalized people" instead. "Give pizza to people in poverty, people who can't get a wage subsidy… people who are ACTUALLY struggling," she suggested.
One woman
actually named Karen also denounced the campaign. "Please don't waste a pizza on me," she prompted. "[I'd[ MUCH rather you donate pizza [or money] to local organizations and charities supporting those actually affected by the 2020 crises."
Domino's Pizza
New Zealand justified that the ad was all in the name of fun, responding in a statement via
Stuff.co.nz
that it was "designed to celebrate all of those wonderful Karens across New Zealand… who do good in their communities, follow the rules and who are genuinely nice people, but whose very name now has negative connotations due to no fault of their own."
"What used to be
a light-hearted meme has become quite the insult to anyone actually named Karen," the company added.
A spokesperson
for the company said "most" customers had responded to the move positively, as it was "celebrating their favorite Karens."
"We look forward
to sharing the joy of pizza with some of them later in the week," they added.
However, the ad
has since been pulled by Domino's Pizza in New Zealand. The Australian arm, though, is still running with the idea.
CALLING ALL (MASK WEARING, LAW ABIDING) KARENS! 😷🚨

It's a tough time to be a Karen.
At Domino's, we know there's plenty of Australians named Karen that aren't, well, "Karens".

If this is you, let us know here: https://t.co/5fKKpd2TXU

We may send some pizza your way! 🍕

— Domino's Australia (@Dominos_AU) July 28, 2020
Free Domino's pizza for (mask wearing, law abiding) Karens pic.twitter.com/o5frLWnq7z

— PS (@RandomSobriquet) July 28, 2020
There are so many GENUINELY marginalised people doing it tough right now/always, & you wanna give free pizza to... Karen? This misses the mark completely. Give pizza to people in poverty, people who can't get a wage subsidy... people who are ACTUALLY struggling. pic.twitter.com/Pdd54DsqO4

— Alanah Parkin 🏳️‍🌈 (@AlanahParkin) July 28, 2020
We do give hundreds of thousands of pizzas to key groups of people who need it including our feeding the frontline activity which sees us donate thousands of pizzas to the hospitals, medical workers and the homeless.

— Domino's Australia (@Dominos_AU) July 29, 2020
the plan: market dominos by giving free pizzas to white women named karen during an international social revolution calling for equal rights for minority groups https://t.co/FWHPZnWxDj

— hikikomoriana grande (@mothmaam420) July 28, 2020
Wait, so #Domino's Australia are giving FREE pizza's to anyone named #KAREN??🤣 Ya'll think Karen's of the world are goin thru tough times?😂🤦🏽‍♀️ Ya'll more fragile AF than I thought..... pic.twitter.com/nUryo6PNRG

— TheBlackSheep.com (@74MasterBlaster) July 28, 2020
[via
Stuff.co.nz
, cover image via
ChameleonsEye / Shutterstock.com
]
Receive interesting stories like this one in your inbox
Also check out these recent news