Don't miss the latest stories
Share this
KFC Pauses 'Finger Lickin' Good,' And New Censored Ads Are Still Flocking Good
By Mikelle Leow, 25 Aug 2020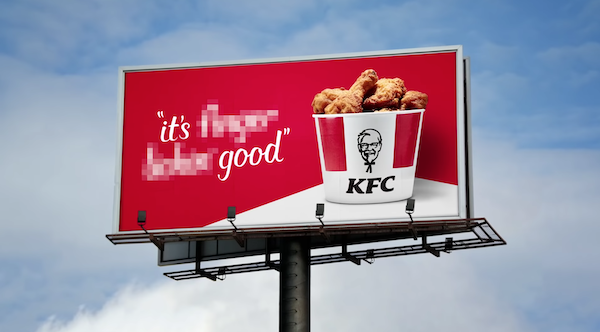 Video screenshot via KFC UK and Ireland
Who'd have thought
that KFC would come up with a campaign as self-deprecating and potentially smutty as the iconic
"FCK" response
for when it ran out of chicken? The
COVID-19
crisis, however, makes it easy to get fowl-mouthed again.
The 64-year-old
"It's Finger Lickin' Good!" tagline doesn't roll quite as happily in the prolonged coronavirus situation. KFC UK was forced to
suspend an advert
with the catchphrase back in March, but it is now officially hitting pause on the slogan.
New adverts
produced by the chain's advertising partner Mother London see "Finger Lickin'" being blurred out from KFC's packaging as if they're bad words. In one video, KFC UK and Ireland emphasizes, "That one thing we said? Ignore it. For now."
Alongside the pixelations,
the advertising agency has also released new billboards with blank spaces where the slogan should be. These are friendlier, and don't completely discourage customers from licking their fingers if it's something they're used to doing with KFC's fried chicken.
However, the out-of-home
ads arrive with small print to remind fans to do this more safely. In place of the tagline are disclaimers like, "Finger lickin' not currently advised," "Wash fingers thoroughly before lickin'," "Lick fingers* at your own risk… *Thumbs included," and, "Caution: May cause finger lickin'."
KFC UK and Ireland
said the catchphrase will return "when the time is right," but that it is currently tongue-tied on how to fill in the slogan's place with alternative messaging that's both appropriate and impactful.
Kate Wall,
who leads advertising at KFC UK and Ireland, described in a statement via
Sky News
, "People often say that it's the second movie that's hardest to get right. The follow-up, the next step. And we are facing the same conundrum at the moment. How do you follow a slogan that's lasted for 64 years and is as iconic as ours?"
Nevertheless, the company
is confident of finding the right substitute "with a little help from our friends." Wall added, "You'll be hearing more from us on this soon."
KFC joked about
the dilemma of producing a successful "Finger Lickin' Good" replacement on social media, writing, "Friendship ended with Finger Lickin' Good, now 'UNDECIDED NEW SLOGAN' is my best friend."
The company also
shuddered at the thought of how the Advertising Standards Authority in the UK would respond if it went with a fan's idea to introduce a "F***in' good chicken" tagline, and told another that her suggested subtitle, "But keep those fingers to yourself!" would be impractical as it was "paying by the letter."
It's Finger Lickin' Good*

Fresh work for KFC. pic.twitter.com/xambCK38mW

— Mother London (@motherlondon) August 24, 2020
August 24, 2020
August 24, 2020
Friendship ended with Finger Lickin' Good, now <UNDECIDED NEW SLOGAN> is my best friend. https://t.co/KKm7CNF0Rf

— KFC UK & Ireland (@KFC_UKI) August 24, 2020
The ASA may have something to say about that

— KFC UK & Ireland (@KFC_UKI) August 24, 2020
Yeah but when you're paying by the letter. It's why my dad would never let my brother get Van Nistelrooy on the back of his Utd shirt.

— KFC UK & Ireland (@KFC_UKI) August 24, 2020
[via
Sky News
, images by
Mother London
for
KFC UK and Ireland
]
Receive interesting stories like this one in your inbox
Also check out these recent news