Don't miss the latest stories
Share this
'Fall Guys' Reveals Freaky Anatomy Of Bean-Like Characters And It's Not Pretty
By Mikelle Leow, 25 Sep 2020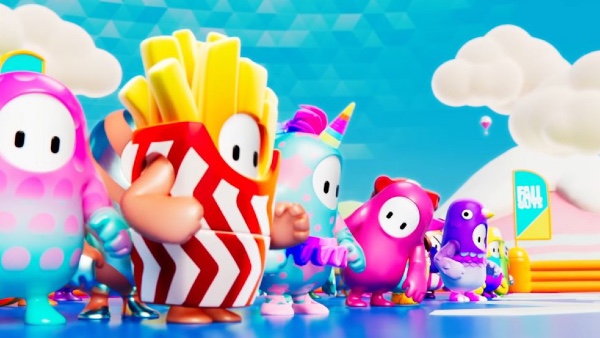 Video screenshot via Devolver Digital
Fall Guys, another
social
quarantine game
to accompany those who are bored at home, promises hours of entertainment with its humorous
Ninja Warrior
-style gameplay and vibrant, colorful graphics.
Not forgetting,
the game is stampeded by up to 60 bean-like characters, each identifiable by a whimsical costume. It turns out, there's a good reason for their adorable looks—evolution has to compensate for things somehow.
Mediatonic Games,
the developer of the multiplayer game, has shared official artwork of what Fall Guys look like underneath. Not underneath their chicken or pirate suits, but underneath their skinsuits.
It is a misconception
that Fall Guys are people dressed as humanoid beans, for anatomical visuals, created by senior concept artist
Tudor Morris
, reveal dangling eyeballs and a bent long neck. Their knees are also parallel to their toes.
For unknown reasons,
their eyelashes are hidden inside their bodies. This, perhaps, makes it impossible for the characters to bat their lashes at opponents in hopes of seducing them into submission.
And, no,
Fall Guys aren't small fries. They're six-feet-tall, so you can't ignore how terrifying they truly are.
Now that
the images are out there, there's no unseeing them—but the creators aren't apologetic about this at all. "We can't take it back," they confirmed.
To be fair,
Morris has shared that he just likes to "ruin nice things" and that the drawings "mean nothing."
"This is a canonical
representation of what's inside a Fall Guy," he wrote. "We knew from the start that they weren't as marketable like this so we gave them nice little cuddly suits."
As a sigh
of relief, he's offered the consolation that "whatever the interpretation you take away, they are very happy little beans."
[via
Eurogamer
, images via various sources]
Receive interesting stories like this one in your inbox
Also check out these recent news