Don't miss the latest stories
Share this
Billie Eilish Promotes Normalizing Real Bodies After Shaming From Paparazzi Pics
By Izza Sofia, 15 Oct 2020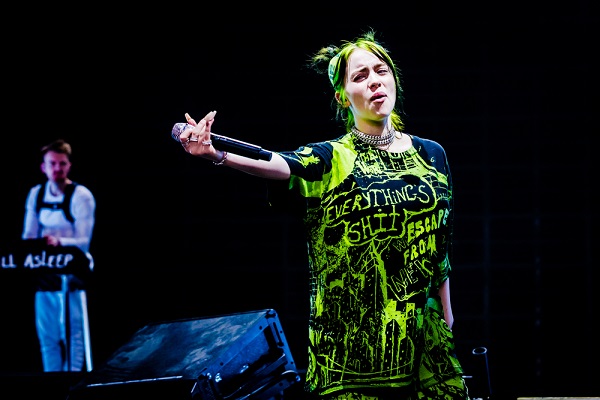 Image via Ben Houdijk / Shutterstock.com
Billie Eilish
has hit back at body-shamers after photos of her circulated online.
The singer shared
a short clip from YouTuber Chizi Duru, who encouraged fans "to start normalizing real bodies."
"Not everybody has
a wagon behind them, okay? Guts are normal. They're normal. Boobs sag—especially after breastfeeding. Instagram isn't real," Duru explained in the video.
Eilish posted the clip
last Tuesday on her Instagram Story with the caption, "Can we normalize normal bodies?" after paparazzi photos of the singer running errands in Los Angeles surfaced online. The singer appeared to be wearing a tank top and sweat shorts, a departure from her signature baggy style.
Several Twitter users
made negative comments about her body, including one user, who wrote, "In 10 months Billie Eilish has developed a mid-30's wine mom body." The backlash was mercilessly swift, and many came to her defense. Fans called her "beautiful" and that "all bodies deserve to be celebrated."
Fans also started recirculating
the short film Eilish made titled
Not My Responsibility
, which comments on body-shaming and the visual expectations people placed on her. "Would you like me to be smaller? Weaker? Softer? Taller," she narrated. "Would you like me to be quiet? Do my shoulders provoke you? Does my chest? Am I my stomach? My hips? The body I was born with, is it not what you wanted?"
in 10 months Billie Eilish has developed a mid-30's wine mom body. pic.twitter.com/pMRFdZZ7mE

— GamesNosh (@GamesNosh) October 13, 2020
Billie Eilish is beautiful! PLEASE, do not body shame her, or anyone for that matter. Body shaming is not "news" or "gossip" it's HARMFUL and UNACCEPTABLE.

— Jessie Paege (@jessiepaege) October 14, 2020
All bodies deserve to be celebrated no matter the shape or size. Kudos to Billie Eilish for being comfortable in her own skin. Suck on that haters pic.twitter.com/xBYpP119ey

— 𝐦𝐮𝐧𝐞𝐫𝐚 ♥ | 𝐁𝐋𝐌 (𝐟𝐚𝐧 𝐚𝐜𝐜𝐨𝐮𝐧𝐭) (@blazedbyari) October 14, 2020
I'm not saying that any kind of weight would be considered abnormal, either. The posts about Billie are acting like there's something wrong with her body, and there isn't!!!!

— 👻 (@suedepyjamas) October 14, 2020
the way that porn and social media has taught men that bodies like billie eilish's are "fat" and not perfectly normal

— jodieeee🧝🏻‍♀️🧙🏻🧚🏻‍♂️ (@jodiepork) October 13, 2020
remember when billie eilish slammed body shaming and did that
pic.twitter.com/Vc8SekDRGs

— PEACHES (@badgurlpeach) October 13, 2020
tw body image ?

people made fun of billie eilish for wearing baggy clothes for YEARS but then as soon as she wears a tank top she gets body shamed r u fucking serious

— marie 击 (@ANGELS0FUNKNOWN) October 14, 2020
[via
News.com.au
, cover image via
Ben Houdijk / Shutterstock.com
]
Receive interesting stories like this one in your inbox
Also check out these recent news