Don't miss the latest stories
Share this
11 Eye-Opening Graphic Design Trends Expected To Take 2021 By Storm
By Mikelle Leow, 17 Nov 2020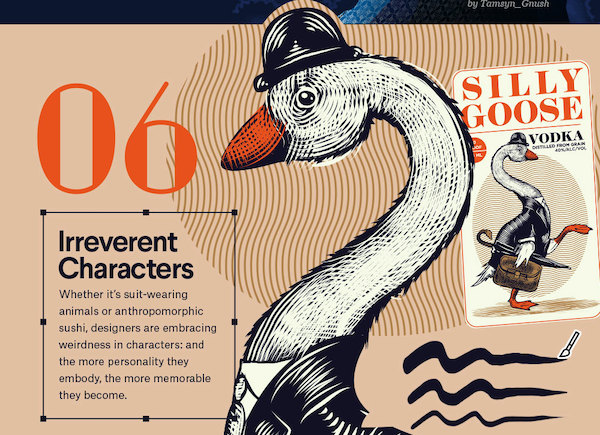 Image by 99designs and featured with permission
Many people saw
2020 as a fresh start, a torchbearer for what could be a wonderful decade. Instead, this year has been rife with confusion and discomfort, driving creatives to let out their anxieties through inventive mediums. Come 2021, creatives will likely carry this uncertainty and channel it more dynamically.
It comes as
no surprise that, following the highly unusual year that is 2020, 2021 will present a very different bag of graphic design trends. After observing a shift in art and gathering insights from its global community of graphic designers, creative platform
99designs
predicts that the upcoming year will be dominated by bolder, more surreal and maximalist styles.
In its new infographic
of 11 graphic design trends to look out for, 99designs explores dynamic themes, like "abstract psychedelia," which takes after the music and art scene of the 60s invigorated by hallucinogens and social distress. The platform envisions that 2021 will see more creative exploration with psychedelia "through excessive color and intensely intricate abstractions."
There has also
been a growing revival of classic symbols. Historical motifs like goddesses and constellations are now coming back as tokens for power, growth and hope.
Provoked by
the bizarre events of 2020, more graphic designers have begun to explore with "seamless surrealism," where realistic elements—such as an apple and a man's body—are intertwined to create something surreal. "In no year was that more deeply felt than in 2020, when the pandemics of bad fiction became our way of life," 99designs described. "The illusion is seamless, making it difficult to separate one image from another. The effect is to greet the strange with nonchalance, to accept impossible combinations as one."
While the past years
saw a preference for gradients and color transitions, expect for these to evolve into more blurry and blended backgrounds. One upside of this style is that it lends prominence to foreground elements like typography. Also, it's excellent for gloomier-looking projects. Insert a grain filter and "these designs manage to walk the line between feeling transitory and real-to-the-touch," 99designs continued.
Perhaps the most
foreseeable trend, something that has dominated 2020, is socially conscious design. Stirred by 2020's
Black Lives Matter
protests and
COVID-19
disruptions, creatives all over the world have felt personally responsible to deliver accurate and concise messaging for the betterment of humanity.
Take a look
at the infographic below for more graphic design trends to expect in 2021. For more detail and visual examples, head over
here
to view 99designs' full report.
Click to view enlarged version

Click to view enlarged version. Image by 99designs and featured with permission
[via
99designs
, images featured with permission]
Receive interesting stories like this one in your inbox
Also check out these recent news