Don't miss the latest stories
Share this
2020's Most Hilarious Pet Photos Will Amuse Even The Most A-Woof Of Humans
By Mikelle Leow, 01 Dec 2020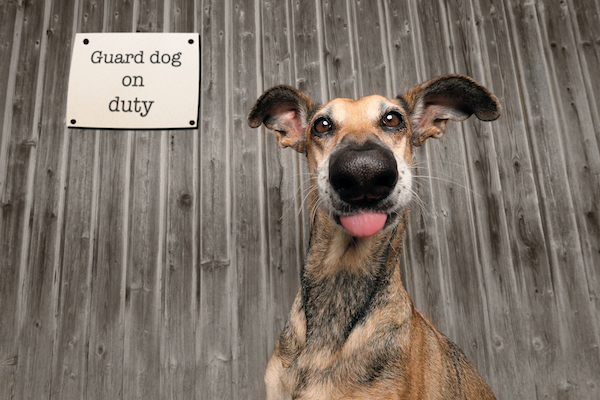 'Guard Dog on Duty' by Elke Vogelsang, Germany. Overall winner and winner of Dog Category. Image by Comedy Pet Photo Awards and featured with permission
Being further away
from loved ones than they would have wished this year, some people can count themselves lucky to have their pets keep them company and lighten up their moods. The furry companions and their delightful antics are now being honored by the
Mars Petcare Comedy Pet Photography Awards
and unwittingly pushing to end pet homelessness.
Brought to you by
the same hoomans who started the popular
Comedy Wildlife Photography Awards
, the Comedy Pet Photo Awards showcases some of the most humorous moments with cats, dogs, and other pets from around the world.
The boss bitch
of the year is Noodles, seen proudly claiming her role as "Guard Dog on Duty." Noodles' story itself puts her in a suitable position to help out animals in need. According to her owner, Elke Vogelsang, the Galgo Espanol mix breed was rescued in a kill shelter in Spain after being used for hunting season and abandoned. Vogelsang said she "fell in love with [Noodle's] gorgeous face and funny ears immediately."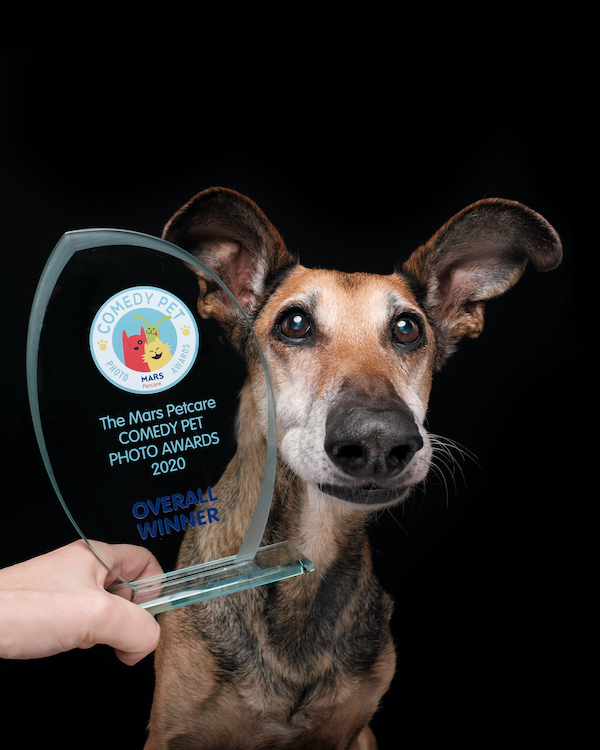 Noodles the dog receiving her trophy as overall champ of the Comedy Pet Photo Awards 2020. Image by Comedy Pet Photo Awards and featured with permission
Other winners
of the photography competition, backed by pet health product company Mars Petcare, include Cat Category winner Basil, a trio of horses as the Mighty Horse Category frontrunners, a dog who looks like her owner, and a "Drama Queen" rabbit.
10-percent of
the awards' sponsorship fee and 10-percent of all entry fees are being dedicated to UK pet charity
Blue Cross
, which strives to rehome pets and provide treatment and care to pets in need.
Feeling especially catty?
These wholesome photos of pets from around the world might bring some perspective to your day.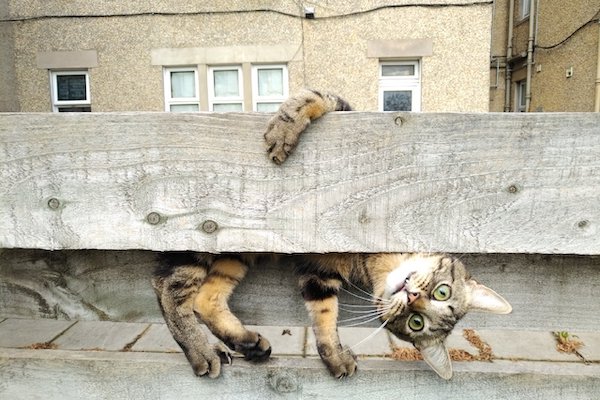 'Why are you upside down Mum?' by Malgorzata (Gosia) Russell, Scotland. Cat Category winner. Image by Comedy Pet Photo Awards and featured with permission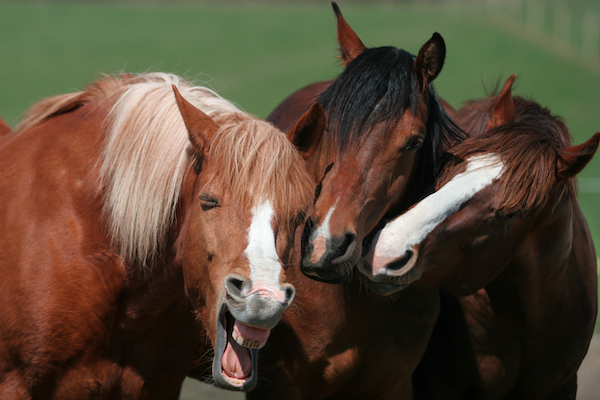 'Gossip Girls' by Magdalena Strakova, Czech Republic. Horse Category winner. Image by Comedy Pet Photo Awards and featured with permission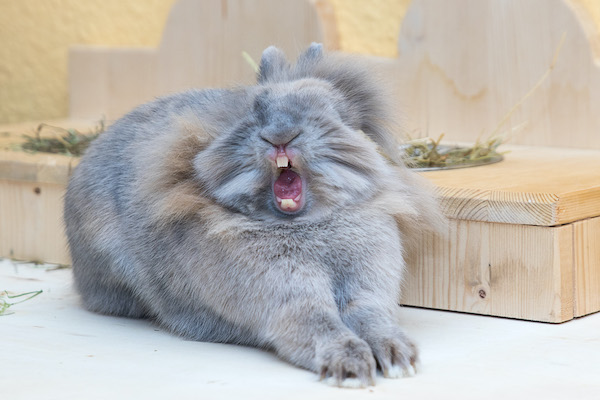 'Drama Queen' by Anne Lindner, Germany. All Other Creatures, Great or Small Category winner. Image by Comedy Pet Photo Awards and featured with permission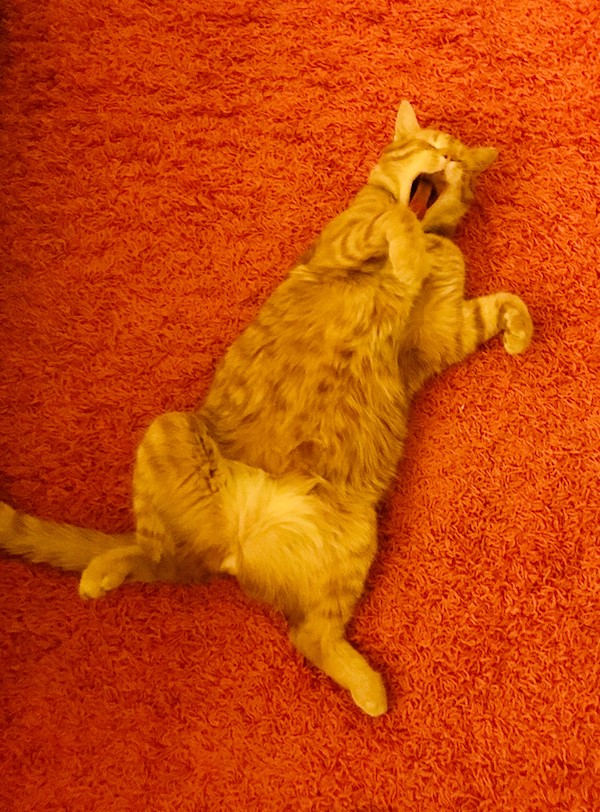 'Good morning, Fox Mulder!' by Ayden Brooks, Canada. Junior Category winner. Image by Comedy Pet Photo Awards and featured with permission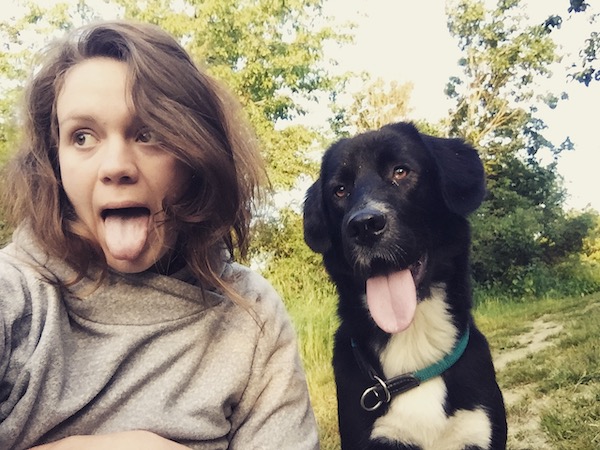 'Morning Mood' by Hannah Seeger, Germany. Pets Who Look Like Their Owners winner. Image by Comedy Pet Photo Awards and featured with permission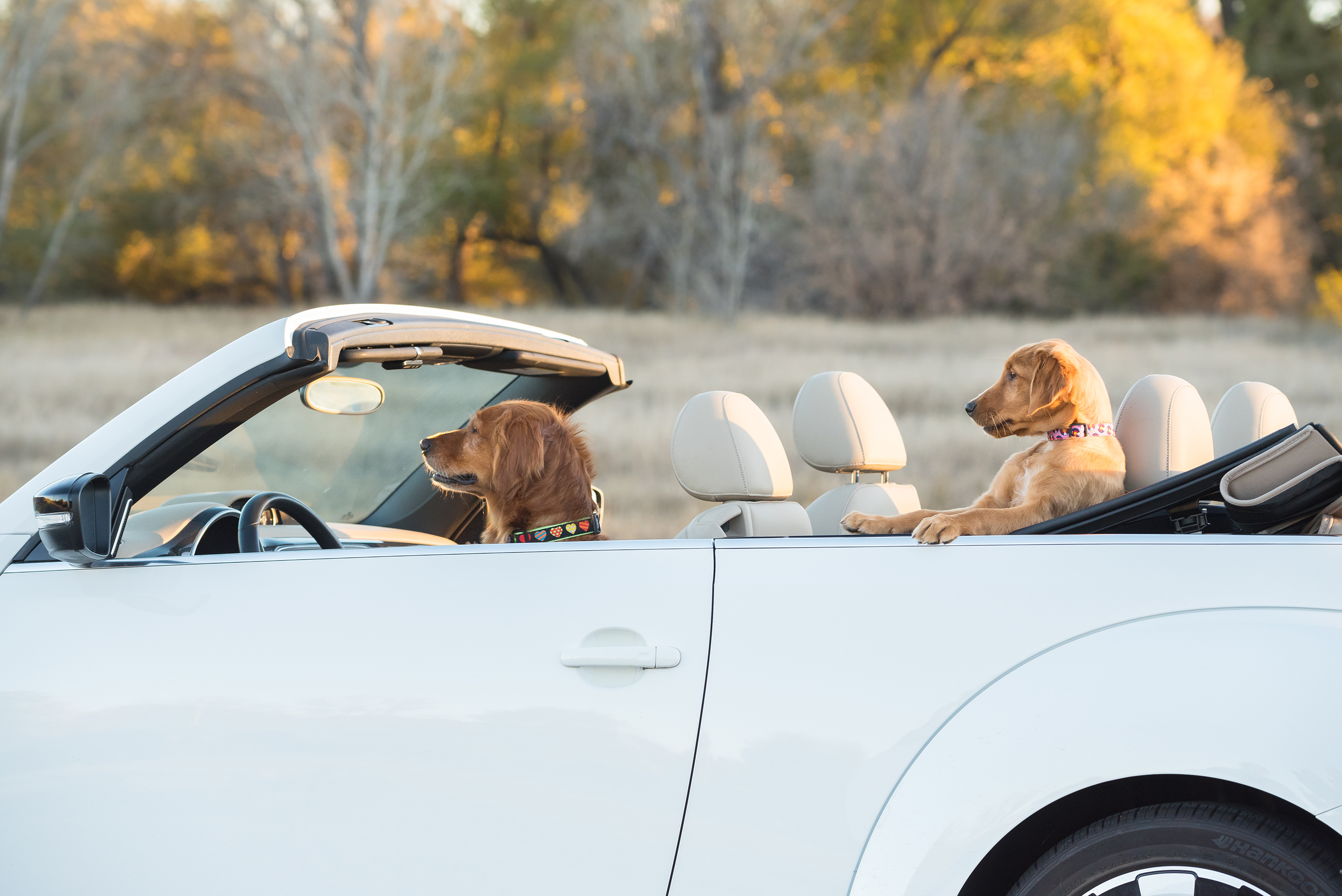 'Hold on tight! We're running late' by Karen Hoglund, USA. Image by Comedy Pet Photo Awards and featured with permission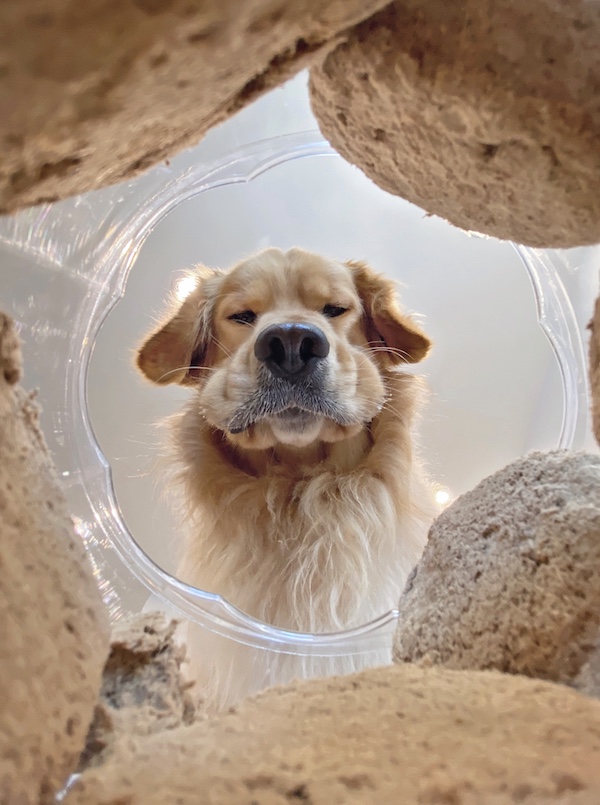 'That moment you realise you've gone through half a jar of snacks' by Candice Sedighan, USA. Image by Comedy Pet Photo Awards and featured with permission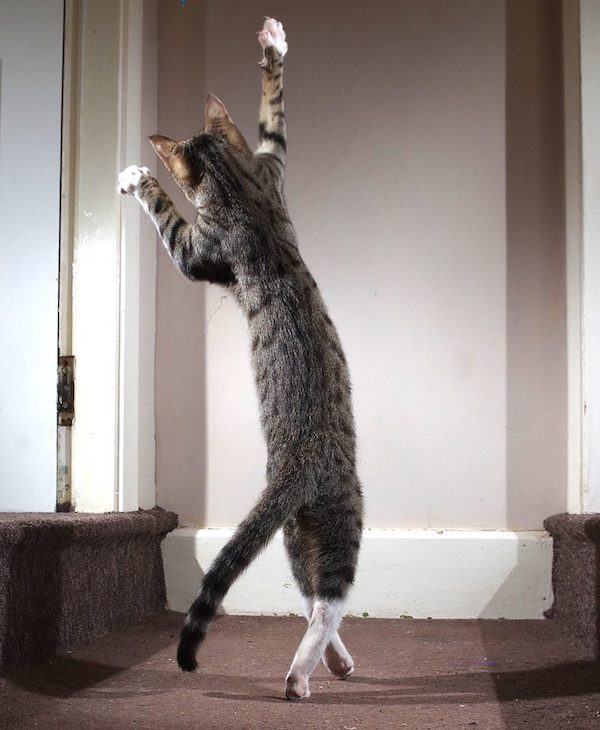 'The Dancing Cat' by Iain McConnell, Wales. Image by Comedy Pet Photo Awards and featured with permission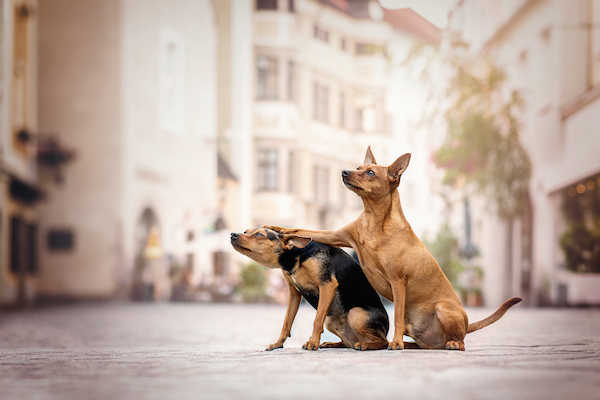 'Friends don't let friends do silly things alone' by Kerstin Ordelt, Austria. Image by Comedy Pet Photo Awards and featured with permission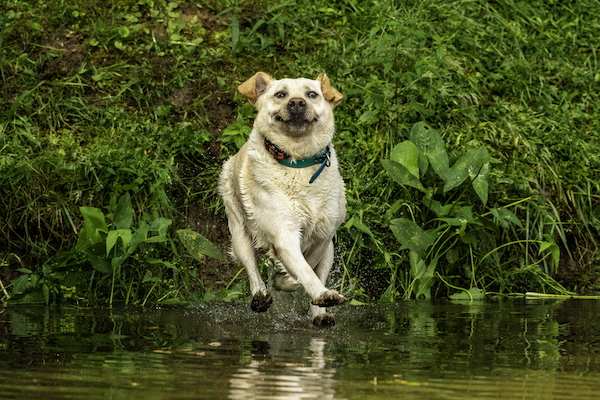 'Look Mom—I Can Walk on Water' by John Carelli, USA. Image by Comedy Pet Photo Awards and featured with permission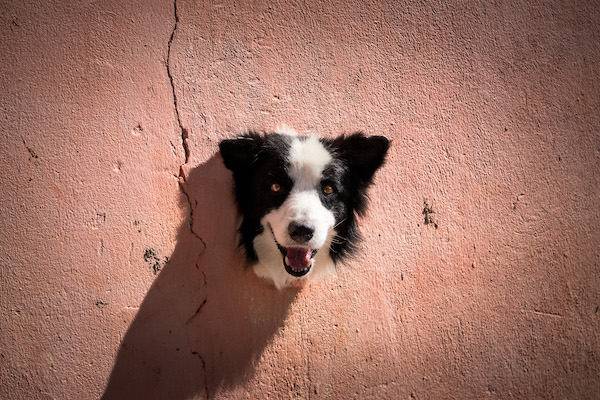 'Living Trophy' by Antonio Peregrino, Brazil. Image by Comedy Pet Photo Awards and featured with permission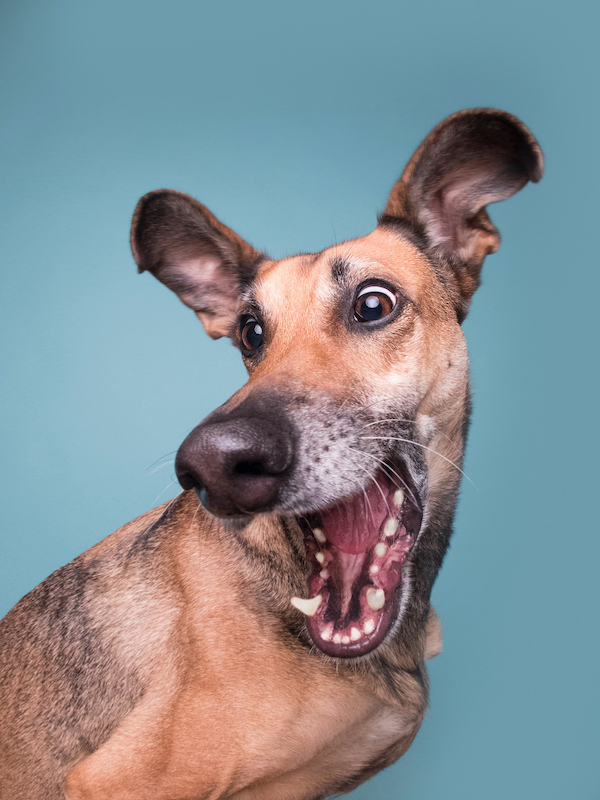 'SQUIRRELLL!!!"' by Elke Vogelsang, Germany. Image by Comedy Pet Photo Awards and featured with permission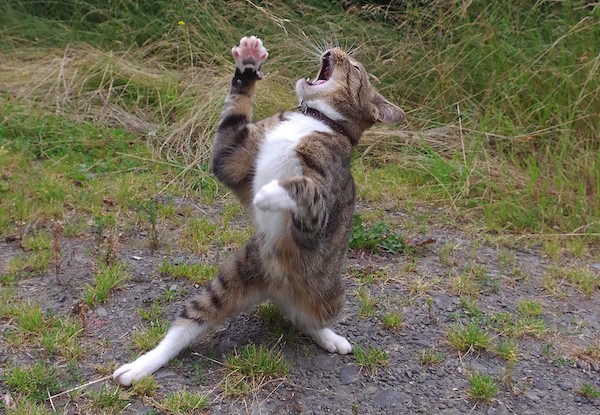 'Over Dramatic Cat"' by Iain McConnell, Wales. Image by Comedy Pet Photo Awards and featured with permission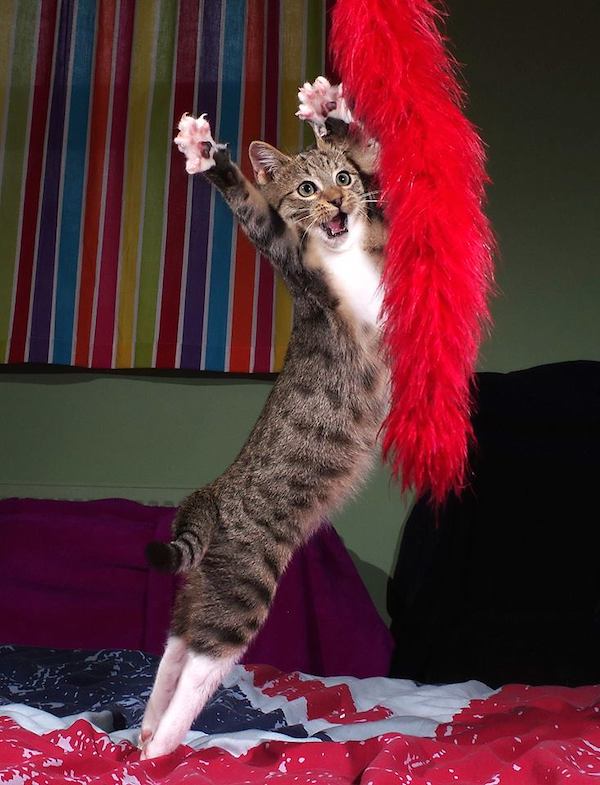 'The Dancing Kitten' by Iain McConnell, Wales. Image by Comedy Pet Photo Awards and featured with permission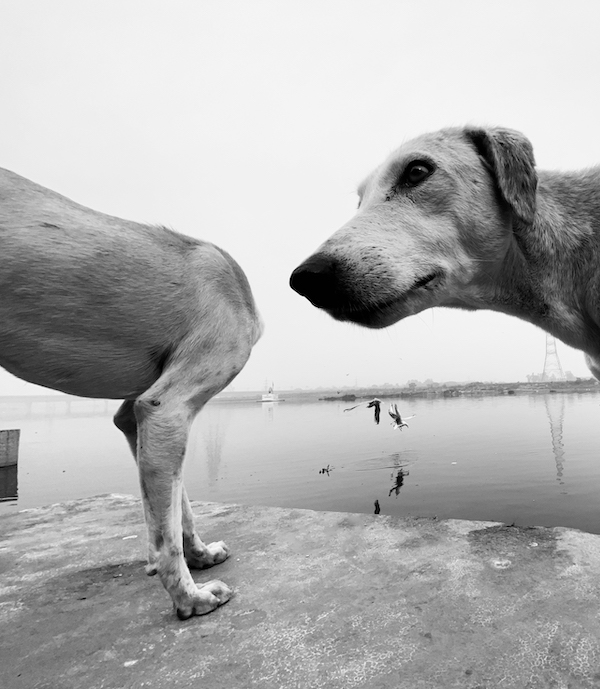 'Ohhhhhhhhh' by Dimpy Bhalotia, India. Image by Comedy Pet Photo Awards and featured with permission
[Images by
Comedy Pet Photo Awards
and featured with permission]
Receive interesting stories like this one in your inbox
Also check out these recent news