Don't miss the latest stories
Share this
Memes Have Been Recreated As Traditional Japanese Art, And This Is Very Fine
By Mikelle Leow, 09 Dec 2020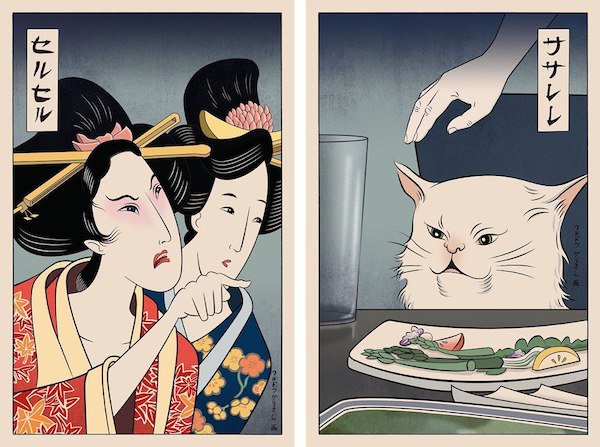 Image by Memes of the Floating World and featured with permission
For all the curveballs
life has thrown us, memes have been that one constant to keep us comforted and entertained. Just when you think you've seen everything, there's one more gift that has been bestowed upon the internet. They're memes too, but are made far better as they have been given an elaborate Ukiyo-e-inspired twist.
The epic
Memes of the Floating World
project by artist @ukiyomemes reprises some of the internet's most beloved memes and reimagines them as traditional Japanese woodblock prints. The ongoing series is so-called because "in this strange dream world, classic Japanese woodblock print art and legends mash up with memes, dead and living, and internet lore from the past and present," the artist explained on
Bored Panda
.
The idea started out
as a gift for his wife, who adores the '
Woman Yelling at Cat
'. @ukiyomemes then combined the contemporary masterpiece, along with others like the 'Doge' and 'This is Fine' memes, with his love for Japanese art and culture, spawned by his fond memories of his grandmother's small Ukiyo-e collection.
These aren't
your regular slap-on-a-caption-and-you're-done-for-the-day internet jokes. They're the very definition of high-quality memes, as the creator takes great effort over several weeks to conceptualize, research, and illustrate the artworks. To complete the memes, the multidisciplinary creative uses traditional inks and paints, materials like old paper and fabric, as well as digital techniques for boss-level perfection.
If this sort
of meme is right up your alley, you're a person of culture, we see, and it shows. You can enjoy more
Memes of the Floating World
on their
website
,
Instagram
,
Facebook
and
Twitter
. They're also available as prints
here
.
'Is This a Pigeon?'
Image by Memes of the Floating World and featured with permission
Longcat VS Tacgnol
Longcat vs. Tacgnol. Are they locked in eternal battle or simply balancing all things in the universe? At least the set of two Ukiyo-e style illustrations are finally complete! 😺😾 pic.twitter.com/zgfnDybID6

— Memes of the Floating World (@MemesUkiyo) July 20, 2020
Image by Memes of the Floating World and featured with permission
Doge
Image by Memes of the Floating World and featured with permission
'This is Fine'
Image by Memes of the Floating World and featured with permission
'LOL' Guy
Image by Memes of the Floating World and featured with permission
'Y U NO' Guy
Image by Memes of the Floating World and featured with permission
'Are Ya Winning, Son?'
Image by Memes of the Floating World and featured with permission
[via
Bored Panda
, images by
Memes of the Floating World
and featured with permission]
Receive interesting stories like this one in your inbox
Also check out these recent news