Don't miss the latest stories
Share this
'The Great Gatsby' & Other Creative Works Have Entered The Public Domain In 2021
By Mikelle Leow, 04 Jan 2021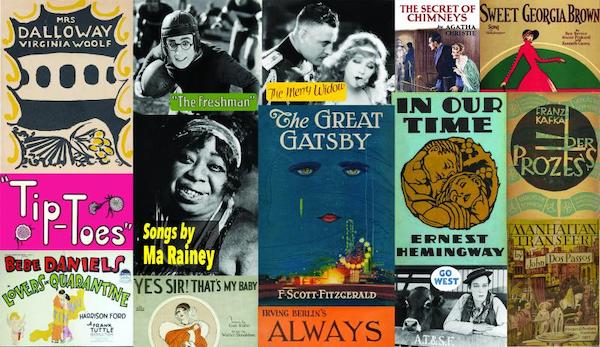 Image via Jennifer Jenkins, Director of Duke's Center for the Study of the Public Domain
The start of the year
brings even more blessings for appreciators of culture—it's when 95-year-old works whose copyright licenses haven't been updated get released to the public domain for all to enjoy, use, and work upon.
Public Domain Day
in 2021, which falls on 1 January every year, felt a little brighter than usual, especially with the tumultuous year that preceded this one. This is largely because much-celebrated titles from 1925 like Ernest Hemingway's first book
In Our Time
, F. Scott Fitgerald's
The Great Gatsby
, and Virginia Woolf's
Mrs. Dalloway
are now part of the public domain, allowing anyone to not only access them for free but also remix—or even recreate—them without permission or a fee.
1925 has been
regarded by the
BBC's Culture
as "the greatest year for books ever" and a "golden moment in literary history."
Jennifer Jenkins
, Director of Duke's Center for the Study of the Public Domain, also detailed that this eventful year introduced "stylistic innovations… [that] marked a change in both the tone and the substance of our literary culture, a broadening of the range of possibilities available to writers, while characters such as Jay Gatsby, Hemingway's Nick Adams, and Clarissa Dalloway still resonate today."
These books, films,
and music titles were initially scheduled to enter the public domain in 2001, but Congress eventually extended the prior 75-year copyright term to 95 years.
With these works
now in the public domain, it means that creators can now "legally build on the past — reimagining the books, making them into films, adapting the songs," Jenkins emphasized. And yes, this very well means you can retell
The Great Gatsby
in any form, be it a "film, opera or musical." You can even reframe it in "the perspective of Myrtle or Jordan, or make prequels and sequels," Jenkins added.
Small theaters
now have the green light to air the new public domain films, and youth orchestras can perform or rearrange the freshly-released music.
Just like every
other year, organizations like the
Internet Archive
,
HathiTrust
and
Google Books
will add them to their archives to make them readily accessible. The Internet Archive, for example, will upload the titles to its online library, while HathiTrust will bring "tens of thousands" of them to its digital archive, Jenkins explained. Meanwhile, Google Books will replace snippets or previews with full texts.
See below
for some highlights in 2021's public domain lineup. You can also
head here
for an extensive list of new public domain works. New year, new media!
Books
1.
The Great Gatsby
by F. Scott Fitzgerald
2.
Mrs. Dalloway
by Virginia Woolf
3.
In Our Time
by Ernest Hemingway
4.
The Trial
(in German) by Franz Kafka
5.
An American Tragedy
by Theodore Dreiser
6.
Manhattan Transfer
by John Dos Passos
7.
The New Negro
(collecting works from writers including W.E.B. du Bois, Countee Cullen, Langston Hughes, Zora Neale Hurston, Claude McKay, Jean Toomer, and Eric Walrond) by Alain Locke
8.
Arrowsmith
by Sinclair Lewis
9.
The Secret of Chimneys
by Agatha Christie
10.
Those Barren Leaves
by Aldous Huxley
Films
1.
Harold Lloyd's
The Freshman
2.
The Merry Widow
3.
Stella Dallas
4.
Buster Keaton's
Go West
5.
His People
6.
Lovers in Quarantine
7.
Pretty Ladies
8.
The Unholy Three
[via
Open Culture
, cover image via
Jennifer Jenkins
, Director of Duke's Center for the Study of the Public Domain]
Receive interesting stories like this one in your inbox
Also check out these recent news