Don't miss the latest stories
Share this
Shutterstock's Creative Trends For 2021 Depict These Eccentric But Hopeful Times
By Mikelle Leow, 20 Jan 2021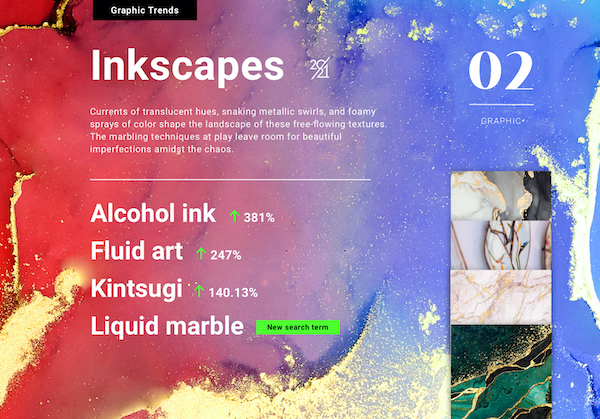 Image courtesy of Shutterstock
2020 might have
been an uncomfortable year, but it's armed us with the readiness to deal with unforeseen outcomes and the empathy to be present for one another. Carrying forward the lessons from last year, 2021 brings new hope for change while embracing the whimsical.
With the world
being forced to grow up in a short matter of time, the team at
Shutterstock
has noted, and is moved by, the originality, optimism, and adaptibility expressed by users in their searches. These observations set the backdrop for the 10th anniversary edition of the royalty-free content platform's
Creative Trends Report
.
"This year's trends
centered around individuality, imperfection, authenticity, and escapism—despite the obstacles we were forced to navigate, and the uncertainty we faced, there was no shortage of creativity and innovation," reflected Flo Lau, Creative Director at Shutterstock.
To mark 10 years
of issuing the annual forecast, Shutterstock has unveiled a total of 10 major creative trends spanning graphic, photography, footage, and music themes. These insights are the result of billions of user searches for image, footage, and music content over a 12-month period.
Video courtesy of Shutterstock. Scroll down for its Creative Trends infographic.
In 2021,
Shutterstock's Visual Intelligence Panel predicts that the graphic and design scene will be awash with fluidity and imperfection, as people become more comfortable with their individuality. Graphic trends comprise free-flowing
Inkscapes
(indicated by a 381-percent rise in "alcohol ink" searches), unique
Tie Dye
patterns (based on 2,404-percent increase in queries for "tie dye"), and
Surreal Faces
(with 536-percent more searches for "face line art"). "We see a surge of flaws, fantasy and distinctive flair among textures, backgrounds, and illustrations," Shutterstock described in a press statement.
In photography,
the overarching theme is
Identity Unfiltered
, denoted by the growing consideration for inclusion and representation. The platform has witnessed an increase of queries for "non-binary" (up 2,300 percent) and "authentic people" (up 133 percent). "
Identity Unfiltered
encompasses authentic portraiture and the wide gamut of beauty across the globe," the service explained. Of course, with the world going virtual almost exclusively, there's also a greater appreciation for unadulterated
Inner Life
and "self care" (up 177 percent).
Shutterstock also foresees
more interest for
The Sublime
and
Eccentric Animation
in terms of footage, as suggested by the surge in searches for "intense and intimidating scenes from nature" and "whimsical" motion graphics.
The soundtrack
for 2021 will be made up by
Strings
, such as "the rippling notes of a classic cantata, to the electrifying, hair-raising sounds of an eclectic spiccato," as well as
Uplifting and Playful
scores.
Across the board,
Shutterstock believes there's one trend to watch: the
Unexplored
, "from biodiversity stemming from the wildfires and natural disasters, to 2020's
SpaceX launch
and the fascination with space, and the upswing in yoga, meditation and the uncharted phenomena of our mind-body connection," the platform elaborated.
Also worth noting
are the distinct top searches of 26 countries around the world. In the United States, users have been especially interested in "vector type fonts." Australia is dreaming of "fairy tale lifestyles," Singapore loves "floral fabrics," and South Korea is particularly fascinated by "3D illustrations."
To view more
up and rising creative trends for 2021, check out the infographic below. You can also head over to
Shutterstock's full trend report
for a more interactive experience.
Click to view enlarged version

Click to view enlarged version. Image courtesy of Shutterstock
[via
Shutterstock
]
Receive interesting stories like this one in your inbox
Also check out these recent news