Don't miss the latest stories
Share this
AI Finds Out Formula To Make Memes As Viral As The Bernie Sanders One
By Mikelle Leow, 26 Jan 2021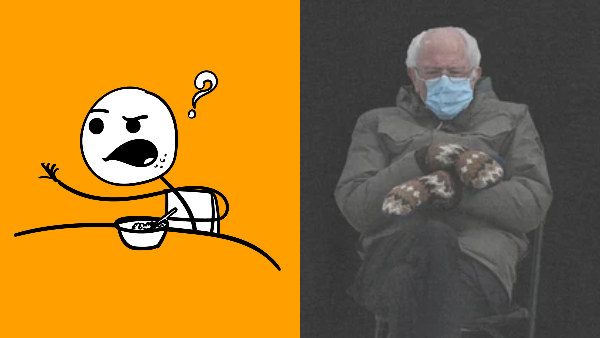 Images via Bernie Sanders Campaign Store and Shutterstock
Memes are
embedded in the DNA of the internet, and while some fizzle as soon as they appear, others become viral instantly. Case in point: the image of
Bernie Sanders
lonesomely braving the cold during Joe Biden's inauguration.
While many might
boil the success of memes down to sheer luck, two researchers from Boston University, Chen Ling and Gianluca Stringhini, along with their teammates from universities in the UK and Germany, set out to discover if there might be a formula to create memes that eventually go viral. The team developed a neural network to predict whether memes would go viral, and it returned with a remarkable 86-percent success rate.
In their paper,
titled
Dissecting the Meme Magic: Understanding Indicators of Virality in Image Memes
, the researchers described training the AI with 100 memes from 4chan's /pol/ thread. 50 of the memes went viral, while the other half didn't get the attention they were set up for.
As it turned out,
the popular ones usually had three characteristics in common. Firstly, they featured a character that internet users could fixate on; secondly, the figures were likely shown up close; and thirdly, the images denoted a strong positive or negative emotion.
"Image memes
that are poorly composed are unlikely to be re-shared and go viral, compared to a high-contrast classic portrait that catches viewer's attention in a museum, for instance," shared lead author Ling, via
Input Mag
.
It's sort of
like why certain photographs grab more attention than others. They have to be well-composed and evoke strong emotions in viewers.
For example,
the famous 'This Is Fine' meme features a hat-wearing dog in two panels, with the second zoomed into the character—already, this satisfies the first two criteria. Furthermore, the dog is surrounded by fire while he calmingly sits at a table with a cup of coffee. "This is fine," he declares. It's indicative of people's "it is what it is" mentality as they're engulfed in a metaphorical hellfire.
The 'I Know That Feel Bro'
meme shares a similar format. It shows two men, up close, in an embrace, and serves as a message of empathy.
The researchers found
one more attribute that seemed to tie viral memes together: "Many of the viral memes we found had characters with strong facial expressions," Stringhini revealed. 84 percent of the popular memes assessed had "facial expression" as their key labels, while only 38 percent of the non-viral memes achieved this characteristic.
In the case
of the Bernie Sanders meme, there's also a well-composed closeup image of a character with "an evident, funny posture," described Stringhini. As for the emotion factor, Sanders uncannily reminds viewers of the times they have been compelled to get out of the cold.
Jorge Jareño,
a social anthropologist at Complutense University of Madrid, expressed that the ability to accurately dissect memes is "quite scary," since brands might now be equipped with the knowledge to harness their potential.
[via
Input Mag
, cover image via
Bernie Sanders Campaign Store
and
Shutterstock
]
Receive interesting stories like this one in your inbox
Also check out these recent news