Don't miss the latest stories
Share this
Hubble's Image Of Dead Star Remains Is So Magical, It Looks Made Up
By Mikelle Leow, 05 Apr 2021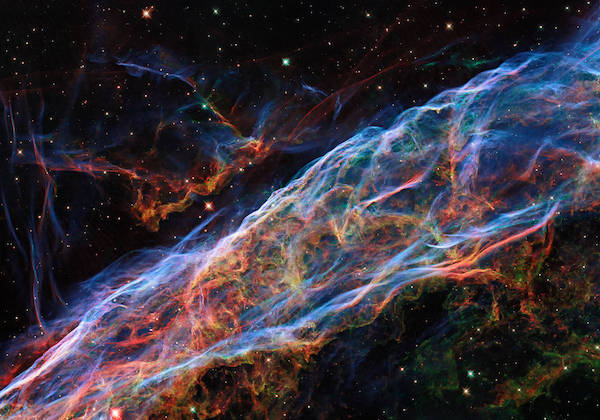 Image via ESA/Hubble & NASA, Z. Levay
You've seen so many
image edits
inspired by space that it's easy to forget such views exist in real life. Thanks to NASA, enthusiasts are brought back on the ground—or up in the stratosphere—about realistic space imagery, and a captivating, recently-unveiled version taken by the Hubble Space Telescope is one of those reminders.
The colorful image,
shown above, reveals what has been billed the Veil Nebula. It depicts the remnants of a supernova, about 20 times the mass of the Sun, after an explosion some 2,100 light-years from Earth.
What is seen
in the picture is a swirl of gases left behind 10,000 years after the blast.
According to NASA,
this image was first revealed six years ago, but the space agency has since developed new processing techniques to showcase the nebula's "delicate threads and filaments of ionized gas" with keener precision.
NASA elaborates,
"The new post-processing methods have further enhanced details of emissions from doubly ionized oxygen (seen here in blues), ionized hydrogen, and ionized nitrogen (seen here in reds)."
With the new edit,
scientists can get a closer look at nebula emissions to better understand the life cycle of star systems.
[via
BGR
, cover image via
ESA/Hubble & NASA, Z. Levay
]
Receive interesting stories like this one in your inbox
Also check out these recent news