Don't miss the latest stories
Share this
Did You Know: Catherine The Great Was Said To Own NSFW Furniture Of Boobs, Dicks
NSFW
By Mikelle Leow, 07 Apr 2021
Did You Know? is a trivia segment brought to you by DesignTAXI in which we get to the surprise candy of design history. Stay tuned as we unravel more colorful tidbits about brands and objects you might have taken for granted.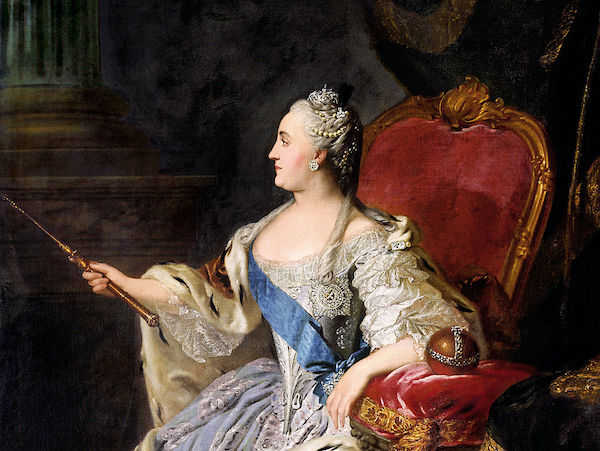 Image via Wikimedia Commons (public domain)
Your flat-pack furniture
can't quite compare—Empress Catherine II, the longest-reigning female leader, was believed to have owned chairs and tables risqué enough to make any modern-day person blush.
While Catherine the Great's
rich sex life
has been well-documented, the story about her pornographically-embellished furniture remains an urban legend. That's because all proof of the naughty fixtures has been wiped out.
Apparently, the furniture
was
destroyed in a fire
by the German army in World War II, and the only pieces of evidence left behind are these supposed photographs taken by German soldiers.
We need to talk about Catherine the Great's erotic furniture. pic.twitter.com/Kf4wVQwa6k

— Storm Harley 🐺 (@_Embo) January 16, 2021
Sex on Legs
Good time to remind the world about Catherine the Great's furniture. pic.twitter.com/oRKN61cAWg

— norespawns (@norespawns) June 26, 2019
The cheeky furniture,
reportedly displayed in the ruler's own sex salon, was essentially an orgy of male and female body parts. In place of armrests and legs, there were bare breasts, penises, and buttocks.
Have a feeling I'd have got on with Catherine The Great.
Have you see her furniture?
No wonder she's smiling #Saucy pic.twitter.com/rMqZcRi4YC

— Lesley James .Author (@lesleyjames123) January 20, 2016
A Legacy Spread Wide-Open
While the infamous
furnishings apparently disappeared in a fire, they were vibrantly visualized again by French master craftsman Dominique Roitel of Henryot & Cie.
The furniture maker
referred to the old pictures and erected the pieces in 3D form. They included a sycamore and walnut table with hand-carved penises-cum-breasts, as well as a throne-like chair with tiny naked bodies splayed all over.
A painted table, modelled after one that was owned by Catherine the Great (1729-1796) pic.twitter.com/ze2eq9Sxwt

— Whores of Yore (@WhoresofYore) January 12, 2019
This erotically decorated chair once belonged to Catherine the Great (Empress of Russia from 1729-1796) pic.twitter.com/71xEQNnj7f

— Whores of Yore (@WhoresofYore) May 7, 2017
Needless to say,
the czarina's alleged prized possessions are not your grandma's furniture.
[via
The Art Foundation
,
The Hairpin
,
BuzzFeed
, images via various sources]
Receive interesting stories like this one in your inbox
Also check out these recent news