Don't miss the latest stories
Share this
New Plastic Invented By Scientists Can Be Recycled 'Infinitely'
By Mikelle Leow, 26 Apr 2021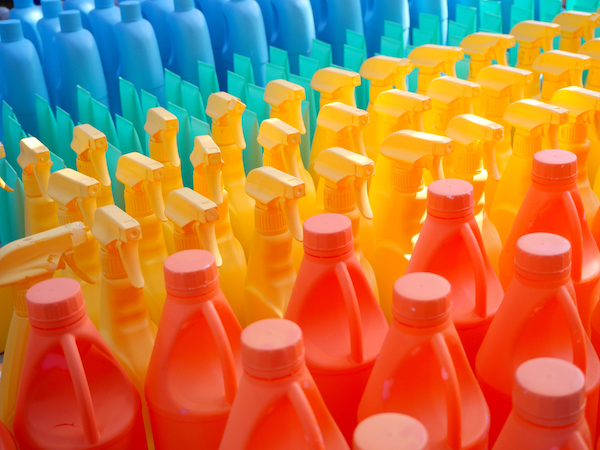 Image via Shutterstock
For years,
inventors have been racking their brains searching for a sturdy yet sustainable alternative to plastic. This is because, environmental wreckage aside, the material remains to be most economical, versatile, and convenient to produce. Alas,
Fast Company
cites that
220 pounds
of plastic waste are generated by the average American every year, and there's not much people can do about this waste as plastics are difficult to recycle.
To sum up
how plastics work, they're made up of links of identical molecules called monomers, and, together, they make up polymers. To fulfill specific purposes, manufacturers incorporate dyes and such in the versatile material. And when melted down during the recycling process, the plastics are stuck with the fillers and additives, which weakens their original structure. In addition, the impure plastics tend to hamper the recycling process in certain facilities.
Corinne Scown,
scientist and deputy division director at Lawrence Berkeley National Lab, explained that in order to strengthen the "degraded material," manufacturers will still have to add virgin plastic to the mix, which is like taking two steps forward and one step back if you're trying to cut down on plastics. In fact,
Fast Company
notes that even
Adidas' recyclable sneakers
have virgin plastic added to them so they won't break apart as easily.
To combat
these long-standing issues, Scown and her coworkers at Lawrence Berkeley National Lab, along with teammates at the Department of Energy, have developed
polydiketoenamine
(PDK), a new type of plastic that can finally be recycled an "infinite times." Every component of this material can be broken down to be given a second life as a new plastic object without affecting quality.
A plus point
is that PDK plastics can be melted down with the use of acid instead of heat, driving down carbon emission levels expected of the usual recycling process. The technique of using acid is also more controllable, and allows for the monomers to be neatly separated from additives like coloring.
The scientists tested
the acid recycling process using PDK plastics, and found that it can be scaled up for mass production. In addition, 100 percent of the PDK monomers can be repurposed to make other items.
Unfortunately, it will
probably be awhile before PDK can be deemed an adequate plastic replacement. At present, it would require 10 to 20 times the cost of regular plastic production to prepare a load of virgin PDK. You'll also need specialized chemicals to manufacture this new plastic. Although, if you think of it in the long term, it would get more cost- and environmentally-effective over time, since PDKs can be recycled infinitely. Plus, the team noted that recycling PDK is cheaper than manufacturing traditional virgin plastic.
Currently, PDK
isn't as versatile as regular plastics, and the team is still sorting out "applications, packaging, and durable product applications [that] this is good for." According to Scown, it would be helpful for some products, but impractical for others, like single-use plastics. In low-margin markets such as the packaged food industry, the costs required to manufacture and recycle PDK plastics would be too high.
"Instead, you might want
to make a durable product, maybe one that has a take-back program in place, or a product that's more a rental or service model, as opposed to ownership," Scown recommended.
The team is
currently looking for private companies who would be keen to work with PDKs on a greater scale. The scientists are also working to optimize the material's use and scalability.
[via
Fast Company
, cover image via
Shutterstock
]
Receive interesting stories like this one in your inbox
Also check out these recent news