Don't miss the latest stories
Share this
Facebook Debuts Typography Deepfake AI That Uncannily Mimics Fonts From Photos
By Mikelle Leow, 16 Jun 2021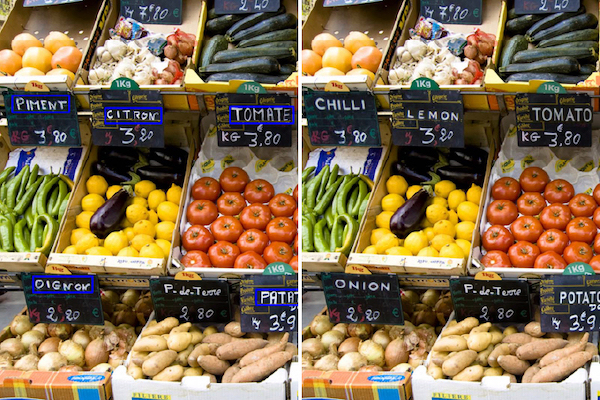 Image via Facebook AI
You've likely
grappled with
identifying typefaces
that have caught your eye, but Facebook has taken things up a pixel with the
TextStyleBrush
AI, a research project that remarkably replicates the style of text from a photo on another canvas—and all it needs is a single word to do the work.
In a series
of applications demonstrated by the social network, the deepfake tool seems profoundly astute at picking up nuances from text in photos, including handwriting and decorative text, and applying those styles in other images. It can, for instance, be used in language translation tools and mimic signs in other languages with the same style.
Facebook commends
the tool's versatility in going beyond "well-defined, specialized tasks," which existing typography-focused AIs are limited to, as it is "the first self-supervised AI model that replaces text in images of both handwriting and scenes — in one shot — using a single example word" without being influenced by the scenario's textures or colors.
The company's
AI team details that this technology could open up a world of possibilities for creative self-expression through photo-realistic AR translations and personalized messaging or captions.
While such tools
can pose ethical implications, such as the creation of more openings for forgery, Facebook stresses that sharing the project's methods, capabilities, and results can also bring positive change by "[spurring] dialogue and research into detecting potential misuse of this type of technology, such as deepfake text attacks — a critical, emerging challenge in the AI field."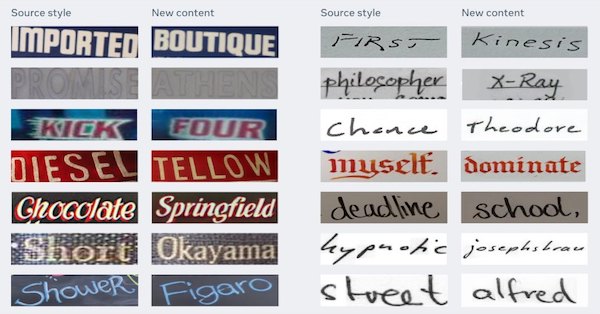 Image via Facebook AI
[via
Creative Bloq
, videos and images via
Facebook AI
]
Receive interesting stories like this one in your inbox
Also check out these recent news