Don't miss the latest stories
Share this
Tesla Unveils Powerful Supercomputer Designed To Train Its Cars' Autopilot AI
By Alexa Heah, 22 Jun 2021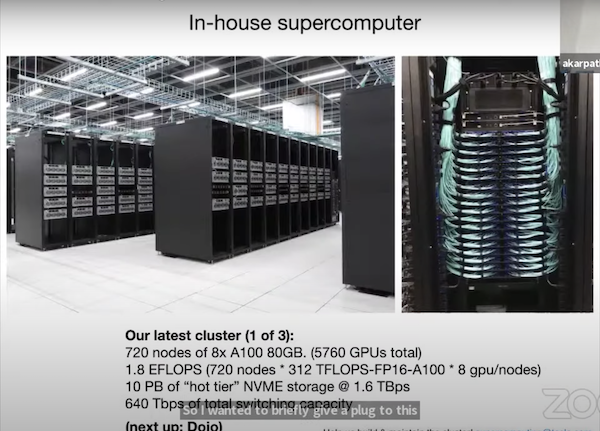 Image via Conference on Computer Vision and Pattern Recognition
Tesla has unveiled
a new supercomputer, currently the fifth-most powerful in the world, with another upcoming Dojo supercomputer to be revealed soon.
The firm
is using the new supercomputer to train the neural nets powering Tesla's Autopilot and self-driving artificial intelligence (AI). Tesla requires these supercomputers, as its self-driving software processes an incredible amount of data at a time from its fleet of vehicles.
Tesla's Head of AI,
Andrej Karpathy, unveiled the supercomputer during a presentation at the 2021 Conference on Computer Vision and Pattern Recognition, which took place online.
The company's
third cluster of supercomputers comes with impressive specs, including: 720 nodes of 720 nodes of 8x A100 80GB (5760 GPUs total); 1.8 EFLOPS (720 nodes * 312 TFLOPS-FP16-A100 * 8 gpu/nodes); 10 PB of "hot tier" NVME storage @ 1.6 TBps; and 640 Tbps of total switching capacity, as per
Electrek
.
"We have
a neural net architecture network and we have a data set, a 1.5 petabytes data set that requires a huge amount of computing. So I wanted to give a plug to this insane supercomputer that we are building and using now. For us, computer vision is the bread and butter of what we do and what enables Autopilot," explained Karpathy.
Dojo is the
next highly-anticipated supercomputer Tesla's expected to launch. It is rumored to consist of a supercomputer capable of an exaFLOP, or one quintillion floating-point operations per second, which will also make it one of the most powerful computers in the world.
While Karpathy
didn't elaborate on what Dojo may bring, Tesla CEO Elon Musk had previously said the company would make its supercomputers available to other firms in the future.
To view
the presentation, click
here
.
[via
Electrek
, cover image via
Conference on Computer Vision and Pattern Recognition
]
Receive interesting stories like this one in your inbox
Also check out these recent news