Don't miss the latest stories
Share this
Elon Musk Moves Into A Modest, $50K Texas Home-In-A-Box; Take A Peek Inside
By Ell Ko, 01 Jul 2021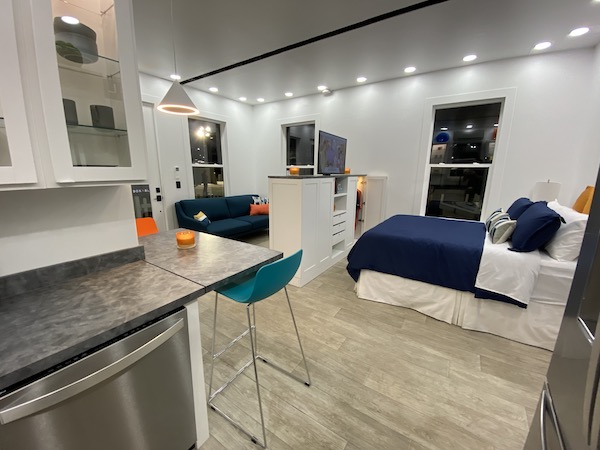 Photo of a Boxabl home. Image via Boxabl
After selling all
but one of his mansions in California, Elon Musk has relocated to Boca Chica, Texas, near the SpaceX development and testing site. With a mission to relocate humans to Mars, Musk founded the company in May 2002, designing, manufacturing, and launching spacecraft.
With a net worth
of US$169.3 billion, Musk has made clear that he doesn't want to own many assets, allowing him to focus on "the bigger missions" - most likely the reason for this move. He now resides primarily in a 375-square-foot box: the 'Casita' ('little house' in Spanish), produced by Boxabl, a startup producing instant houses which can be delivered and flat-packed, with setup only taking one day.
The company posted
an
update
last November, teasing news that it had completed a Casita house for a "high-profile," "top-secret" customer in Boca Chica, who just so happened to have a poster of a SpaceX Falcon 9 rocket on their door.
Set up like a
regular studio apartment, it has everything one would expect - a fully-equipped kitchen, bathroom, and a large room partitioned into a living room/bedroom. It boasts low utility bills, which comes as no surprise considering Tesla's strong stance on sustainability.
From the inside,
the space looks pretty much like your usual apartment, with no inclinations of its exterior boxiness. According to a
tweet
by Musk himself, "it's kinda awesome though."
Instant house 🏠 🦄😍 pic.twitter.com/KgLVqv1nIu

— Boxabl (@_BOXABL) October 20, 2020
Who doesn't love a two story house? With Boxabl, that's not a problem 😁✅

Are you ready to pre-order your Casita now?

Be sure to head over to our website (https://t.co/AFNY5ZNryT) and reserve yours today! 🏡 ✅ pic.twitter.com/wuoliBSO2U

— Boxabl (@_BOXABL) March 24, 2021
My primary home is literally a ~$50k house in Boca Chica / Starbase that I rent from SpaceX. It's kinda awesome though.

Only house I own is the events house in the Bay Area. If I sold it, the house would see less use, unless bought by a big family, which might happen some day.

— Elon Musk (@elonmusk) June 9, 2021
Look at the beautiful lighting in our Casita! 💡 Recessed lighting in the ceiling comes standard in every Casita ✅

Are you ready to pre-order your Casita now?

Be sure to head over to our website (https://t.co/AFNY5ZNryT) and reserve yours today! 🏡 ✅ pic.twitter.com/YXkk99pYu1

— Boxabl (@_BOXABL) February 16, 2021
Have you seen our amazing Kitchen in the Casita? Take a peek! 🍳

Are you ready to pre-order your Casita now?

Be sure to head over to our website (https://t.co/AFNY5ZNryT) and reserve yours today! 🏡 ✅ pic.twitter.com/tlxk2oHvkD

— Boxabl (@_BOXABL) January 12, 2021
Here are a couple pictures of inside the cabinets within the Casita 😍 Soft close beautiful white cabinets... Who wouldn't want this awesome kitchen?? 😎 pic.twitter.com/bbg8CVVjf8

— Boxabl (@_BOXABL) March 2, 2021
Take a peek at our very modern and sleek looking bathroom sink and mirror... The mirror is heated and has lighting around it 😍🤩

Are you ready to pre-order your Casita now?

Be sure to head over to our website (https://t.co/AFNY5ZNryT) and reserve yours today! 🏡 ✅ pic.twitter.com/2wISdCbegy

— Boxabl (@_BOXABL) March 9, 2021
[via
The Observer
, cover image via
Boxabl
]
Receive interesting stories like this one in your inbox
Also check out these recent news