Don't miss the latest stories
Share this
Banksy 'Hijacked' A Painting As An SOS For The Climate, And Now It's Worth $6.3M
By Ell Ko, 01 Jul 2021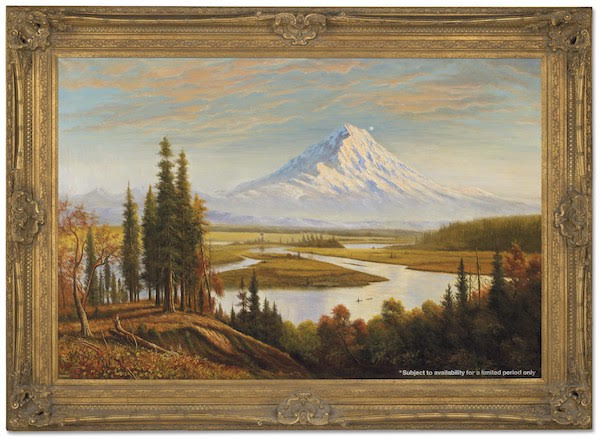 Image via Christie's
A 1890 painting by
German-American painter Albert Bierstadt, depicting Mount Rainier of Washington State, was, according to auction house Christie's spokesperson Sara Macdonald, "hijacked" by famously anonymous street artist Banksy in 2009.
On the bottom right corner
of the painting, a warm-hued ode to the landscape surrounding the volcano at the cusp of fall, the mysterious street artist added the disclaimer "*Subject to availability for a limited period only." The sans-serif text is a nod to corporate copy, proving a stark contrast to the Romantic-era artwork.
Aptly titled Subject to Availability,
the simple action of adding a line of text speaks volumes to Banksy's intentions: reminding us that nature, once revered by artists such as Bierstadt himself, is now a limited-time product due to the widespread effects of global warming.
Although Banksy
created this work in the same year as the Climate Change Conference held in Copenhagen in 2009, just over a decade ago, it still rings true today.
Which might explain
the price tag—sold at a Christie's auction at King Street, London, on Wednesday, its value was estimated between £3 and £5 million (US$4.15 to US$6.9 million). The ultimate winning bid was precisely £4,582,500 (US$6,342,180).
Banksy is no stranger
to controversy and social issues.
Subject to Availability
isn't his first reworked piece of art either: a similar piece titled
Show Me The Monet
provides the image of discarded shopping carts and an abandoned traffic cone floating in the water under Monet's
Bridge Over a Pond of Water Lilies
. It was
sold for USS$9.8 million
in October 2020, at a Sotheby's auction in Hong Kong.
[via
The Seattle Times
, image via
Christie's
]
Receive interesting stories like this one in your inbox
Also check out these recent news