Don't miss the latest stories
Share this
Everything In This Grocery Store Is Plastic, Even The Fruit
By Ell Ko, 08 Jul 2021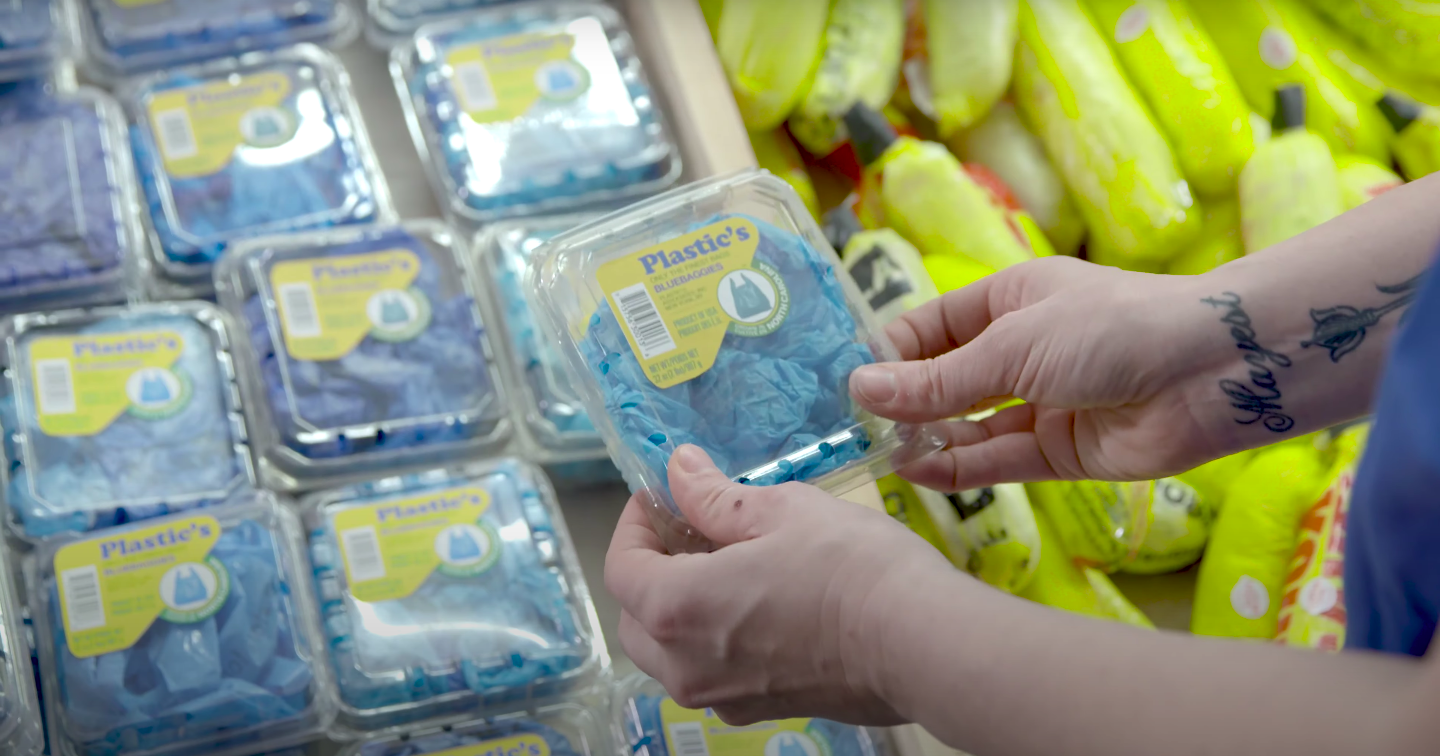 Video screenshot via Times Square NYC
In this store,
packaging isn't just the exterior of each product: it's the entire product. Yes, even if you unwrap the carefully constructed plastic bags, you won't find any produce inside. Artist
Robin Frohardt
has created an entire grocery store solely out of disposed-of plastic to highlight the impact and permanence of the material.
Described as
a "tragicomic ode to the foreverness of plastic,"
The Plastic Bag Store
is a public installation as well as an immersive film experience created by production company Pomegranate Arts. The shelves in this popup space are lavishly stocked with items you'd pass by without blinking in your local store—fresh produce, dry goods, seafood and meats, bakery items, even some essential toiletries—all hand-sculpted from discarded single-use plastic in "an endless cacophony of packaging."
Visitors to the store
may even come across some
familiar brands
, such as 'Baggo' waffles, 'Yucky Shards' cereal, and a 'Bagorade' sports drink—a humorous yet wary nod to the corporate consumer culture of large supermarkets and their impact on the environment.
At intervals,
the store
transforms into a stage
, where a thought-provoking film,
BAG
, created with puppetry and shadow play is screened. The story follows a narrative of questioning ways in which the plastic waste we are leaving on Earth today may be interpreted by future generations to come.
"There is great humor
to be found in the pitfalls of capitalism, and I find that humor and satire can be powerful tools for social criticism especially with issues that feel too sad and overwhelming to confront directly," Frohardt explains. "There is no 'away' when we throw something out."
The Plastic Bag Store
has made an appearance in various places: Times Square, New York; Adelaide, Australia; and it is currently still showing at the Center for the Art of Performance at UCLA, Los Angeles.
Tickets to
the installation are free, with a suggested donation of US$10, and tickets to the 60-minute immersive film are priced at US$35, or US$15 for students.
[via
LA Weekly
, images via
The Plastic Bag Store
]
Receive interesting stories like this one in your inbox
Also check out these recent news