Don't miss the latest stories
Share this
Real-Life 'SpongeBob' & 'Patrick' Captured Hanging Out Together In The Atlantic
By Mikelle Leow, 29 Jul 2021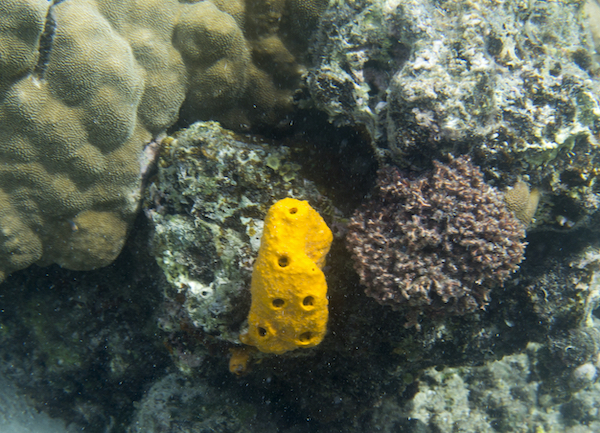 A stock photo of a yellow sea sponge in the waters of Togian islands, Indonesia. Image via ID 135870771 © Maurizio Biso | Dreamstime.com
Who lives in
a pineapple under the sea? Not these sea creatures, but they could very well be.
In yet another
account of
life imitating art
, a yellow sea sponge and a pink sea star à la best buds in
SpongeBob SquarePants
were spotted together in the same scene more than a mile deep in the Atlantic.
Insider
reports that the creatures were captured through the National Oceanic and Atmospheric Administration's (NOAA) remote Okeanos Explorer, and were seen at the side of an underwater mountain called Retriever seamount, about 200 miles east of New York City.
The amusing coincidence
was spotted by Christopher Mah, a marine biologist who works at the Smithsonian Museum. Mah intends to use visual data caught on Okeanos' remotely-operated deep-sea vehicles (ROVs), which navigate submarine habitats and live-stream their expeditions, to discover new star species.
"I normally avoid
these [references], but WOW. REAL-LIFE SpongeBob and Patrick!"
tweeted
Mah. He told
Insider
that the uncanny colors of the sponge and star took him by surprise. "As a biologist who specializes in sea stars, most depictions of Patrick and SpongeBob are incorrect."
*laugh* I normally avoid these refs..but WOW. REAL LIFE Sponge bob and Patrick! #Okeanos Retreiver seamount 1885 m pic.twitter.com/fffKNKMFjP

— Christopher Mah (@echinoblog) July 27, 2021
Resemblances with
the long-running Nickelodeon cartoon series aside, what makes this moment so unusual is the sheer rarity of naturally boxy sponges, since sea sponges take their shape from the types of surfaces they live on. Most of them are also orange or white to blend into their surroundings, and hardly ever bright yellow like this genus Hertwigia.
The carnivorous
sea star beside the real-life 'SpongeBob' is known as a Chondraster star, which is typically dark or light pink, or white. In this instance, the star—which has five arms coated in suckers to attach to ocean organisms—"was a bright pink that strongly evoked Patrick," Mah described.
Eerily, here's where
reality departs from fiction. In truth, the pair would be the opposite of BFFs; Chondrasters primarily feast on sea sponges, so it's likely that 'Patrick' here was looking at 'SpongeBob' as its dinner.
[via
Insider
, images via various sources]
Receive interesting stories like this one in your inbox
Also check out these recent news