Don't miss the latest stories
Share this
Hendrick's Infuses Bus Stops With Gin Smells, Sans The Day-Drinking
By Ell Ko, 02 Aug 2021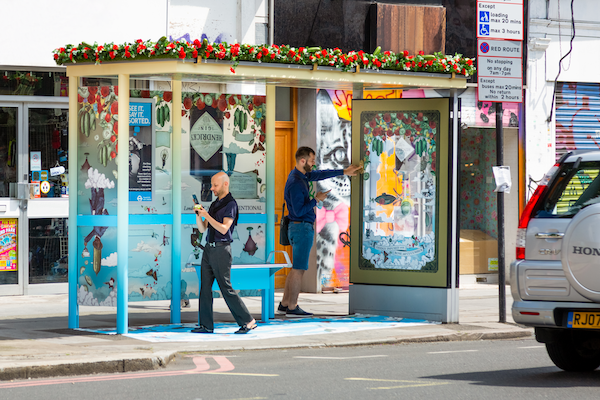 Image via Spaces
In major UK
cities such as Manchester, London, Brighton, and Cardiff, flora-encased bus stops have seemingly sprung up overnight, and curious passersby who go for a closer look are hit with a whiff of… Roses? And cucumbers?
This is part
of the promotion for
Hendrick's
new Gin Cucumber Lemonade, a product scheduled for a cool, refreshing summer. Commuters wait for buses under an upside-down bed of roses, while the infused scent wafts peacefully by.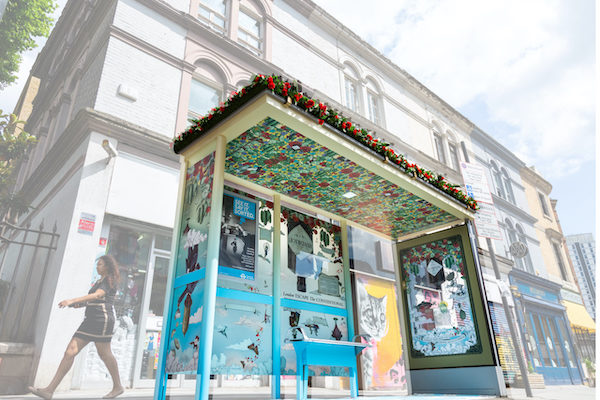 Image via Spaces
"Escape the conventional,"
writes the posters, adorning the bus stops and citywide ad spaces. This installation is accompanied by a video including fantasy spaces of a world that exists solely for Hendrick's Gin, a concept reminiscent of the magic of
Alice in Wonderland
. Oh, and encased behind a six-sheet panel, there's also a giant 3D recreation of a Hendrick's bottle in each takeover, which continuously and miraculously pours real liquid into a glass of Gin Cucumber Lemonade with zero spillage, as one does.
Titled Portals to the Peculiar,
the short film includes scenes from the fantasy settings of 'Lesley's Launderette', the 'Automated Transport to the Marvelous' (ATM), and 'The Not-so-normal Newsstand', all set within a Victorian-brand world.
"Portals to the Peculiar
was an invitation to the curious to depart the daily grind of their routine and venture into an aquarium in the sky,"
explains
Spaces, the advertising agency that worked with Hendrick's on this campaign.
"Having escaped
the mundane and experienced delightful moments of peculiarity, our curious gin drinkers left with a greater appreciation of the delectable taste of Hendrick's."
This isn't the
brand's first foray into fantasy: in 2019, it also worked with Posterscope on a London Underground tunnel
wrap
that also smelled like roses and cucumber.
Take the mundane. Transform the experience. Make it unforgettable. ⁰

For the UK's #1 Premium Gin, normality is not a mixer. Across 5 cities sit Victorian surrealism-themed bus shelters to transport commuters from the conventional, into the delectable world of @HendricksGin.🍸 pic.twitter.com/pY2TdWegrn

— space (@agencyspace) July 23, 2021
[via
Fast Company
, images via
Spaces
]
Receive interesting stories like this one in your inbox
Also check out these recent news