Don't miss the latest stories
Share this
Supreme x NYC Subway Collab: First, Metro Cards. Now, A Full Supreme Train Runs
By Ell Ko, 13 Aug 2021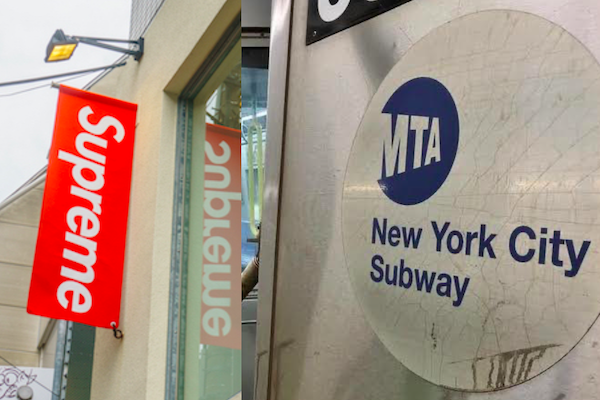 Image via MADSOLAR / Shutterstock.com and ID 140157325 © Kit1nyc | Dreamstime.com
If you haven't
hopped aboard the Supreme train yet, your chance is here. Literally.
Starting from
this weekend, commuters in New York City traveling on the L line will be able to match their train to their fashion, and travel without ever stepping out of style.
A Metropolitan
Transportation Authority (MTA) spokesperson shared some details of the train with WCBS reporter Vincent Barone, who reported in a tweet that the trains were "legit."
According to
the source, the MTA is doing a full wrap of the carriage with the iconic red and white of the Supreme logo splashed across it.
The positioning of
this wrapped train on the L line is no coincidence. As noted by
Business Insider
, the route runs through Manhattan and into Brooklyn, stopping at Williamsburg. The neighborhood has its own reputation as being a "cross-section of cultures", which happen to be a mix of Supreme's target clientele. Think wealthy millennials and trend-chasing Gen Zs.
Barone also details
that the representative from MTA has revealed that this is the first time the MTA is doing a full wrap as a "new way to raise $", with the exception of the Grand Central shuttle.
MTA tells me these are legit. One full Supreme-wrapped train will run on the L line, planned to roll out this weekend. This is the first time the MTA is doing a full train wrap outside of the Grand Central shuttle as a new way to raise $, an MTA rep says. https://t.co/QZOIrebWvF

— Vincent Barone (@vinbarone) August 11, 2021
However, as pointed
out by users in the reply of the tweet, it's a "bizarre statement": the MTA has done other branded wraps before.
Bizarre statement from the MTA rep here - they've done plenty of full wraps on other lines in the past. Here's a 10 car 6 train wrapped 10 years ago - https://t.co/6P3y3ABJM3

— bsquiklehausen (@bsquikle) August 11, 2021
Having started
as a small skateboarding shop in SoHo, New York City, in 1994, the brand's easily seen, easily accessed appearance on the subway train pays homage to its roots, but now as a billion-dollar name.
[via
Business Insider
, image via
MADSOLAR / Shutterstock.com
and
ID 140157325 © Kit1nyc | Dreamstime.com
]
Receive interesting stories like this one in your inbox
Also check out these recent news