Don't miss the latest stories
Share this
Facebook Debuts 'Most Viewed Posts' Lists Showing Farthest-Reaching Content
By Mikelle Leow, 19 Aug 2021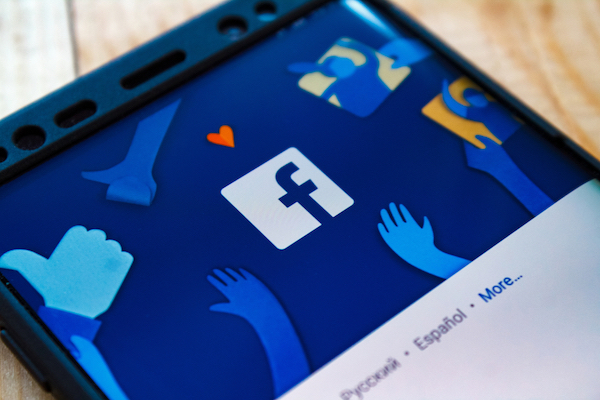 Image via Allmy / Shutterstock.com
To fend against
claims that it has been prioritizing misinformation and fanning the flames in politics, Facebook has launched a new '
Widely Viewed Content
' report.
Scheduled to be released
quarterly, the lists detail top posts in the US from the past three months, so they're not exactly designed for trendspotting. "Over time, the Widely Viewed Content Report will provide more detail on the most-viewed content that people see on Facebook. It starts with the Top 20 most-viewed domains, links, Pages, and posts in News Feed in the past quarter, and excludes ads but includes content recommended by Facebook within News Feed units like Suggested For You," the company elaborates in a blog post.
Its top links
for Q2 2021 strike as a little odd. Leading the pack is the alumni website for the Green Bay Packers football team, with 87.2 million viewers. This is followed by an online business selling hemp, a UNICEF page about its response to COVID-19 in India, a recipe site, and a Christian apparel store.
Click to view enlarged version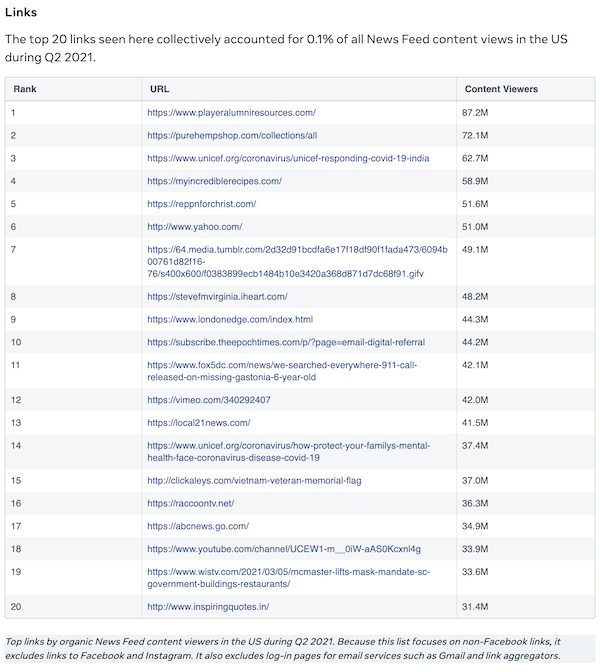 Click to view enlarged version. Image via Facebook Transparency Center
While a few links
there direct users to political content, Facebook has been quick to defend that external links only make up a small fraction of views. "The vast majority of content viewed in News Feed during Q2 2021 (87.1%) did not include a link to a source outside of Facebook," it notes. "Only about 12.9% of News Feed content views in the US during Q2 2021 were on posts that contain links."
This is evidently
a response to the @FacebooksTop10 Twitter account set up by
New York Times
journalist Kevin Roose, where he publishes daily Facebook engagement rankings. In his tweets, Roose posits that content by divisive figures in politics frequently gets the most engagement.
The top-performing link posts by U.S. Facebook pages in the last 24 hours are from:

1. Ben Shapiro
2. Journal Star
3. KFOX-TV
4. Nick Adams
5. NPR
6. Ben Shapiro
7. Donald Trump For President
8. News And Guts
9. Love Meow
10. Love Meow

— Facebook's Top 10 (@FacebooksTop10) August 18, 2021
The social network
argues that views and engagement are not the same, and that reach data is a better metric. "The content that's seen by the most people isn't necessarily the content that also gets the most engagement," it says.
"Based on our
analysis, political content makes up about 6% of what you see on Facebook. This includes posts from friends or from Pages (which are public profiles created by businesses, brands, celebrities, media outlets, causes and the like)."
Click to view enlarged version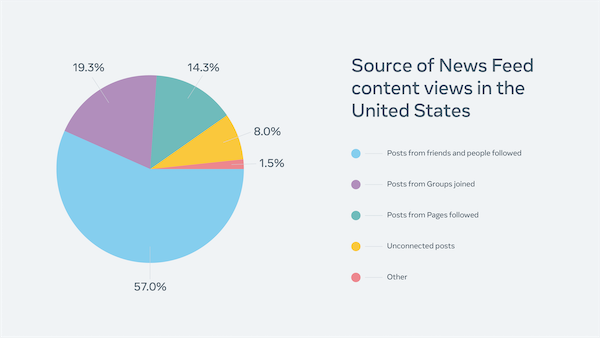 Click to view enlarged version. Image via Facebook Transparency Center
Click to view enlarged version

Click to view enlarged version. Image via Facebook Transparency Center
Click to view enlarged version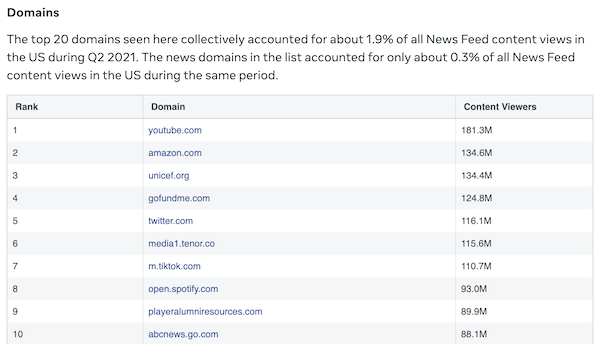 Click to view enlarged version. Image via Facebook Transparency Center
[via
Social Media Today
and
TechCrunch
, images via various sources]
Receive interesting stories like this one in your inbox
Also check out these recent news