Don't miss the latest stories
Share this
These Electric Drones Have Delivered Over 10K Coffees & Chickens In Australia
By Ell Ko, 31 Aug 2021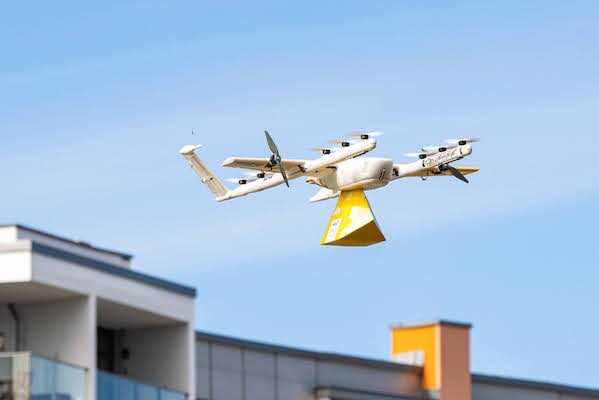 Image via Wing
Drones carrying
fresh coffee and roast chicken whizzing overhead are looking to become a common sight in the city of Logan, Australia.
Wing, a delivery drone
unit, is about to celebrate its 100,000th drone delivery this week, it seems. Exploding in popularity due to the COVID-19 lockdowns, the company reports that it made around 50,000 deliveries in the last eight months alone. 4,500 of those were made in the first week of August alone.
In a new blog
post, Wing
reveals
that more than 10,000 cups of fresh coffee, over 1,700 snack packs for kids transitioning back to online learning, and a rather amusing visual of 1,200 "hot chooks" ("Australian for roasted chicken") have been sent out over the last year of operations.
This makes
the city "the drone delivery capital of the world," the company declares.
It was also
reported by
The Canberra Times
that the company's Canberra service saw a huge spike in demand due to the current lockdown. Initially operating on five days a week, the service has expanded to cover all seven.
Wing's head of
community affairs, Jesse Suskin, tells the newspaper that the quiet flying technology the drones utilize means that people "shouldn't be able to hear [them]." This comes in handy, considering that instead of the usual peak hours for deliveries to arrive after school, the entire day seems to have become a peak hour in itself.
"[People are] in
an isolation period due to them being at an exposure site, and there's a lot more people who can't leave the house," he explains. "There has been a greater reliance on delivery services."
Drone delivery itself
works almost like any other provider; customers make their orders through an app, which vendors package and attach to the device. The equipment then lifts off on its own and can be tracked as it flies over to the address.
Its software analyses
terrain, weather, and routing options to make its way over to the customer as efficiently as possible. Once it reaches its destination, the package is lowered down and unclipped, allowing for an entirely contactless experience—perfect for quarantine.
It's all-electric,
too, and the delivery option comes with no pollution. It has been reported that the quickest time from order to delivery recorded was two minutes and 47 seconds. That customer surely got their chicken with the steam still rising out of it.
[via
Fast Company
, image via
Wing
]
Receive interesting stories like this one in your inbox
Also check out these recent news