Don't miss the latest stories
Share this
US Navy Invented A Disruption Device To Prevent People From Speaking
By Alexa Heah, 02 Sep 2021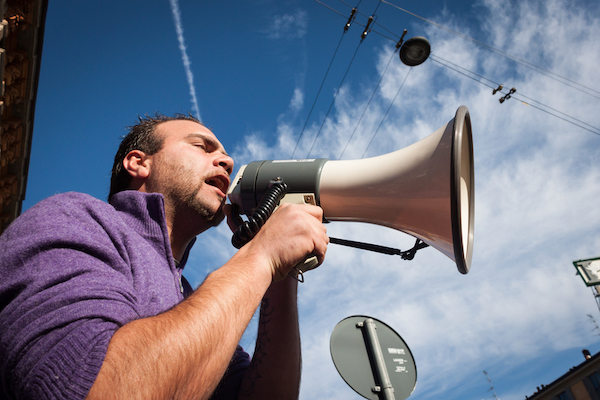 Image via ID 37105788 © Tixtis | Dreamstime.com
It's recently
been found that the US Navy has invented an acoustic hailing and disruption device (AHAD) that prevents people from speaking.
The device,
which is part of the Navy's slew of non-lethal weapons, records a person's speech before repeating it back to them in just milliseconds, interrupting their flow of thought and stopping them mid-sentence.
It was created
by engineers at Naval Surface Warfare, Crane Division, a Navy research and development center in Indiana, which specializes in creating handheld and crew-served weapons for soldiers.
Although the patent
for the AHAD was filed back in 2019, it was only discovered this year, as per
NewScientist
. The
filing
details that the device echoes a person's speech twice—immediately and after a short delay. This creates delayed auditory feedback (DAF), altering the speaker's perception of their own voice.
"By introducing
another audio feedback source with a sufficiently long delay, the speaker's concentration is disrupted and it becomes difficult to continue speaking," it said.
Additionally, the AHAD
will only disrupt the chosen speaker, avoiding everyone else in the area. The device uses its directional microphones and speakers to record just one voice, and the repeated audio will only be heard by the target.
In a more
insidious scenario, the speaker may be bewildered that they're the only ones hearing the strange voice. It could even make someone think they are hallucinating, as others aren't picking up on the same audio feedback as them.
Interestingly, the AHAD
may not work on everyone. According to
Popular Mechanics
, extremely self-confident individuals may not find the feedback disturbing, but rather, could make them even better speakers.
The volatile
results are also one reason why the Navy isn't planning to expand this technology outside of its laboratories.
Take a look
at how the AHAD operates in a workplace scenario below.
[via
Popular Mechanics
, cover image via
ID 37105788 © Tixtis | Dreamstime.com
]
Receive interesting stories like this one in your inbox
Also check out these recent news