Don't miss the latest stories
Share this
Basquiat-Fronted Tiffany & Co Ad Wouldn't Have Pleased The Artist, Say Friends
By Alexa Heah, 07 Sep 2021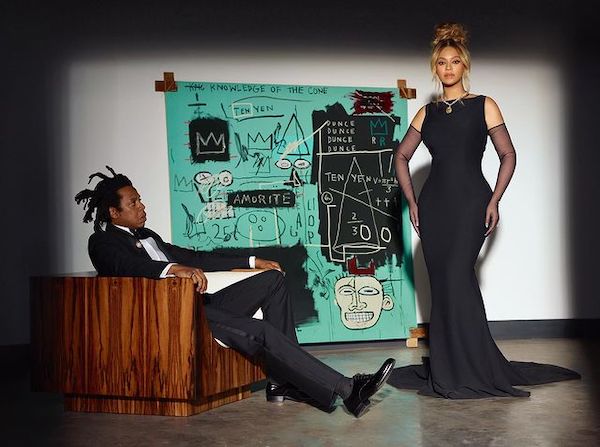 Image via Beyoncé
Last month,
Tiffany & Co debuted its a massive branding campaign featuring the likes of Beyoncé and Jay Z alongside a never-before-seen
Jean-Michel Basquiat painting
.
While many have
noted that the artwork,
Equals Pi
, resembled the famous 'Tiffany Blue' hue the brand is known for, some of the artist's friends don't seem too happy about the reference.
As reported by
The Daily Beast
, several of Basquiat's close friends and collaborators have come out against the campaign, especially with the artwork set to go on permanent display at Tiffany's flagship store in Fifth Avenue.
"I'd seen the
ad a couple days ago and I was horrified. The commercialization and commodification of Jean and his art at this point — it's really not what Jean was about," said Alexis Adler, who lived with the late artist from 1979 to 1980.
If Basquiat
were alive today, he'd have wanted his paintings to be hanging in museums for public viewing, instead of being privately owned by a commercial brand, she said.
"Unfortunately, the museums
came to Jean's art late, so most of his art is in private hands and people don't get to see that art except for the shows. Why show it as a prop to an ad? Loan it out to a museum. In a time where there were very few Black artists represented in Western museums, that was his goal: to get to a museum," Adler explained.
According to
Complex
, Al Diaz, who was part of street art duo SAMO with Basquiat, said he wasn't impressed by how Tiffany & Co cited Basquiat's well-known interest in high-end luxuries as a reason to use his painting in the advertisement.
"People think that
his association with luxury was because he was impressed with that s***, but he couldn't care less. It's not just about wearing an Armani suit. If he wore it, it's because he could buy it and f*** it up, it wasn't because the stitches were fabulous or well-made," said Diaz.
Even more damning
is Stephen Torton's, Basquiat's assistant, take on the matter. He felt that due to the racism of the time, it was unlikely Basquiat would even be allowed to enter stores such as Tiffany when he was alive.
"They wouldn't have
let Jean-Michel into a Tiffany's if he wanted to use the bathroom, or, if he went to buy an engagement ring and pulled a wad of cash out of his pocket. We couldn't even get a cab," recalled Torton.
Will the brand
respond to the backlash? Or continue with the explanation that Basquait's choice of color in the artwork was likely "some kind of homage" to Tiffany's?
[via
Complex
, cover image via
Beyoncé
]
Receive interesting stories like this one in your inbox
Also check out these recent news